Dark Circles Contemporary Dance in Joshua L. Peugh's The Rite of Spring.
Photos by Karen Almond courtesy of Dark Circles Contemporary Dance.
---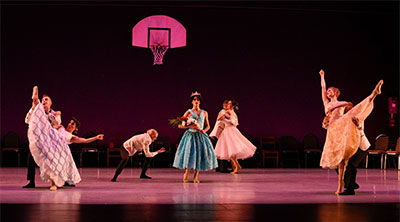 Dance fans have another chance to see Dark Circles Contemporary Dance artistic director Joshua L. Peugh's The Rite of Spring on April 29-May 1 at Erma Lowe Hall Studio Theatre in Fort Worth. Peugh visited with A + C editor Nancy Wozny on creating the new work and what's up next for his standout North Texas-based troupe.
There are many dances set to Stravinsky's The Rite of Spring; in fact SMU's Shelley Berg wrote a seminal book about some of them. What made you want to add to this existing canon?
Dr. Shelley Berg was a professor of mine at Southern Methodist University; her class was one of my favorites. What really inspired me to create this new version was seeing one created by my mentor Ahn Sungsoo in Korea while I was growing Dark Circles in Seoul. He based his version on the Taro cards. It was a very simple work with five dancers in black pants on an empty stage. Aside from that, I find the music incredibly captivating; it has always inspired images in my mind. When I first returned to the US, I heard the Meadows Symphony Orchestra under the direction of Paul Phillips play the work. Watching him conduct (which is like watching a magician) mesmerized me and encouraged my mind to wander.
Your Rite takes place at a prom, which is kind of perfect, knowing you. But however did you get that idea?
The opening measures in the score made me think of a single blue paper streamer blowing in the draft in a gymnasium. I'm a huge Stephen King fan; maybe I was reading Carrie at the time?
Talk about casting a man in drag, the wonderful Chadi El-Khoury, as "The Chosen One."
Chadi was born and raised in Lebanon. He has a very unique perspective on Americana and brings a different sort of depth to the work. Also, Stravinsky's score speaks to him in a very exciting way. During the creation process he would listen to it while practicing yoga! He was very excited by the ideas I had about exploring the nature of drag performance. He emerged as "The Chosen One" through the creation process.
Stravinsky is a huge departure from your usual music choices. Where are the challenges and joys in working with this iconic score?
One of the challenges is the narrative nature of the score. As a rule, I don't begin creating with a narrative in mind; I let the narrative emerge out of the creation process. I do my best to let the story unfold organically, but Stravinsky broke the score into specific episodes. At first, I tried to completely ignore them, but as I worked I allowed them to shape things casually. It's the longest work that I've ever created and the first time I've used a full score. I may have the bug now; I've started dreaming about re-envisioning Prokofiev's Romeo and Juliet.
That I want to see! It's also terrific that you are bringing other voices to Dark Circles, most notably

Fabio Liberti

. What appealed to you about his style?
Fabio and I met at a choreography competition in Germany several years ago. I loved his movement vocabulary as well as his gift for incorporating text into his work. His movement also has an organic thoughtfulness and a curiosity that I'm always drawn to. But, most importantly, he is a genuine and generous person.
I often wish that I could have another chance to write your "25 to Watch" blurb in Dance Magazine, because I know more about your style now. It's not easy to grasp. METdance, who is doing one of your works in June at

Miller Outdoor Theatre

, jumped on it right away, and I can say that because I was there. How did that happen?
It's very important to me to create a safe environment where dancers feel able to share their personal stories and fantasies. I encourage them to let go of their prejudices about themselves and the form and to trust their instincts. Curiosity about life and a hunger for it is really the key.
Let's jump ahead to next season. You have a work by

MADBOOTS

(Dallas native Jonathan Campbell and Austin Diaz). What attracted you to their work?
I was still living in Korea when I first heard about MADBOOTS. I have been paying attention to Jonathan and Austin and the work they've been creating ever since. Their work is intriguing to me. I'm jealous of the athleticism and daring in their work. I like the way they approach movement and the way they debunk socially constructed gender norms. I think they will encourage Dark Circles to find new exciting things, but also continue to nourish the principles that are important to us.
How do you balance your life as a busy freelance choreographer and your work as artistic director of Dark Circles?
It's incredibly difficult to balance commissions for other companies with my responsibilities and dreams for my own company, but I believe the two really complement one another. While I was working with Ballet Memphis last month, I remembered how to be a choreographer and not just an administrative artistic director. Working with other dancers also adds to my palate; I always come home fired up and ready to push my company to find new and exciting things.