Phyllida Barlow, Tryst, Installation Shot, Nasher Sculpture Center, 2015. Courtesy of the artist and Hauser & Wirth.
---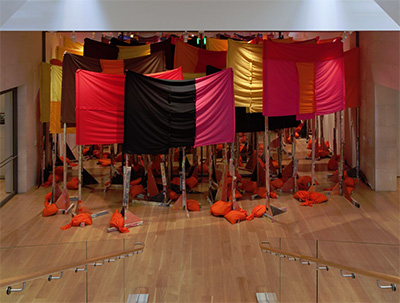 The Rough Hospitality of Phyllida Barlow
Just before her husband Fabian's poetry reading at Dallas' Goss-Michael Foundation, I passed Phyllida a note. Scrawled in a blunt number two pencil onto the puckered pages of an old sketchbook, I expressed a few heartfelt sentiments as though I were writing to a family member, a sweetheart or an old friend when in fact, we had only met a week prior. There is something wonderfully hospitable about this British artist. Her utter lack of pretense in manner and appearance welcomes the same from strangers, and until recently, I was one of them—a strange and doting fan of her work.
I met Barlow during the installation of tryst, her most recent exhibition at the Nasher Sculpture Center (on view through August 30). Her cover was refreshingly plain: Dressed in a boxy button- down, she wore simple trousers that were short enough to expose her ankles bent askew from what I imagine to be 71 years of full throttle making, mothering and teaching.
I stopped in on a stormy Monday. Rain swept sideways across Renzo Piano's pristine surfaces while tornado sirens sounded. Inside the Nasher was a gale of equal force as Barlow and her team assembled, arranged, pushed, pulled, ratcheted and hoisted her monumentally-scaled stacks, chunks, blobs and jumbles into their respective places. In such a setting, I was not expecting more than a few minutes of her time, so I was pleasantly surprised by her generous welcome. There wasn't a hint of guardedness, or a speck of suspicion; even amid the strain of a major installation, Barlow's unsparing disposition paralleled the bounty of her work.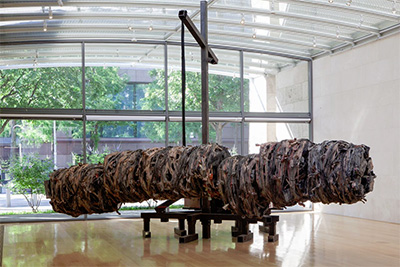 I was first introduced to the work of Phyllida Barlow in graduate school after reading a review of her two-person show with Nairy Baghramian at Serpentine Gallery in 2010. I was hooked and began following her exhibitions including RIG and GIG at Hauser and Wirth (2011 and 2014 respectively), siege at the New Museum (2012), and her most massive takeover to date, Dock in the Tate Britain's Duveen galleries (2014). Barlow's interventions are dynamic—ambitious in scale, daring, and merry. Their hulking masses, scabrous surfaces and awkward arrangements seemed a comedic trio of minimalist theatrics, poor Povera and Fluxus punk. Gargantuan and garish, rough, dumb, and drunken, Barlow's disheveled works seemed at odds with themselves and their environments. They were unapologetically on the verge of collapse and I could totally relate. I was in graduate school, far away from home, in a deteriorating, long distance relationship, full of fear, anxiety, and suffocating in the stupid Texas heat. Like Barlow's collapsed monuments, I felt the tension to stand erect and independent, to assert a stance of success while crumpling under the weight of a graduate school workload, unrealistic expectations and sorrow. At that time, Barlow's scatological blobs, tumorous protrusions and sloppy piles offered me a perfect brand of hospitality; her unruly surfaces, sluggish postures and naive bravado made space for my own.
Barlow was born in 1944 in Newcastle upon Thyne; her family moved to London, where she grew up and now lives and works. As a young girl in postwar Britain, she was immersed in a landscape ravaged by war. She lived and played in transitional environments, once broken down and being built back up—spaces of flux much like the difficult-to-navigate terrains she constructs today. In general, Barlow's work stems from an interrogation of some of the most fundamental aspects of sculpture: Its physical attributes and its presence in space. Described by Barlow as "a strange medium that takes up space," sculpture, she has explained, "brings things into the world. There is already too much stuff," she adds. "So it's kind of absurd, and its absurdity is what I find fascinating."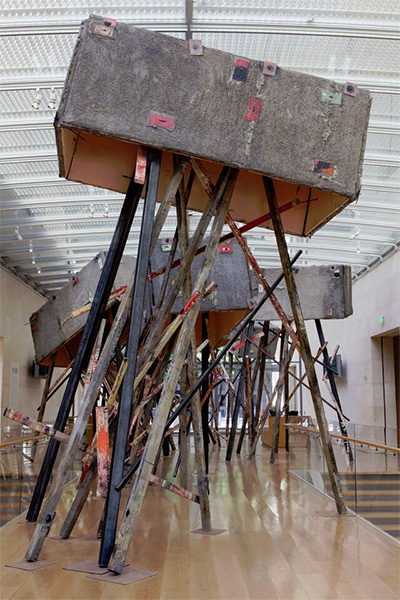 Since the late 1960s, Barlow's work has emphasized the physical handling of materials, their malleable nature and potential for transformation through processes of layering, accumulation and juxtaposition. Obtrusive and invasive, Barlow's large-scale sculptural objects are frequently arranged in complex installations in which mass and volume seem to be at odds with the space around them. Their role is anxious and unpredictable: they block, interrupt, intervene, hover and perch, both dictating and challenging the experience of viewing.
tryst is no exception. Even before entering the museum, Barlow's in-your-face-antics are employed. Still far from reach, her gargantuan sculptural growths can be seen through the windows of the Main Hall, teasing passersby to enter.
Once inside, visitors find themselves immersed in a lumber-jungle of well-worn two-by-fours. Unlike familiar stand-alone works from the permanent collection, their density and scale is disorienting. tryst is a full body experience that manipulates viewers via the visual, the proprioceptive and the haptic. In the Main Hall they bob and weave, sway and sidestep through the maze of industrial trunks that support a canopy of plywood volumes—each one emptied out and upturned, exposing their innards; a network of steel supports. The size of halved shipping containers, these awkward bodies teeter precariously overhead, supported only by a network of spindly appendages—knock-kneed, double-jointed and held akimbo to keep the balance. Up close, their surfaces are stained and splattered with swaths of house paint. Looking closely at them reminds me of the Lilliputians' description of Robinson Crusoe's complexion: reddened and ruddied by a steady diet of meat pies and salty chips, aged and weathered by time and harrowing adventures. Barlow's growths share similar surfaces (and maybe similar adventures), they're pocked, porous and oozing, held together by zip ties and bulging bits of spray foam. They certainly are not neat and nothing about their making is hidden.
Gallery one is decidedly more spacious, offering visitors larger areas in which to roam. Multiple Barlowian moments exist. There's the crusty pile of castaway preservers washed atop an unidentifiable heap of charred carcasses. These objects are crude and irritating. Their strangely-textured surfaces tempt visitors to touch what they do not know—which, according to the museum guards, is exactly what many guests do. This exhibition, more than any other, has provoked audiences to cop feels and steal caresses of the works within plain view of the museum staff. Apparently for them, Barlow's seduction and play has become too much to bear. She knows exactly what she's doing. For Barlow, "to touch is to know"— a strategy she uses in her work to electrify the gap between the visual and the haptic, between seeing and knowing.
To my left, is some sort of super-sized wacky-shack. Its exterior is covered in splashy late 80s colors; minty green, fire engine red and bubblegum pink. This odd lean-to threatens viewers by its off- centeredness and scale. Its roof supports a stack of giant, brick-like forms that hover overhead. As in the Main Hall, Barlow draws viewers' attention to spaces above.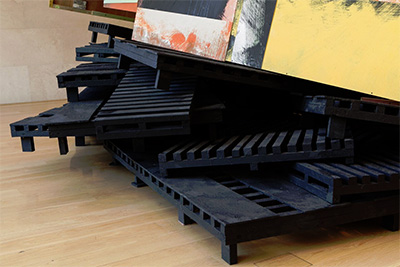 In the middle of Gallery One Barlow grants visitors a semi-private space of rest. Ironically aligned with Dallas' Museum Tower (which viewers can see through the Nasher's glass-ceilinged roof when situated in the contours of Barlow's c-shaped stack), tryst's more modest tower offers viewers the sensation of embrace, which they might need to revisit when confronted with the dangling, jumbo-sized grub suspended around the corner, like a wrapped and bound chrysalis awaiting its fate. Here, Barlow again plays with themes of flux; the suspended cylindrical form is a trope that Barlow has used before. It's her quintessential anti-monument. Once erect and now destabilized, the unwieldy obstacle could be ratcheted upright or snipped free and left to rot. In a humorous sleight of hand, this work has been "Texafied": hung from a derrick-like support and covered in fabric soaked to an oily sheen. Here, Barlow's first (terrifying) experience of seeing slick and dripping deposits pulled from the ground, an experience she likened to the presence of the devil ascending from the lake in Milton's Paradise Lost, makes its way into the work.
To experience Barlow's last act, one must descend into the lower level galleries. Met with a visual cacophony of colorful, stilted banners, it's a sort of paradise gained, although the density of the work is dizzying. The dissonant colors of poly-cotton fabric create an uncomfortable optical hum but at the same time, the densely populated room creates a dimly lit cover. Looking down not only rests the eyes, it also helps viewers navigate the mounds of hazard- orange sand bags that anchor the towering works. Again paradox is in play: this work is both cautionary and comforting.
Where tryst's sculptural moments are left untied by narrative, chronology or flowchart (thankfully), the work is linked by formal, material and methodological threads. Barlow's visual language is highly developed. Her herculean tinkerings touch upon something primitive; they emphasize body language over intellectualized props and sensory awareness over the academic. Barlow's work speaks through a language of touch.
Whenever I hear about an artist who has had a successful career while simultaneously playing the roles of partner, parent, teacher, mentor and maker, I am grateful and inspired. This is what good art and good artists do: They spur us on towards bigger living, deeper thinking, and new ways of seeing. Phyllida Barlow is one of these. What a great many feats she has accomplished, tryst only the most recent.
One final note: At the end of Fabian's reading, I noticed Phyllida's interaction with the young son of a Dallas-based artist. He had borrowed a small spiral notebook from her to draw on, which occupied the time while a room full of adults listened attentively to long polysyllabic runs and clever word stacks. By the end of the reading, the notebook's top sheet was covered in beautiful scrawls and scribbles; with his mother's help he handed the notebook back and without hesitation, Phyllida cupped the boy's soft cheeks in the palms of her well worn hands, thanking him with a tender gaze, welcoming him with hospitality.
—KRISTEN COCHRAN