Emotion, individualism, unfettered expression, fruitful rebellion, and spontaneous movement are not often the makings of everyday life. But sometimes the storm and stress of life bring such things into being.
So it goes with Sturm und Drang, a solo exhibition of work by renowned artist Nicole Eisenman, on view through Aug. 16 at the Jones Center, The Contemporary Austin's downtown venue. The show includes drawing and painting, as well as outdoor sculpture at Laguna Gloria, the museum's sculpture park. This is Eisenman's first exhibition in Austin, and her first solo museum show in Texas. (Followers of her work may remember that the Nasher Sculpture Center presented a grouping of her sculptures last year in conjunction with an acquisition of her work.)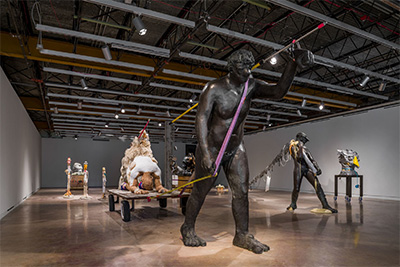 Sturm und Drang is presented on the occasion of Eisenman receiving the 2020 Suzanne Deal Booth / FLAG Art Foundation Prize which includes an unrestricted $200,000, a solo exhibition in Austin that travels to The FLAG Art Foundation in New York, a scholarly publication, and public programming.
"The prize is a good fit for Austin and transformative for the community, but also transformative for the artist," says The Contemporary Austin's senior curator Heather Pesanti.
Brooklyn-based Eisenman is not new to art-world accolades. She was nominated to the American Academy of Arts and Letters in 2018, is a 2015 MacArthur Foundation fellow, and winner of the 2013 Carnegie Prize, and her work has been included in a flurry of biennials and exhibitions worldwide—and that's just a passing glance at her CV.
The artist's insatiable creativity has resulted in a growing oeuvre that embodies influences culled from Western art history—especially the multi-figure compositions of artists like Picasso, Gauguin, Renoir, and Toulouse-Lautrec—amid elements of her daily life including feminist activism, queerness, sex, parties, and dinners with family and friends, as well as more internalized moments of worry, desire, and exhaustion.
As a whole, her paintings present a melodramatic treatment of the human form through light and color, texture and spatial perspective, while sculpture allows her to bring those forms into the third dimension. Sturm und Drang capitalizes on the opportunity. "Nicole has been seen primarily as a painter but in many of her paintings, she deals with formal concerns of sculpture," says Pesanti, explaining further that this is "her first large exhibition in depth—a comprehensive mini-survey—of her as a sculptor."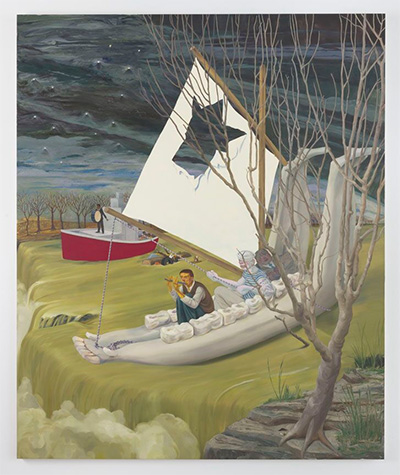 Eisenman explains that she, like many of us, knows and comes to understand the world through her body, an intimacy she translates into her now signature big-bodied figural sculptures, often poised in mid-gesture. She approaches sculpting as an act connected to, instead of an extension of, her body. For example, she literally massages the figures into being (for example, forming an armature and plaster into the shape of a shoulder mimics the action of massaging someone's shoulders). It is an emotional experience based in touch, in intimacy. With oar-like limbs, oversized hands and feet, and genderless faces with large, flattened noses, they drink a beer, tilt or bow their head, stretch, walk, sit, or kneel on all fours. Readily and affectionately, the artist admits that perhaps there is more "wrong" than right with these figures. Fittingly, Einsenman's sculptures display the very things that, traditionally, the genre has sought to overcome (or at least cover up).
Eisenman's world is one of love and life, and she lets us in on the banal and seductive moments of each. The awkward details in her works open them up to common, shared experiences rather than limiting them to austere experiences or memories: sports socks, beer bottles, plastic coffee cups lids, human hair, sneakers, and more. Even her abstract sculptures are anthropomorphized as she places them in what she considers to be their "natural environments."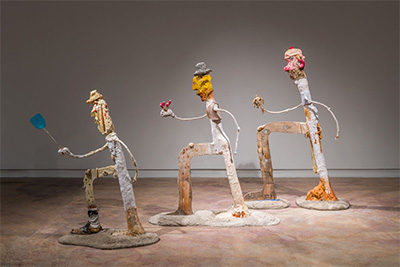 For Sturm und Drang, a grouping of Eisenman's untitled abstract face-like wall sculptures are complemented by her contemporary take on busts with the likes of The General and Sleeping Frat Guy. And a survey of her work wouldn't be complete without addressing her depictions of the procession, or what she has called "dejected people walking." The exhibition includes Walker with Swatter, Walker with Matches, and Walker with Coffee and, arguably, her painting titled Support Systems for Women, to name a few. To the delight of many art lovers, the exhibition also includes Procession, a grouping of large scale sculptures shown at the Whitney Biennial last year.
"Nicole wanted Procession to be shown in Austin and in Texas," explains Pesanti. "For our museum, the idea that it would be on Congress, in the context of history, where important protests and marches have taken place, was exciting."
As a simple device to organize and visually activate both her paintings and sculptures, the procession depicts a seemingly endless situation—for better or for worse for the figurative ensemble of different moments and moods, moving in the same direction. There is, perhaps, always room for more: more people, more expression, more struggle.
—NANCY ZASTUDIL