Jo Ann Fleischhauer, A Chamber Piece for Parasols, George Bush Intercontinental Airport.
Houston Airport System Portable Works Collection, 2015.
---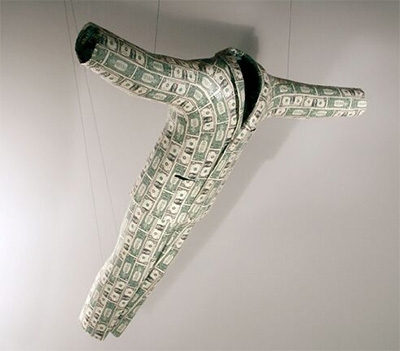 In Houston, as in many major cities, sculpture is part of our everyday life.  It exists all around us; Planted firmly in the grounds of our parks, sitting outside of office buildings or in the terminals of our airports, and jutting out of the medians in our roads. We sit, walk, ride, and drive by sculpture so regularly that it starts to blend into the background. It's hard to measure appreciation for these works, or their impact on our lives, but it's easy to see how varied sculptural practice can be and how diverse the sculptors of Houston are.
This October, a new event will arise in Houston, highlighting this diversity and the plethora of sculpture to which we've grown so accustomed.  Spearheaded by Volker Eisele and his team at Rudolph Blume Fine Art / ArtScan Gallery and curated in collaboration with artist and curator Tommy Gregory, Sculpture Month Houston, which runs from Oct. 15 to Nov. 19, 2016, celebrates these works and artists, as well as the Houston style—which, really, isn't one style in particular. When asked about this, the organizers point to a quote by Joseph Havel, who stated: "Rather than having one stamped style, I would say that there's no Houston style. The Houston style would be the variety of things."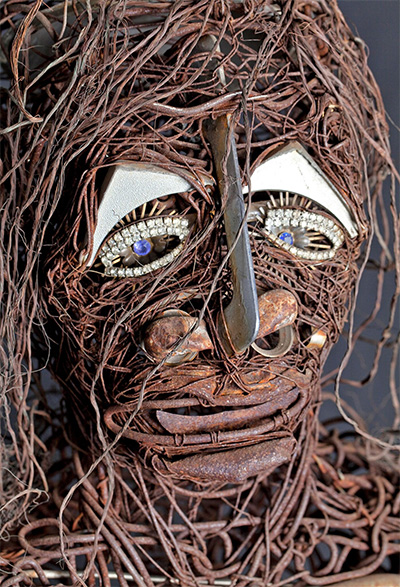 Perhaps this diversity of what Houston sculptors have to offer is the reason that there hasn't been a major sculpture event in the city since Sculpture 2000. Or maybe it's because a younger generation of sculptors like Patrick Renner and Mat Kubo is emerging, showing fresh talent that co-mingles well with works by more established Texas sculptors such as Ken Little. In either case, a true showcase of the vastness and diversity of Houston's artists is no small task. While the core team of Sculpture Month Houston has done a lot of the legwork, the process has required a lot of collaboration with local galleries and spaces.
Sculpture Month Houston spreads across the city and includes a series of exhibitions that spread from installations in the airports to galleries like McClain Gallery, Moody Gallery, Devin Borden Gallery, and BLUEorange Contemporary and nonprofits like Art League Houston, showcasing a wide range of Houston's sculptors, but it also ties in departments from the City. "We thought it would be a good idea, since it's a citywide campaign, to include city departments that have commissioned sculpture (in an integrated form) or have a direct relationship to sculpture in Houston," Gregory says. "For example, the Houston Police Officers Memorial, although that is not a piece commissioned by the police department, is one that they voluntarily man 24 hours a day, seven days a week, out of respect."
BLUEorange presents a solo exhibition of local emerging artist Jessica Kreutter titled A firefly was once a passing shadow. "The show references structures both of a house and of the body," says Kreutter. "Much like our own body, home is a protected space kept clear of encroaching dirt, nature and disease." Through her ceramic sculptures, she explores the connections and dissolutions between these two structures and the space that this rupture presents as an access point for reality.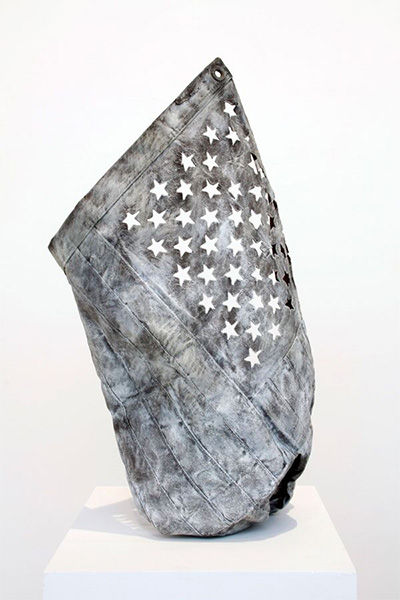 Contrasting against the soft, sleek porcelain works of Kreutter, Art League Houston presents the tangled, twisted metal sculptures of Jesse Lott, who they will be honoring later this year with a Lifetime Achievement Award.  Lott, a founding artist of Project Row Houses, has long acted as both activist and educator and has a storied career that looped him from and back to his home in Houston's Fifth Ward. When he speaks, we hear the power of sculpture. "When a pebble hits a pool, it starts a wave that covers the whole pool," Lott says. "The pebble is the concept. An artist puts out a concept and the concept changes the consciousness of the viewer, leading to a positive change in the pattern of his activity."
The hopeful event has also secured SITE Gallery Houston at The Silos at Sawyer Yards, 34 igloo-shaped rooms that once acted as the end terminals of the original rice silo towers. While the space has been converted, it still very much holds onto its industrial vibe and presents itself as an interesting container for both sculpture and installation. There Kreutter will join over 20 other artists who will present work in the metal igloos, including Jo Ann Fleischhauer. "I've spent a large part of my artistic career trying to bridge the gap between art and science," says Fleischhauer.
"Jo Ann studies like no one I know," Gregory said. In some cases, Fleischhauer taps into biology, designing umbrellas that mimic the vibrant colors that birds use to attract mates, while at other times she dives deep into the molecular abyss to extract Buckyballs that she hangs from the ceiling. The former will be recreated as A Chamber Piece for Parasols and hung in George Bush Intercontinental Airport. There will be two airport tours with the Hobby on Oct. 25th celebrating Luca Buvoli's Vector HH and other works and IAH on Nov. 15, celebrating Fleischhauer's A Chamber Piece for Parasols and Dennis Oppenheim's Radiant Fountains.
"What excites me is not always a sort of stand-alone sculpture but having the experience of going into a space and exploring how you can transform and transcend that space," says Fleischhauer. Her project at The Silos embodies this endeavor. Titled The Library of Babble, the installation expands on the idea of the library as a receptacle of knowledge and applies the metaphors of Jorges Luis Borge's short story The Library of Babel to address the microcosmic chaos that builds our universe. The space will be filled with scrolls, reminiscent of the ancient libraries and a series of table lamps on wooden shelves, such as you might see in historic public libraries.
"My text is layered visually so in places you can't read what is being written…addressing the idea of what creates language," Fleischhauer says. "Every character, every manner of writing, every visual manifestation can become a culture's language." As simply as language can move between gibberish and sense, so too can the universe build something or nothing.
"What really excites me about processes like Sculpture Month," says Gregory, "is getting to know someone as an artist, as a person, and getting to see what's inside their head come to life." Only time will tell whether Sculpture Month Houston will join the continuing biennials and festivals, such as FotoFest and PrintMatters Houston, that have become core aspects of the Houston arts community, but in the meantime, it is an ample opportunity to explore and experience a large section of what Houston has to offer.
—MICHAEL McFADDEN