Bryan Peck, Yahudi Castaneda and Jessica Nieto in Karen Stokes's DEEP: Seaspace.
Photo by Lynn Lane.
---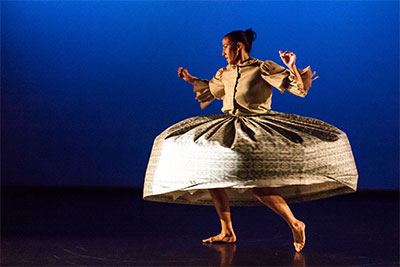 All too often choreographers of modern dance present work based on material they without question know and understand: their own life stories, experiments based on individual movement practices, or explorations of thematic content that shoot out of their imaginations. But can a choreographer create to learn? Can a choreographer make dances to know?
For Karen Stokes, that has always been the foundation of her dancemaking. "I have always looked at dance from the lens of what I can learn," she says. "My dad was a history professor, so that links me from childhood to an interest in history." Karen Stokes Dance's DEEP: Seaspace, which runs Oct. 20-22 at the Hobby Center's Zilkha Hall, is the culmination of a four-year investigation into the spirit of her hometown, Houston.
This intensive learning process and production cycle has included dance-for-film work and site-specific projects, but it was always the intention to finish off with a culminating theater concert. DEEP: Seaspace is a study of the Bayou City through two of its significant contribution to worldwide industry: the Houston Ship Chanel and NASA. The gestation period actually goes back to the very first Big Range Dance Festival in 2003, in which Stokes presented Hometown in a program alongside Suchu Dance and Kinetic Architecture. One of the sections in Hometown was about the Houston Ship Channel, but the scope of the subject matter proved to be too big for the festival format. The section was cut, and ten years later became the basis for this multi-year endeavor.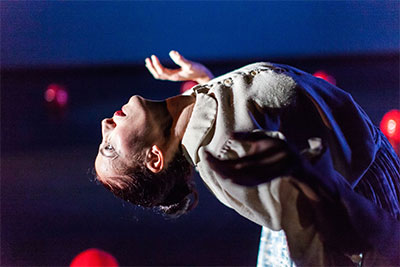 As a native Houstonian, the subject matter always resonated, but the history was also fascinating. "It sort of blew my brain apart because it was so interesting to me, the incredible strength pioneers to set up this city of swampland, mosquitoes, and yellow fever," she explains. "They persevered and built this Houston Ship Channel, the largest port in the United States." Such a packed topic was the perfect project for not only learning, but collaboration.
For the two sections of DEEP: Seaspace, each about 30 minutes in length, Stokes is collaborating with composer Bill Ryan, who she previously worked with on 2011's The Secondary Colors. She was introduced to Ryan's work through a colleague; when she heard one of his compositions, she felt an immediate need to choreographer to it, and created Orange as part of a concert called Portables. She flew Ryan out to see the work, and he immediately reacted to her dance the way Stokes reacted to his music.
Due to scheduling conflicts, they couldn't create in tandem, so Ryan created a thirty-minute draft of Space and Stokes created a 30-minute draft of Sea. The two swapped drafts and then fed off the initial creation. "When I first got Bill's draft, I was really puzzled by how I was going to make this section, and I told Bill that I was puzzled," she says. "What's happened is that it's pushed me in another direction. I was puzzled in the same way that Bill was puzzled by the sea."
The challenges of working with original music, namely, negotiation the creative process with another artist, suits Stokes just fine. "If I had my druthers, I would always have an original score," she says. "I think it provides a lens that is more organic to the actual outcome than what you're going for."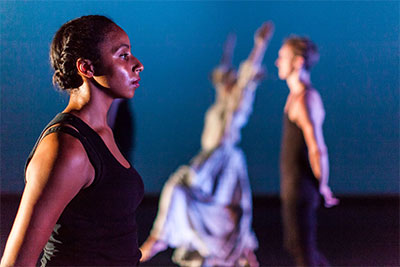 Learning about her subject matter did not always necessarily make the work easier create. After all, how does one generate movement that accurately portrays time and place? In the Sea section, one of the first that's that interested me was the 1836 battle between Santa Anna and Sam Houston. I was immediately perplexed in how I was going to express this time period in the art form of contemporary dance," she explains. For the resulting dance-on-film, she used costumes to make the connection, including voluminous skirts to suggest boat imagery, and a ghost figure as a narrative device to capture the historical significant of the Santa Ana capture site.
Expect Space to be a bit more ethereal in execution. "I am going more abstract and spiritual," says Stokes. "I'm trying to create a feeling of letting go, the way when you up at the stars and let go in awe. You don't try and label it as anything other than dance."
As Stokes makes clear, creating a strong sense of time and place is an important aspect of her work, even if the time and place are imaginary. One of the ways in which she has been so successful on this front is by developing her community of dancers. "They way the work together, it translates to the stage," she says. "They form a community of people that belong to a specific time and place. Their affection for each other becomes this community, and it reads as such in performance."
As the head of the University of Houston's dance program, Stokes knows a thing or two about evaluating dancers. If Houston were a dancer, what kind of mover would they be? "Full of energy, and full of hope for the future," she says. "There would be some rawness, and lack of refinement, which is not bad. I think that's interesting. A lot of people talk about Houston as a place where people can go out and get something, do something. That would definitely be a part of Houston as a dancer."
—ADAM CASTANEDA