Highlights of Houston Ballet's 2014/2015 Season
---
IMAGE ABOVE: Houston Ballet principals Melody Mennite and Connor Walsh in John Cranko's The Taming of the Shrew. Photo by Amitava Sarkar.
---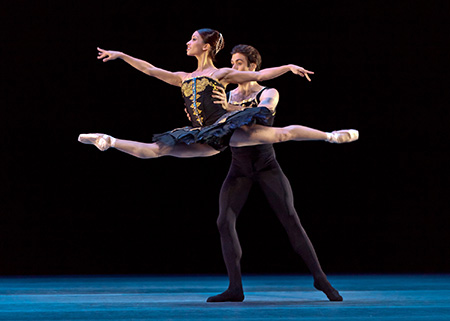 Love, laughs and heartache, who writes about that better than William Shakespeare? It turns out that the Bard has found a home in the ballet world, and Houston Ballet's 2014/2015 season plans to make the most of it. In celebration of Shakespeare's 450th  birthday, Houston Ballet has anchored their new season with three ballets based on Shakespeare's timeless tales,  including the company premiere of John Neumeier's A Midsummer Night's Dream, Stanton Welch's world premiere of Romeo and Juliet and John Cranko's The Taming of the Shrew.
The bundle of Bard ballets came together rather miraculously for Welch, Houston Ballet's Artistic Director, who is in the midst of his 10th anniversary season. "I've wanted to do a Romeo and Juliet forever, every choreographer does," insists Welch. "The Prokofiev score one of the best ballet scores in existence." A generous gift from longtime Houston Ballet supporters Ted and Melza Barr made Romeo and Juliet possible. Welch's new ballet will be the company's first new production of this ballet in 28 years. Everything about  A Midsummer Night's Dream felt right as well. "We have wanted a Neumeier ballet in the repertoire for a long time, and the timing finally worked out. Add in Shakespeare's anniversary and the revival of Cranko's classic The Taming of the Shrew, and it all came together," muses Welch. "A Midsummer Night's Dream is the romance, Romeo and Juliet is the tragedy and The Taming of the Shrew is the comedy," says Welch. "Shakespeare considered Romeo and Juliet and A Midsummer Night's Dream to be opposites actually." Welch also sees the three ballets as a boon for the Houston Ballet's talented team of dancing actors. "Titania, Katherina, Juliet, these are simply great roles," he says. "Some of our dancers will get to dance all three in one season."
In addition to the three Shakespearean full-lengths, Welch has planned delicious array of Mixed Repertory evenings, which include two world premieres intermingled with gems from the repertoire due for a fresh viewing.
The season opens with the company premiere of Neumeier's fantastical A Midsummer Night's Dream. With music by Felix Mendelssohn, Bartholdy and Gyorgy Ligeti and scenic design by Jurgen Rose, A Midsummer Night's Dream is family-friendly story ballet of the highest order.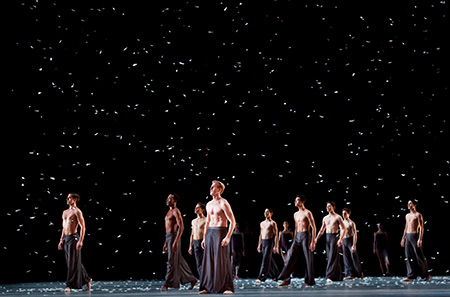 The fall continues with a mixed repertory that includes the clever pairing of Jorma Elo's athletic ONE/end/ONE with Edwaard Liang's fluid Murmuration. Although each choreographer has their own bold style, Welch sees them as linked through their time at Netherlands Dance Theater and Jiří Kylián, whose work is a mainstay of Houston Ballet's repertory. Both choreographers are deeply invested in pushing the vocabulary of ballet. Elo's asymmetrical contours of sharp angles and whimsical theatricality creates a world of its own, while Liang's group dynamic relies on sweeping momentum and continuous flow.  Add in the classical powerhouse, Paquita, which Welch created (after Marius Petipa) for the 2013 Jubilee of Dance, and it's a program showcasing the full breadth of ballet then and now. "All three works were made right here, so there's that connection as well," adds Welch.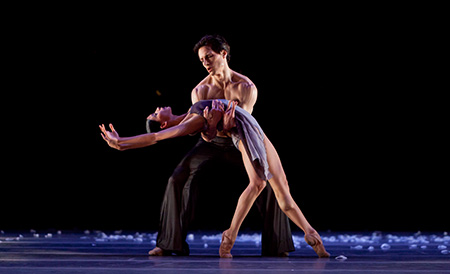 January offers the return of the Cullen Series, this time with the Alberta Ballet in a rare performance ofLove Lies Bleedingwith music by Elton John  and Bernie Taupin. "It's actually the story of Elton John's life," says Welch. "Alberta is a city very much like Houston, they love story-telling as we do. The Alberta Ballet performs my Madame Butterfly." Choreographed by Alberta Ballet's artistic director Jean Grand-Maître, who also created the Vancouver 2010 Olympic Opening Ceremonies, Love Lies Bleeding is a one of a kind tribute ballet to the work of  Sir Elton John and Taupin.
February is the perfect month for the ultimate doomed love story. Welch aims for a very traditional version of Romeo and Juliet. "Ours will be set in Italy, so it will be a very authentic setting, true to its Italian heritage."  The renowned Italian designer Roberta Guidi di Bagno will be doing the lavish sets and costumes. Guidi di Bagno also created the extravagant world of The Merry Widow, in addition to working on two of Welch's ballets in Denmark.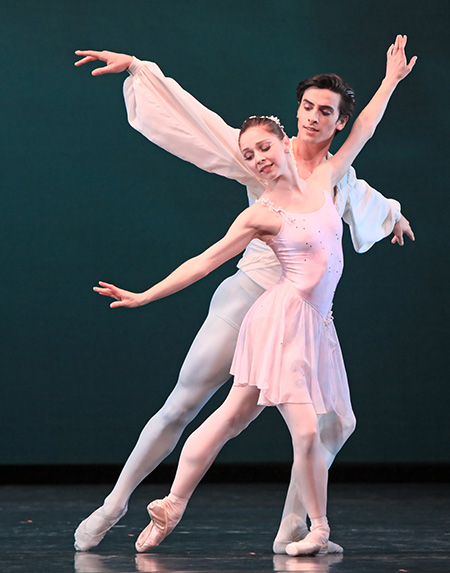 March brings a Mixed Repertory of contemporary and classical works with George Balanchine's masterpiece Ballo Della Regina, Nacho Duato's moving Jardi Tancat (1983), and Harald Lander's iconic Etudes (1948). "We brought Merrill Ashley in to set Ballo Della Regina, so it's very meaningful for us. It's a great piece," says Welch. "It's interesting that Etudes was once performed every two years or so, but it has not been seen in 11 years. It will be new to the dancers and a good challenge for them."
May's Mixed Repertory offers two new works and the long-awaited revival of Svadebka (1982), Kylián's poignant chronicle of a Russian peasant wedding, performed with a live chorus. "It's been eight years since we did this ballet," explains Welch. "It's time to bring it back." Freshly made ballets are another cornerstone of the season, with world premieres by Mark Morris and Welch. Morris' Sandpaper Ballet, Drink to Me Only With Thine Eyes and Pacific have proved to be audience favorites as the company continues to grow in their ability to perform Morris' complex musical choreography. "It will be a historic moment for us in that this will be the first time that Mark will be creating a ballet for us," says Welch. "He's so important in the history of American dance. We want our audiences to experience his work, and it's crucial that we expose them to Mark's work."
Welch's new ballet, Zodiac, has been incubating for as long as he can remember. Wandering in the public library as a youth, Welch was struck by the Greek and Latin mythology behind the Zodiacs. "That was the seed," he recalls. "Yet just about everyone knows something about the Zodiac."  Working with a commissioned score for the ballet was also high on the choreographer's list. The new ballet is set to score by Ross Edwards, who also composed the music for Welch's much cherished ballet, Maninyas. "It's been a good back and forth process with the composer, but I now have 12 sections to work with," he adds.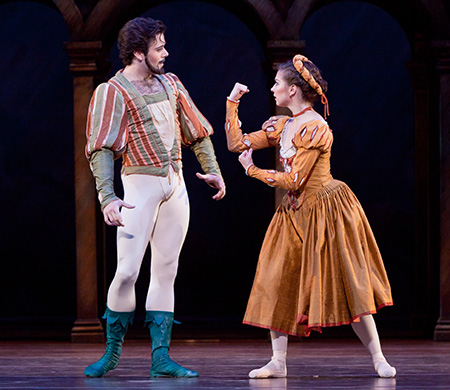 The season closes right where it began, with Shakespeare's hilarious tale of the trials of courtship and marriage. The Taming of the Shrew. Cranko puts Shakespeare's brilliant wit and comic invention in motion in an unforgettable evening of dance, drama and virtuosity. It will be a season to remember for dancers and audiences alike, and a fitting tribute to one of the world's greatest artists.
—NANCY WOZNY
Reprinted from Playbill.