Allison Hunter, Magnolia Park: Take 1, from the "Video Bomb Houston Series," 2015, digital photograph.
---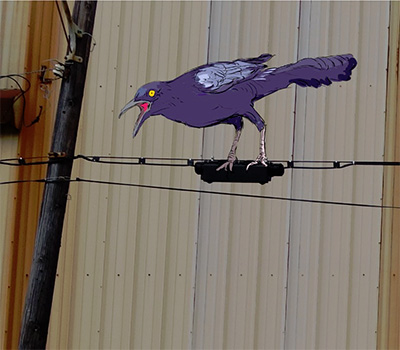 Houston-based artist Allison Hunter is a self-described "signmaker" who uses her art to draw attention to the simultaneous vitality and vulnerability of animals, punctuated by the all-too-common human desire to rule over them. Often working with installations of photography and video projections, she taps into the power of empathy to question our dominion.
Currently, Hunter is in the midst of realizing Video Bomb Houston, a series of new five-minute long video works in a two-hour loop, created specifically for abandoned buildings throughout the city. Hunter finds the sites through word of mouth and exploration, meeting with community leaders, attending events to get to know residents, and getting feedback on her project ideas. "I've been in the art community here for 12 years," says Hunter. "There is a huge crossover between folks who support the arts and folks concerned with Houston's underserved neighborhoods." Current dates for Video Bomb Houston July 6th, July 20th, August 3rd and August 17th.
As far as the physical constructs of the sites are concerned, she keeps an eye out for large exterior walls or other surfaces that would be visible from a distance (such as a main road), partly to maximize the potential for audiences and experience but also to keep the focus on outdoor spaces. "I believe art is a basic need, not a luxury," she says.
Currently under consideration as a site for the series is a warehouse in Magnolia Park, which Hunter found when Diane Barber, Managing Director of the East End Foundation, put her in touch with Harla Kaplan, Director of Development at the Community Family Centers based in the area.  For this warehouse location, Hunter created a hand-drawn animation that incorporates hand-made clay puppets of people and animals that go in and out of the building. At times the stories are serious but she also creates more lighthearted visual tales, such as when a bird swoops down to land on the telephone line and slips on a pair of dangling sneakers, before taking off into the sky again.
For other possible locations, Hunter has the generous help of Martha Ojeda, Executive Director of Fe y Justicia Worker Center. Together they did a driving tour of the areas that the center serves, and attended a "barrio meeting" with residents of the Northline community.
"First, I went on a tour of the facility where I heard many beautiful stories about the work that they do. Then, I participated in a family-oriented fundraising event. They had balloons, dancers, and music, etc. That event inspired me to use balloons in my drawing for the video I will project there." says Hunter.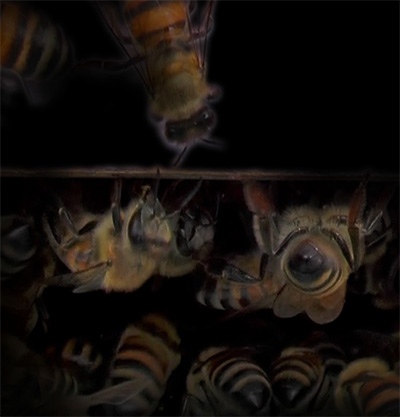 Hunter's artworks are often a result of working with various forms and techniques; many of her videos come from a lineage of object- and image-making (as with the puppets she made for the Magnolia Video Bomb Houston site). Sound is another vital component. For example, In the Presence of Bees, which she created for Inter/Action, commissioned by HAA for the recent Transported + Renewed festival, an almost melodic, chant-like soundtrack weaves together the buzz of the bees with the hum of the city. She projected the video on four silos, the bees hundreds of times larger than human size and thousands of times larger than insect size. The result was a captivating, awe-inspiring look at a valuable species at risk of becoming extinct because of human interference and negligence.
She employs similar staging techniques in her photographs, placing animals in theatrically lit settings and color field backgrounds, alone or with a select few from the herd. Amid the warm glow of sunlight or haunting moonlight cascade, we can't help but think beyond the painted image and wonder what real-world fate waits for them.
Hunter shows her work internationally, with exhibitions in New York, Latvia, Lithuania, and more. But Texas is perhaps her strongest supporter, both creatively and professionally. In the early 2000s, she was on staff at Houston Center for Photography, first as editor of Spot and then as the center's executive director. Readers might recall that in 2010 she presented Zoosphere at Diverseworks and Hanging by a Thread at Alliance Gallery in 2011-12. And she has been able to create Video Bomb Houston with support from the City of Houston through Houston Arts Alliance, and the Humanities Resource Center's Public Humanities Initiative at Rice University, where she is an artist-in-residence—a position that allows her to co-teach a new course called Experimental Sound and Video which she created with Shepherd School of Music professor Kurt Stallmann.
Later this summer, Hunter presents a revision of In the Presence of Bees which will be projected on the outside of Liliana Bloch Gallery in Dallas for Retreat, a group exhibition curated by Rachel Rogerson, that explores our relationship with nature. Given the animals that humans can be, the exhibition is set to help us reconsider —and hopefully reconstruct—our nature.
—NANCY ZASTUDIL