Laura Lark, Fudgie the Whale and the Dredging of Goat Island, oil on vellum 42 x 144″.
---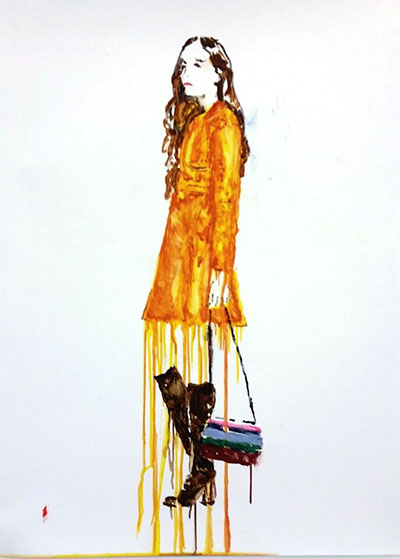 In the course of our conversation about her current exhibition at Devin Borden Gallery, Laura Lark careens casually among her vast field of influences. Greek mythology, "horrifying" bridal magazines, and van Gogh are among the topics we discuss, but Lark seems completely comfortable with the blurred boundaries of high and low culture represented by her latest suite of twelve paintings entitled the Misuses of Enchantment. The majority of the show, on view at Devin Borden through Oct. 24, is focused on the painted female figure, and represents a stylistic departure for the artist, known for careful black-and-white pointillism.  In the midst of the burgeoning age of millennial feminism, Lark's youthful, beautiful and fashionable subjects, with their audacious come-hither gazes and their fashion-plate salesmanship, feel a bit out of step with the current social media appetite for broader diversity in the ever-controversial history of images-of-women. There is something passé about them but, as Lark explains, "even when I do contemporary, they end up feeling period."
The fact is that the images were culled from current bridal and fashion magazines, sources the artist chose because of the rich visual material. "There's the traditional long hair… and the lace, which is fun to paint."  To an art-viewing audience one generation removed from Cindy Sherman's Film Stills, they are stereotypical, somewhat dated images of women, ghosts from a time before John Berger's Ways of Seeing was part of every art student's canon. But as Lark points out, this kind of imagery is de rigeur in the fashion world: "When you open up these magazines, it's like nothing has changed. Everybody still wants the big rock from Tiffany's."
Lark doesn't seem bent on satirizing or smearing the fashion world; this kind of image is practically a genetic inheritance.  "I felt like I needed to be honest.  Fashion magazines shaped my world," she says. "I'm not a cultured person."  Both her mother and grandmother before her, although not professional artists, copied images in fashion magazines to practice drawing. Lark's first solo show, "in a dressed-up bathroom," was an homage of sorts to her mother, featuring 1960s fashion models as her main characters and channeling Jackie Kennedy's iconic sense of style and Andy Warhol's commercial fashion drawings.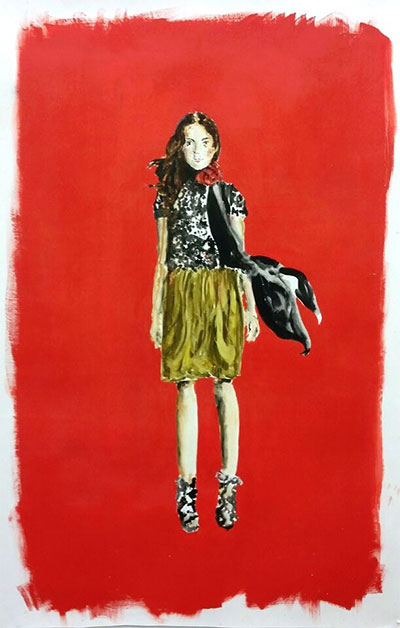 This familial connection is a theme in Lark's creative process.  In the context of her current work, which also consists primarily of lone female figures, Lark views her young women as kind of "mythical children."  The Misuses of Enchantment is a riff on psychologist Bruno Bettelheim's 1976 Uses of Enchantment, a book about the allegorical capacity of fairytales to relate the darker aspects of life to young children that Lark says influenced a lot of "post-hippie parenting." It was one reason her own parents insisted on presenting the unvarnished truths about the larger world.  Both the artist and her work seem ambivalent about this stance— hence the term "misuse."  The fairytale to which Lark refers in her paintings is manufactured from the slick pages of magazines and transformed and humanized through her alternately bulky or drippy paint. Entwined is a painting of a glossy, luminous diamond advert (the quintessential symbol of the commercialization of romantic love) in the chunky, physical manner of Van Gogh "because he was so pure emotionally."
Lark seems desirous of, or at least intrigued by, the concept of fairytale as a means of communication. In her parallel creative life she has written fiction, a form of art that poignantly and accurately distills the human condition while remaining, by definition, untrue.  But as far as writing about her own work, Lark doesn't see a need.  "I've already made the work, can somebody else talk about it?"
The one piece in the show that is an outlier in aesthetic terms is titled, "Fudgie the Whale and the Dredging of Goat Island."  It's a collection of expressive, colorful splashes smeared across the surface of a surveyor's map the artist found in a defunct engineering firm.  Laughing, she recalls her impetus for this piece, "I mean, where the hell is Goat Island?"  This piece, and Misuses… in general, is proof that Lark trusts her own artistic instincts implicitly.  When she told friends she was working on a painting show after five years of painstaking pointillism, some balked, "you're not a painter!" they said. "I wasn't confident, but [painting like this] was freedom."
—CASEY GREGORY