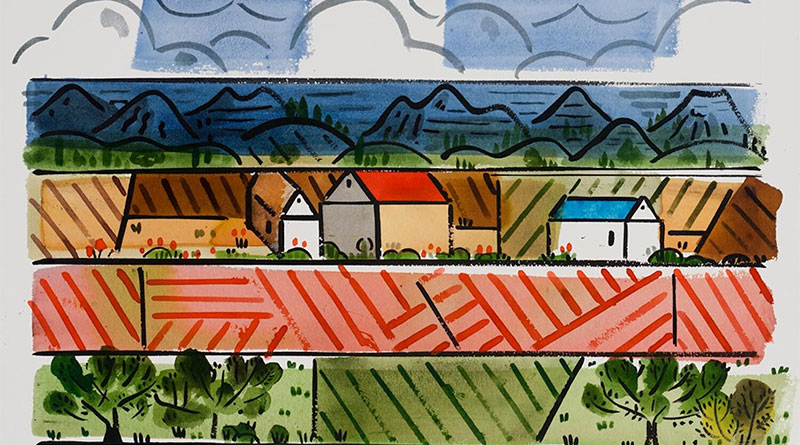 Show Up: Richard Thompson
Richard Thompson, Red field, watercolor-paper, 22 x 30, 2015.
---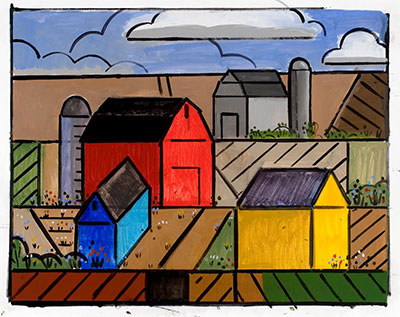 Artist Richard Thompson's career spans five decades––quite an accomplishment in any business. But in the world of contemporary art this continued success, both as an exhibiting artist and a teacher, is fairly unique. Thompson's upcoming exhibit with Fort Worth's William Campbell Contemporary Art, Perfect: Part 1, May 19-June 18, is his 12th solo exhibit with the gallery.
This group of paintings and watercolors were painted at Thompson's studio on his family farm in Oregon. Thompson describes his work as an intersection between "the inner eye and the outer eye."
"I'm 71 this year and I think I'm finally making paintings that are a successful synthesis of seeing and thinking," he says.
"He structures the work like abstract paintings, although he uses familiar [looking] shapes and objects." Campbell says. "The geometric objects manifest themselves as landscapes."
By any standard, Thompson has had a remarkable career. His works were included in two Whitney Museum Biennials of American Art, in 1975 and again in 1981. His paintings hang in the collections of the Edinburgh Museum of Contemporary Art in Scotland and the Modern Museum here in Fort Worth. But growing up as a farm kid in rural Oregon, art was not a vocation Thompson thought about.
"While I was failing chemistry at Oregon State University, serendipity introduced me to art," he says. Thompson discovered he could draw in 1963, and the former forestry major lied to his parents about the classes he was taking. "I told them I'd be a schoolteacher," he says, by way of explaining his art classes. "They never would have understood my becoming an artist."
A printmaking teacher at OSU saw promise in Thompson's work, and suggested the University of New Mexico's highly-regarded printmaking program in 1965. "I didn't last in printmaking, but I really became a painter," he says of his time in New Mexico. "I needed to get out of Oregon, needed a broader set of ideas about art." For a time, Thompson went east to Baltimore, exhibited in Washington DC, and then returned to UNM to finish his graduate degree. He stayed in Albuquerque in part because of the affordable studio rents in the 70s and the generally supportive contemporary arts community in New Mexico.
"(My) studio in Albuquerque cost $100 a month." Thompson says. "The hallmark of the 70s and 80s was there was enough art activity and interest nationally in New Mexico that publications like ArtForum and ARTNews covered the southwest. I could live in Albuquerque and still get national press."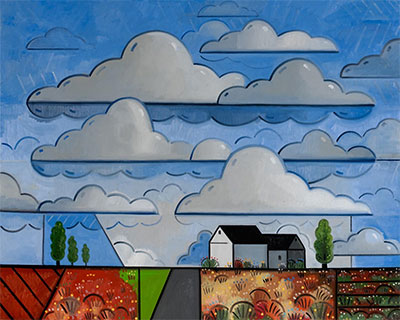 But as with all print media, the reduction in the number of staff writers means that art magazines focus more on the east and west coasts. Waxing philosophical, Thompson says that being an artist is hard, no matter where you live, whether you have a regular paycheck or not.
"The arts in the U.S. tend to suffer with the economy," he says. "In years of plenty, people are generous, and in years of economic downturn, your career can be cut short by variables over which you have no control."
Thompson's career was aided by an unusual phenomenon: Oil and gas companies, flush with 80s wealth, were building private collections in their corporate offices. Thompson moved to Houston about that time because he was actively exhibiting at galleries on the west and east coasts.
"It seemed like a compromise, living halfway between the two in a city with its own healthy art scene," Thompson says. "I had opportunities because Enron Corporation and Atlantic Richfield were building collections and sponsoring shows." Of course, what goes boom may also go bust.
"Few predicted that oil companies would build corporate art collections of merit," Thompson says.  "But they did, and they were often bolder and braver than museums and private collectors. And few predicted their downfall."
Thompson left Houston in 1983, when he was hired as a visiting professor at the University of Texas in San Antonio. Offered the chance to become a professor of art at UT Austin in 1984, Thompson moved north. By the late 90s he was assistant chair at UT, the head of the studio program and full professor. He left Texas in 1997 to take the position of Dean and professor of painting for the School of Art and Design at New York's Alfred University. In 2004, his parents' illnesses pulled him back home to Oregon, and in 2011 he retired and moved back to the house he grew up in, south of Portland.
Of his work since returning to Oregon, Thompson says he has a deeper interest in the landscape as subject matter, and an interest in depicting stillness. "One of the things I'm really interested in is creating stillness in painting in an era of intense movement in many other art forms," he says. Performance art, video, and film force the viewer to take in images quickly. Thompson relishes the idea of art "slowly revealing its content."
"For the patient viewer, standing and looking at a painting, learning the internal structure, the pace of the brush marks, the cross conversation between colors and shapes, can be a rewarding human experience," he says. "I wasn't interested in this 30 years ago. I wanted to be loud, like everyone else. Now I want to make paintings that are quiet and solemn."
—LAURIE JAMES