IMAGE ABOVE: Loading… Animated neon on steel 47″ x 47″ 2014.
---
"Ideas are in my mind like a 12 car pile-up; I just need a moment to safely clear the scene and get to work," says Houston artist Tommy Gregory. The "work" he refers to is his studio and public art, but for the past five years he has been building another body of work as an arts administrator, most recently in the position of Civic Art + Design Coordinator/Gallery Manager at Houston Art Alliance.
Gregory is preparing for Loading…, his upcoming exhibition in San Antonio at Blue Star Contemporary Art Museum, Oct. 2-Nov. 9. This is his first museum show and a repeat appearance at Blue Star, where he was included in the 2010 25th anniversary group exhibition Amalgamations 25: 28 Artists for 25 Great Years.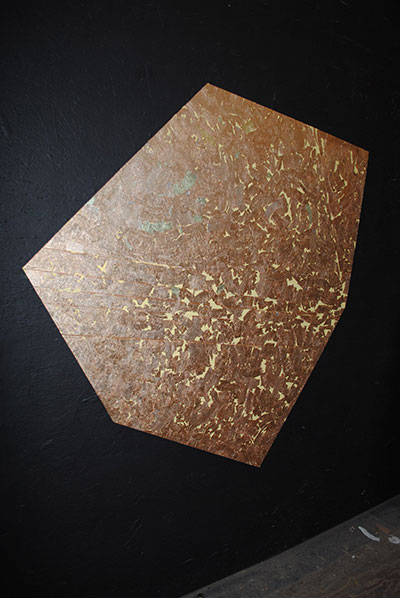 "My work is pretty universal for this particular exhibit; the entry point is that the main piece is a large neon that mimics the ever-noticeable 'loading' sign. To me that piece is the starting and ending for this show. It is extremely recognizable as a contemporary icon but, in using neon, it is very nostalgic in the way it is presented," he says. "The rest of the show is kind of a surprise that will 'load' during the opening reception. The work displayed discusses issues of social media, sustainability and existential placement."
As for his role at HAA, Gregory stresses the importance for any arts organization to employ practicing studio artists, saying that maintaining a studio practice works in favor of his day job. It enables him to relate to and communicate clearly with the city's commissioned artists as well as interact in an effective, informed way with city contractors and architects.
Attending the University of Houston to attain his BFA, then acquiring his MFA at University of Texas at San Antonio, Gregory's work became more concept-driven, using materials such as bronze, resin, and even assemblage. Today, he adopts the philosophy of making a point to look at everything, every day. "I don't think anyone would anticipate a certain material, but I would hope that craftsmanship and a light hearted commentary on our everyday experience could be something people would expect from me," he says.
Gregory credits his self-taught artist mother for teaching him how to look at objects, and UH faculty Paul Kittelson and the late Luis Jimenez with steering him towards transforming what he sees in the everyday into 3D works of art. For example, his temporary works of art have incorporated a toilet paper column and a church steeple (Temporary Comfort and Lost Pines, respectively).
"Paul taught me how to refine my welding and carpentry skills, and Luis taught me how to put myself into the work. Since working with them during my BFA I have been lucky to have studied under Ken Little who gave me some direction out of grad school."
Today, Gregory's work deals with a false sense of control or power, which he addresses in a sophisticated, tongue-in-cheek way; he wants people to enjoy what they are looking at. He explains that his ideas are fed by his experiences and perspective as an early 30's mixed race American male. It is the possibility, and the decision, to always do better that drives Gregory to keep working in both the studio and the office.
"When I was 20 my work was driven by my adolescence and hunger for knowledge; when I am 50, it will be about what I am seeing then. I have not gone to war, I have witnessed death as much as the next person, and despite being in debt and out of gas 60% of my life, I have working air conditioning and my boots fit," he says. "I have a comfortable life, and I know it could be much worse, but I never stop thinking that it could be much better."
—NANCY ZASTUDIL