French Connection (detail), oil enamel on aluminum, 70.5" x 46.5"
---
John Pomara at Barry Whistler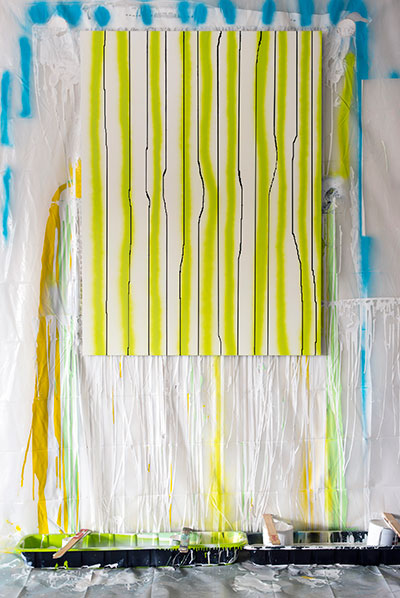 Artist John Pomara makes mistakes. He also makes paintings. And, for him, one doesn't exist without the other. "My work comes from a history of abstraction, from failed Op-Art," he says. "It is trying to be good, but it is awkward and unruly." For Digital-Distraction, Pomara's current exhibition of abstract paintings at Dallas' Barry Whistler Gallery, he fills the space with a selection of large, colorful, renegade works which he creates though both digital and analog means. The exhibition title is a nod of recognition to the digital-divide he sees in contemporary life and culture—a divide, he sees, that can disconnect as much as it connects.
Pomara, a self-described "geek scientist who works visually," introduced technology into his art making through the use of "low tech" equipment. For example, in the 1990s, he experimented with the capabilities of Xerox copiers; magnifying and distorting images in black and white. He then created abstract paintings as handmade replicas of these Xeroxed, manipulated images—further removing them from the source image and emphasizing the relationship between the mechanical and the handmade.
As digital technology advancements increased, so did Pomara's interest and investment in addressing painting in the age of new media. He began teaching, which gave him access to more sophisticated equipment such as the then-new Apple computer and digital scanner. He magnified images, zeroing in on individual pixels, anywhere from 100 to 1000 percent. He used half-empty ink cartridges in misaligned printers to force visual interruptions. The possibilities for abstraction were, as he saw them, endless.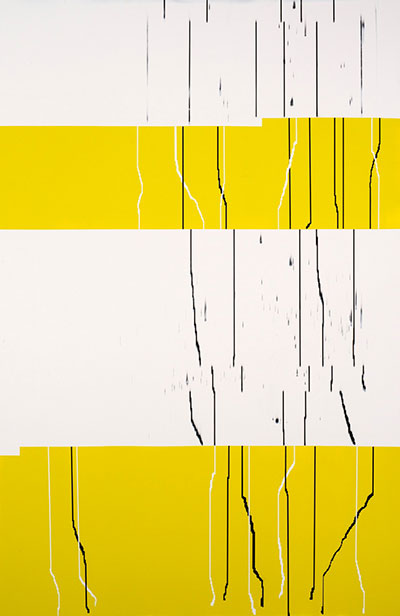 He explains, "Abstraction is simply coded ideas. Digital programmers create codes, or language, that create images, and our written language is created from abstracted images."
Today Pomara is focused on veritable mistakes or mutations known as "glitches" that occur in digital processing, resulting in minimalist, abstracted imagery that he then makes into a painting. Using computer stenciling of magnified digital images and glitches, along with specific highly saturated color selections, he references moments in pop cultural both old and new. For  example the sequencing and timing in cinema, data information, and even vintage advertisements for Beechnut striped gum.
In his most recent work, a good portion of which is included in Digital-Distraction, he has taken to defacing his own paintings with spray paint, lines that he applies, graffiti-like, in another visual and conceptual layer, to the digital pixillation. He makes clear his interest is in the relationships between, and references to, industry and technology, by using industrial oil enamels and paints on aluminum.
Perhaps surprisingly, Pomara's calm, cool abstractions actually come from complicated personal places: his heart and his gut. This new body of work, for example, was greatly influenced by a chance hearing of the Smokey Robinson song, Tears of A Clown. Having recently experienced heartbreak in a romantic relationship, he ruminated on the song lyrics, unable to shake them from his memory, and decided there was something in there for him to explore. The result? For one, he used a photo of his ex-girlfriend as a source image for one of his paintings.
I asked Pomara how he decides what images to use and how, exactly, to create an abstract work. His answer was simple: "I go with my gut."
-NANCY ZASTUDIL
---