A 50th anniversary deserves a celebration. But what kind? Houston Ballet's leaders looked back across the company's history, starting before the 1969 debut of the company as we know it today. Exploring the past, artistic director Stanton Welch says, revealed "great, great stuff that we should be applauding ourselves for."
That told him that the festivities should "take a whole season. Don't just finish a year with a hurrah," he says. So every program from now to June will salute Houston Ballet's historical milestones and artistic DNA.
Even though Welch's own production of Giselle opens the season, the performances (Sept. 6-15) really hearken back to a 1967 staging–the artistic Big Bang that helped set Houston Ballet in motion. The company's forerunner, Houston Ballet Foundation, performed a one-night Giselle featuring two of the dance world's most gleaming stars: Italian ballerina Carla Fracci as the peasant girl and Danish danseur noble Erik Bruhn as her suitor, Albrecht.
"I wanted to honor what brought ballet to Houston, and it was this Giselle," Welch explains. "Look at the imprint it left. The city decided it would build this wonderful classical ballet company, and I think it was inspired by that."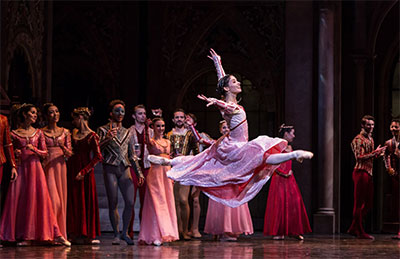 Above all, the season celebrates the company's longtime identity as a birthplace for new works. "What shocked me was how many ballets were choreographed here right from the beginning," Welch says.
"We were always a complete choreographer-based company … and (at) the front edge of creation. Not the safe part–but weird stuff. And that grew Houston into understanding that, for all the arts, invention is cool."
The creations in those early years included "stuff that gives me goosebumps," Welch says. The Shakespeare-inspired Caliban by James Clouser, who served as ballet master and interim artistic director during the 1970s, was the United States' first evening-length ballet to use a rock score. Clouser dramatized Houston's founding in Allen's Landing, part of a trilogy commemorating the U.S. Bicentennial. Longtime artistic director Ben Stevenson in 1984 crafted Lady in Waiting around British jazz singer Cleo Laine, who "sang and acted and danced,"  Welch says.
Many works from the company's early decades are lost, he says. But the coming season can still spotlight the artistic ethos they represent. The 1990 production of The Sleeping Beauty (Feb. 27-March 8) salutes not only choreographer Stevenson, but Houston Ballet's 1987 move into Wortham Theater Center, whose Brown Theater put a capacious and well-equipped stage at the company's disposal. "Sleeping Beauty is Ben's milestone production–probably his most elaborate and biggest company blockbuster," Welch says.
"It was a signature work for both him and the Wortham," Welch explains. "It was one of the first times they built a design to show the full glory of the Wortham Theater … They built big, ornamental pieces of scenery that worked so well. It was us graduating into that theater."
Welch's Romeo and Juliet (June 4-14) illustrates the climax of that expansion. "Romeo is my biggest thing here,"  he says. "We use the entire Wortham (stage), even deeper than Ben did. We go all the way back, all the way to the sides. We have all the company and all the school." The three full-lengths, he adds, "show like rings on a tree our growth in the community."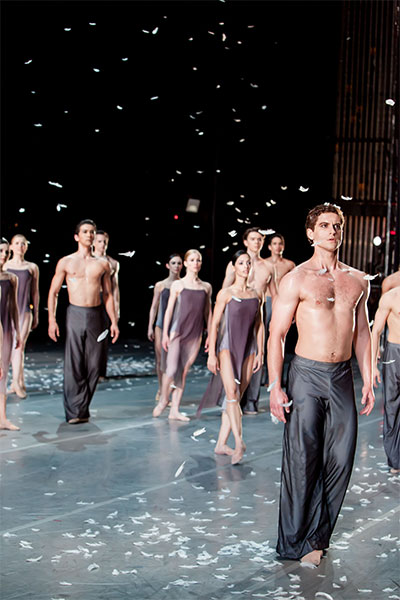 To embody Houston Ballet's commitment to new work, each of the season's mixed-repertoire programs will include a world premiere. In fact, "Locally Grown. World Renowned" (Sept. 19-29) will boast a pair of them. The program will introduce the company's audiences to China's Zhang Disha, who won a special choreography prize in the USA International Ballet Competition in 2018, when the judges–including Welch–were "blown away" by a pas de deux of hers.
"We need to bring her here," Welch says. Her works, often employing traditional Chinese music, are "very touching," Welch adds. They tackle "subjects like death and cancer–really tricky, intellectual things–but in a way that makes you feel stronger."
The program's other new work will come from one of the company's own dancers. After crafting works for galas and other events, first soloist Oliver Halkowich–a member of the company since 2002–will create his first work for the mainstage series, titled Following.
"We've given him some pretty difficult puzzles," Welch says. "He always comes up with something original, and he takes the artists in front of him and makes them look great. And here we are now with a budget and a real ballet and the orchestra."
Even though Welch "doesn't try to micromanage" choreographers, he says, he discussed the company's history with all of this season's group and invited them to let it fertilize their imaginations. That may come naturally to Trey McIntyre, whose new work will premiere in "Forged in Houston" (March 12-22).
McIntyre studied in the Houston Ballet Academy as a youngster, returned to dance in the company, and let his creative juices flow as Houston Ballet's first choreographic associate. He went on to form his own company, Trey McIntyre Project. "If anyone can understand the scope of our organization, it's him," Welch says.
"Trey's had this enormous growth," Welch continues. "I can't imagine creating a ballet company from scratch, with no foundation and no organization. He did that well, and for a long time." Having shut down his dance group a few years ago, McIntyre has his own perspective on a company's life and trajectory. "He's very much a choreographer (whose work) comes from where he is as a person," Welch says.
South Africa native Arthur Pita will contribute the season's last premiere to "From Houston to the World" (May 21-31). Welch relishes Pita's penchant for offbeat stories, as illustrated by two works he created for England's Royal Ballet: The Metamorphosis, based on the surreal Franz Kafka tale, and The Wind, inspired by a 1928 movie that starred Lillian Gish as a West Texas woman terrorized by a relentless windstorm.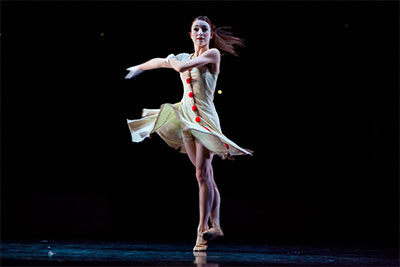 "I love it when somebody takes a subject that makes you say, 'What is he going to do?' And you see it and you're like, 'Wow, OK!'" Welch says. "As soon as I saw Arthur's work, I thought, 'He really needs to choreograph on our dancers.'"
Looking toward Pita's visit, Welch takes a moment to "brag a little bit" about his company. "Our dancers are really great at being in a studio with a choreographer. They're not self-absorbed. They're not stars. They're there for the artist. (Pita's) work is so unique, and so much about what occurs in the studio to build the ballet, I think he's going to have a great experience here. And they will with him."
The mixed-rep programs, as their titles imply, also will spotlight previous Houston Ballet commissions. "Locally Grown. World Renowned" will include Edwaard Liang's 2013 Murmuration, inspired by the paths of birds in flight. In "Forged in Houston," the company will reprise Jorma Elo's buoyant ONE/end/ONE from 2011. "From Houston to the World" will bring back Mark Morris' 2015 The Letter V, propelled by an exuberant Joseph Haydn symphony.
Even though the annual Jubilee of Dance (Dec. 6) is a one-night affair, it will play a key role in the anniversary celebrations, offering a panorama of the company's history. It will include a dance class recalling those led by Russian-born Nina Popova, the artistic director of the company's predecessor, Houston Ballet Foundation.
Welch hopes to have a work by James Clouser, the inventive 1970s leader. And the Jubilee's second act will include Welch's first creation for Houston Ballet: Indigo, crafted when he visited as a guest choreographer in 1999.
"I had been working in Denmark and miserable," Welch recalls. "The company…hardly worked. They were awful to the director who was there at the time, and it just felt like a prison. Then I came here.
"The dancers–the group I had–were highly focused, highly committed. I think I made the ballet in a week. It just tumbled out. It was a really great experience." Better yet, he felt an echo of his native Australia in "the Texas spirit, and the investment in your own community's art. … And just the honest speaking. There wasn't a lot of sugar. It made me think of home."
-STEVEN BROWN