Margaret Lewis, Cris Skelton, Brittny Bush and Alli Villines in the Horse Head Theatre production of Young Jean Lee's Church, through Aug. 20 at St. John's Church.
Photos by David Tong / GettaGo Photos / Culture Pilot.
---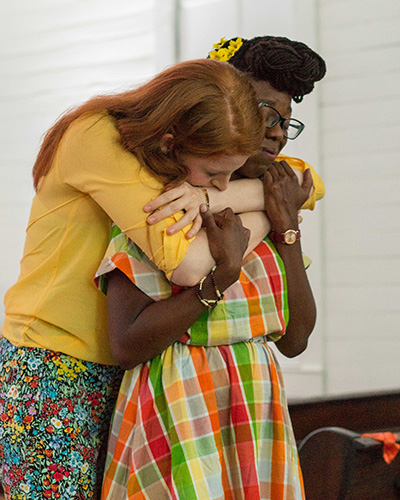 Beloved Brothers and Sisters, I bid you welcome to this Church review, and I ask that you receive it with the openness of heart that I offer it. Please heed my humble story when I tell you that raised Episcopalian, I've listened to, been inspired by, and occasionally fallen asleep during, many a church sermon in my time. Yet, I've never felt the delivery of my soul, not upwards to heaven as much as into a Dali or Magritte painting, until I attended a service of Horse Head Theatre's production of Young Jean Lee's Church.
This Church asks we the audience to become congregants in the Fellowship of Friends as our four preachers, Reverend Brittny (Brittny Bush), Reverend Margaret (Margaret Lewis), Reverend Cris (Cris Skelton) and Reverend Alli (Alli Villines) preach, sing and dance to spread Lee's good Word, though what final meaning that Word reveals they leave up to each Fellowship member's private revelation.
But my fellow faithful in theater, let us begin with the metaphorical welcome handshake, in this case being greeted and offered a name tag by a second troupe of earnest, joyful reverends as we step not into a theater but through the gates of Sam Houston Park, the city's oldest park.
From its founding, Horse Head Theatre declared its mission to create theatrical experiences for active audiences in nontraditional performance spaces. Keeping with that artistic theology, director Jacey Little chooses to present Lee's Church–set in a house or revival tent of worship–inside an actual church, the 1891 St. John's Church. Perhaps under the influence of the great theater god Dionysus himself, Little, with contributions from dramaturg Connor Woods and the second cast of actors, has created a pre-show immersive performance to help the audience fully engage and feel the spirit of this oxymoronic secular-religious experience that is Church.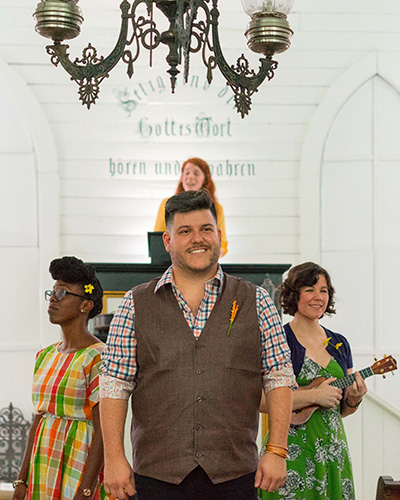 This second cast of reverends, Danté Anderson, Dano Colón, Jayden Key, Mai Le, Britney Walker-Merritte, and Connor Ahngus Woods, use Sam Houston Park as their stage, turning it into a revival playground. The happy reverends (Reverend Jayden would rather skip than walk through his life journey) take the audience through a series of interactive performances likely based on traditional and vaguely new-agey spiritual exercises. Then, about 20 minutes before the Church performance, Reverend Mai leads a tour around the historical building of Sam Houston Park, which Reverend Dano quickly hijacks. Soon each of the reverends are interrupting and offering their own subject-focused guides through the park, allowing their flocks choice in who they will follow and whose Houston history they will discover.
After a final communal performance investigating the nature of the universe with the theological aid of a parachute tarp, the sound of the steeple bell echoed across the park, calling us to Church and into the open arms of our four preachers.
Lee's play/liturgy begins in the familiar vernacular and customs of Christian churches, but rather swiftly transmutes into a service like no other. What the play lacks in plot it certainly makes up for in a cacophony of stories and word imagery. Lighting designer J. Mitchell Cronin lights the simple, white interior and exterior of St. John's to an almost glowing purity. Yet, it is the four reverends with hymns, sermons, testimonials and a crazy praise dance (choreographed by Lydia Hance), who paint the church's insides with their stories ranging from gently colorful to raving psychedelic. They preach of lives without God or faith, mangled by the emptiness and anxiety of modern life, but I say to you dear Friends, something funny happens along the way to our souls' reckoning, really funny.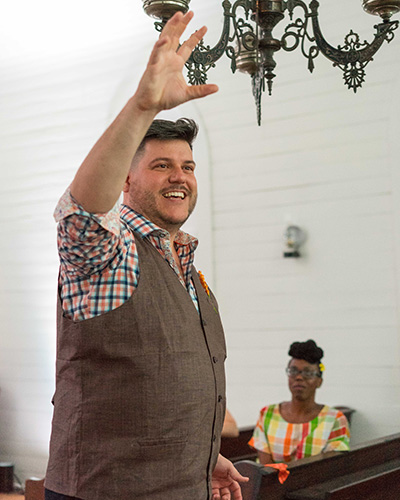 I confess that though we must daily question reality in these testing times, I believe the word "surreal" has been so overused to describe any thing or happening even mildly weird that it's lost much of its meaning. Yet, I can think of no better adjective to describe the sermons preached within Church. Beginning with Reverend Cris and proliferated by Reverends Alli, Margaret and Brittney (though she seemed the most sane one) the parables and hymns told and sung featured unappreciated sandal designers, weaklings, young nursing home squatters, Satan's mummy babies and a whole lot of chicken blood. These warning tales become so convoluted and outrageous, I found myself giggling in my pew. It was then that I began to question the nature of this good Church. Did I pray there in the presence of a secret comedy?
I tell you fellow theater-philes, I praise both Lee, Little and each actors' sincere performance when I reveal I'm still uncertain if I should label Church the darkest of absurdist dramas, the funniest play I've seen this summer or both. I will cry out in the reviewing wilderness that Church offers a message for each of us, but whether one of despair or high laughs we need to discern (though August 20) for ourselves.
Here endeth the review.
—TARRA GAINES