The Present and Future UH Center for Arts Leadership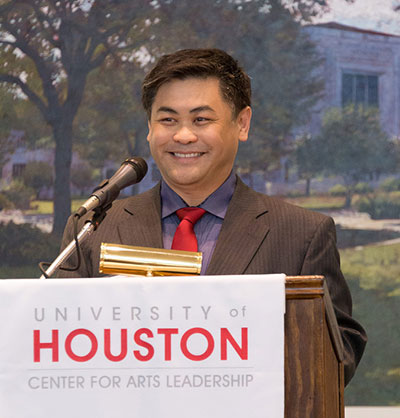 Given that the art world is a breeding ground of extraordinary ego and smothering politeness, it is not surprising that most "arts leaders" are people sufficiently advanced in their careers to have the institutional backing to get away with being a jackass.
Thankfully, there are some some who work to upturn the status quo. Sixto Wagan, former Artistic Director of Houston mainstay Diverseworks and now Director of the Center for Arts Leadership at the University of Houston, is one such upstart. In his new role, Wagan has at his disposal a new institute dedicated to bringing artists and artistic professionals together to discuss issues of management best practices, research and policy, and to investigate modes of radical leadership predicated on the iterative creativity of the working artists. Wagan has devoted his laureled career to working within organizations to pursue questions of equity in the arts. For his first major programmatic initiative, he deployed an unlikely vehicle to encourage candor and discourse in the arts world: an industry conference.
Now there was a time when, to communicate simultaneously with a large group of people, you had to rent a room and send out invitations. Industry conferences were the one time where the entirety of one's professional tribe was all within shouting distance of the same hotel bar. Organizations seeking to monetize such gatherings added additional "value" by offering "programming," typically, a phalanx of unvetted white dudes powerpointing in an en vogue vernacular. Today, with the plurality of online platforms designed to individually cater professionalization and networking, most conferences are inefficient anachronisms, requiring one to trust that an industry association knows how to direct one's time better than one does. In that context, the Center for Arts Leadership hosting a conference of art world leaders talking about leadership in the art world sounds like recursive hell on toast.
Thankfully, Sixto Wagan is neither your ordinary arts leader, nor conference planner. In April, some 200 artists, managers, funders and not-for-profit trustees, representing more than 75 organizations from all over Texas, gathered at the University of Houston for an inaugural "Leadership in the Arts Summit," to discuss a gamut of contentious, complex issues, ranging from diversity and inclusion to equity and funder myopia. This summit was Wagan's first major programmatic initiative at the Center for Arts Leadership, and a sign of great conversations to come.
"The intention of the inaugural summit was to ground national ideas in a local dialogue, really seeing how the Center can be that nexus point between the national dialogue and a local, practical engagement," stated Wagan in an interview by phone. The speakers at the event represented the widest possible spectrum of the Houston arts ecology. Panelists included representatives from the Houston Endowment, Houston Grand Opera, Dance Source Houston, Rothko Chapel and Progress Theater, among illustrious others. Keynote speeches were given by such culture warriors as Ann Markusen (the arguable originator of  "creative placemaking"), Kresge Foundation's Maria Rosario Jackson, and UT-Austin's Paul Bonin-Rodriguez.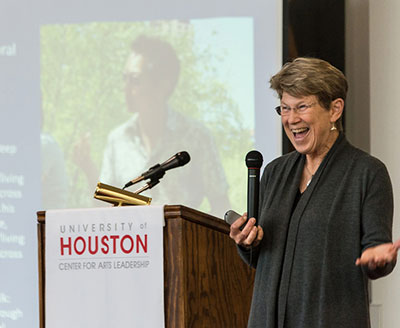 The heterogeneous mix of conference participants was intended to bring about conversations that don't happen at more conventional industry events, and boasted participants ranging from the largest of the Texan institutional funders to the most politically radical artists working today.
Jenni Rebecca Stephenson, executive director of Houston's premier arts service organization, Fresh Arts, was "excited to see a forum intended to bring together a wide variety of stakeholders in the Houston art community—not just arts administrators, but individual artists and funders alike." Conference facilitator Ashley Clemmer Hoffman, in her panel remarks, described Wagan's intention as creating "a platform and and a space to have real discussions," designed to counter superficial treatment of complex issues. The diversity of the attendees was intended to manufacture dissensus, so that summit facilitators could translate potential discord into passionate, navigable and continuing dialogue.
Going forward, the Center for Arts Leadership will develop ongoing and iteratively-designed programs to engage discussions an increasingly diverse constituency. "We are planning a number of small convenings so that we can talk about specific topics in more depth instead of targeting a broad audience every convening. [This summit] was a great starting point for reframing the discussion, and what we are now doing is finding both online methodologies and a number of face-to-face ways to continue that conversation," says Wagan. "One of the things that is in development looks at the practical ramifications of arts data and research.. It is targeted to a smaller group, but is a related topic to what is happening at the summit. [The question is,] how do we take some of these ideas, and create convenings around those?"
Jenni Rebecca Stephenson at FreshArts appreciates the approach, noting "I look forward to the Summit's growth and the ability to bring an ever broader cross-section of arts leaders, from the CEOs of our biggest institutions to the artists in the trenches." Indeed, there is much to look forward to. Wagan's work at the Center for Arts Leadership grapples thoughtfully and thoroughly with some of the most complex issues facing arts organizations today. Wagan's iterative approach and future vision for his work uses the subject of arts leadership to demonstrate arts leadership. His leadership summit is a stratagem, deploying an apparent anachronism to radical and unanticipated ends.
Keynote speaker Paul Bonin Rodriguez remarked after his session, "The challenge of the artist is to find out how a community functions." Indeed, this too is the challenge faced by Wagan in his new role at the Center for Arts Leadership. What he accomplished with the Summit is the creation of an ongoing mechanism to annually convene, read, and interact with a community of local and national arts leaders. This call-and-response will permit Wagan to iteratively approach Center programming, creating new opportunities to understand the arts community, thus creating new programming, and so on. This self-reflexive approach means that the Center's work to define arts leadership is never finished, but instead framed and reframed over time. This year's summit is the shape of things to come. It established a baseline dialogue that positioned Houston at the center of a national conversation on arts leadership and creative placemaking, using data, local and national experts, powerful narrative exchanges and numerous feedback mechanisms. It is ample evidence that the Center for Arts Leadership is in good hands, and the national creative sector is better off because of it.
—SYDNEY SKYBETTER