---
IMAGE ABOVE: SOLI Ensemble in Steven Mackey's Prelude to the End, a multimedia work with a triple screen video installation designed by Mark DeChiazza.  Photo by Jason Murgo.
---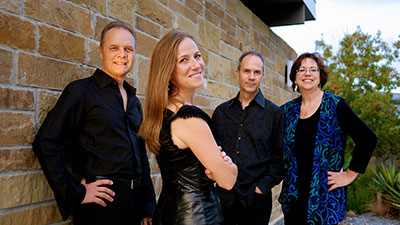 SOLI Chamber Ensemble's May concert, titled Future, logically concludes the San Antonio-based classical contemporary quartet's 20th season, which began last October with Olivier Messiaen's masterwork, Quartet for the End of Time, in the initial concert, Past, followed by Present in January, featuring works by some of today's leading composers of New Music, such as Anthony Brandt and Libby Larsen. Written when he was a prisoner of war in a German Stalag in 1941, Messiaen's Quartet was scored to fit the few musicians with instruments who endured the camp with the French composer. It's an iconic piece for SOLI, which includes Stephanie Key, clarinet; David Mollenauer, cello; Ertan Torgul, violin and managing director; and Carolyn True, piano.
This season's finale features pieces by composers under the age of 30, and will occur May 19 at Gallery Nord and May 20 at Ruth Taylor Recital Hall at Trinity University. Future will feature young talents who are already in demand, including Caroline Shaw, the youngest composer to receive the Pulitzer Prize, along with Scott Ordway, Matthew Aucoin, and San Antonio's Niccolo Athens and Yvonne Freckmann. As is SOLI's custom, the concert will include a world premiere, a new work by Aucoin, based on his current opera-in-progress featuring the mezzo-soprano, Tynan Davis.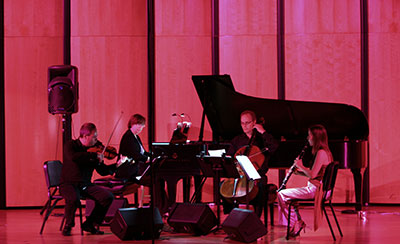 After two decades exploring some of the most innovative music of the 20th and 21st centuries, SOLI could be excused if they chose to slow down. But, says Ertan Torgul, "We have a blast putting these things together."  "These things" have included commissioning and debuting over 40 new pieces, serving as resident ensemble at Trinity University, and conducting workshops in residencies across the country. This season's concluding concert not only completes an aural triptych; it foreshadows new beginnings for this adventurous quartet, which will begin its third decade as one of nine resident companies at the Tobin Center for the Performing Arts, San Antonio's new state-of-the-art concert hall with three performance spaces, scheduled for a two-week Grand Opening beginning on September 14, 2014.
While large ensembles—San Antonio Symphony, directed by Sebastian Lang-Lessing, Ballet San Antonio, and Opera San Antonio, a new grand opera under artistic direction of the noted composer Tobias Picker— will perform in the Tobin's 1,759-seat H-E-B Performance Hall, SOLI will play in the more intimate Alvarez Family Studio Theater, a 250-seat black box-style performance space, that will also host the Attic Rep theater company. Both spaces are expected to have amazing acoustics, something not found in any hall in San Antonio at present.
Before SOLI reaches their new residency, two new albums—their first commercial releases ever—will be available. This May, Musica por un Tiempo, released by Albany Records, will celebrate SOLI's history of commissioned works. Robert Xavier Rodriguez's 2009 Musica por un Tiempo is the centerpiece, combining Henry Purcell's "Music for A While" with what SOLI calls "a highly addicting rhumba." Also featured are Silver Breaths from Crows, by Alexandra Gardiner; Catching Updrafts, by David Heuser; and Cycles and Myths, by Timothy Cramer. In late summer, they will release Portraits; produced by New Dynamics Records, it includes three new works by composers Elliott Myles McKinley, Peter Farmer, and Erich Stem.
That so many accomplished contemporary composers write for SOLI attests to their high level of musicianship, but underlying sheer technique is a shared passion that—not surprisingly—began as a love story.
Stephanie Key and David Mollenauer, both of whom are San Antonio Symphony players, first met at the Aspen Music Festival in 1987. As Key tells it, "sparks flew," and after Key—who was raised in San Antonio—returned to SA after graduate studies at Cal Arts, she caught up with Mollenauer, and the two discovered that their love of music extended to other things. Now married, they began a precursor to SOLI called Prism. Torgul (who was also with the SA Symphony, and now is Concertmaster for the Dallas Opera) and True, who teaches at Trinity,  eventually replaced earlier members, and the ensemble, rebranded as SOLI, was in business.
Every SOLI concert has a different flavor; often, there is extreme variety within the same concert. In their last concert, Present, Libby Larsen's sonorous harmonies contrasted with George Cisneros's electronically accompanied work that a 70-something audience member commented was "like doing acid," while Anthony Brandt's highly cerebral piece, Four Score, recalled some of the most erudite works of the modern period. Brandt met Torgul at the 2013 Chamber Music America/ ASCAP award ceremonies, when his Houston-based group, Musiqa, and SOLI each received prestigious Adventurous Programming Awards.
"SOLI is one of the leaders in the new music movement," says Brandt. "The most distinguishing feature of modern music is that it has no common practice. In 2014, to represent that, you have to have a full range of aesthetics. SOLI is so incredibly capable of doing that. And they do it." He added, "I think new music is a growth stock. But I feel it is not as appreciated as it should be, especially compared to other contemporary art. People rush to see new exhibits at museums, and new plays, but somehow, the idea that music is still being written seems foreign and unapproachable to them. But it has all of the vitality  and originality of other contemporary art forms. What musicians are learning is that you have to go out and make your case. Watching how personable SOLI is with their audience is inspiring."
—SCOTT ANDREWS