J. Bernard Calloway in Dallas Theater Center's production of Stagger Lee.
Photo by Karen Almond.
---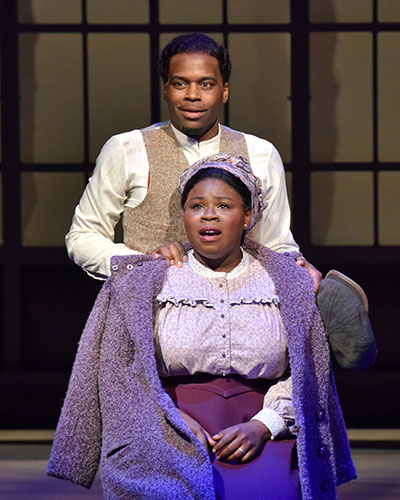 Dallas Theater Center Premieres Stagger Lee
"The night was clear and the moon was yellow, and the leaves came tumbling down…" For some people, these opening lyrics of Lloyd Price's 1959 hit song are the only identification they have with Stagger Lee. Others, however, may have grown up hearing the American folktale, a ballad of pride and hot-blooded murder that has been winding its way through the nation for more than a century.
Dallas Theater Center is presenting the world premiere musical Stagger Lee from Jan. 21- Feb.15, an endeavor that has been through multiple workshops and nearly five years in the making. Will Power, DTC's playwright in residence and also a faculty member at Southern Methodist University's Meadows School of the Arts, is the man behind the myth. And it is a myth, he stresses.
"I did a piece a number of years ago called The Seven, an adaptation of Aeschylus' Seven Against Thebes but with contemporary characters," Power says. "It explored timeless themes within a modern setting. I became fascinated with mythology and how these universally-known characters intersected in a huge, complex web. It got me thinking, 'Do we as Americans have a mythology? Do we?' "
The tricky part, Power points out, is America's abundance of different cultures. Finding the common language with which to tell such an epic story became both his challenge and his goal.
"When people in ancient Greece went to see Seven Against Thebes, everyone knew the story," explains Power. "I started thinking about old folk tales, ones I used to hear as a kid: Stagger Lee, Frankie and Johnny, Long Lost John…These folk tales are pieces that originally came out of African cultures and were based on real events. Soon it was not just African Americans telling the stories, and through the telling they became larger than life. That's as close to mythology as we have."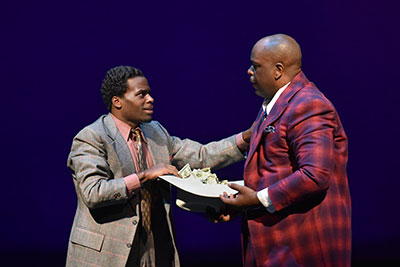 Power, a renowned playwright, was living in New York when legendary Broadway director James Lapine invited him to help inaugurate the Wyly Theatre at the new AT&T Performing Arts Center in 2009. DTC artistic director Kevin Moriarty and SMU president R. Gerald Turner were in the audience, and soon after, Power was offered the SMU Meadows Prize, an award presented to pioneering artists that includes a residency in Dallas and the chance to interact substantially with SMU students and the Dallas arts scene. The idea of the prize is to leave a lasting legacy, but Power did that one better: He ended up moving his family to Dallas and accepting a position at SMU after experiencing firsthand the city's flourishing culture.
Then the opportunity to become the playwright in residence at DTC appeared. "You have to be asked to submit to this program," says Power. "Kevin had brought a lot of national exposure to DTC, which put them in position to apply. They got one of the highly coveted slots, and even though I had already been commissioned to begin Stagger Lee while I was living in New York, the chance to move here and be completely involved in the piece—instead of flying in for a few weeks and then leaving—was such a cool opportunity. I have input, not only within DTC and Stagger Lee, but I get to mentor young playwrights and even started the Dallas Playwrights' Workshop."
The musical is the cornerstone of Power's work in Dallas. Spanning decades and incorporating everything from blues to hip hop (Justin Ellington co-wrote the music with Power), the piece draws from the story of Stagger Lee as generations have known it: A man named Lee Stag Shelton is gambling with Billy Lyons. They argue about what the dice say and Billy knocks off Lee Stag Shelton's hat, so Lee Stag Shelton shoots him.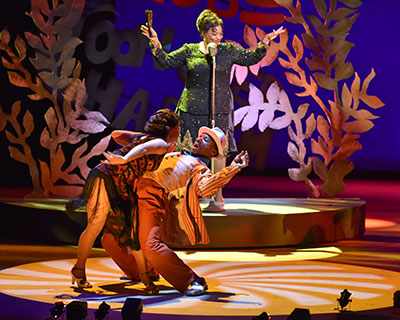 It also explores the idea of the American dream and what it means to endure even if you aren't accepted. The cast, directed by Patricia McGregor, is a mix of local and visiting talent, though a number of the big names will be familiar to Dallas audiences: Cedric Neal, known for Broadway's After Midnight and The Gershwins' Porgy and Bess, was once a member of DTC's resident acting company, and Akron Watson was recently seen off-Broadway with DTC's premiere production of The Fortress of Solitude. The highly acclaimed Camille A. Brown contributed the choreography.
"Usually you get a big, entertaining musical or a serious play," says Power. "We're doing both. We're referencing traditional musical comedy while using that structure to explore some serious issues. We don't pull any punches when dealing with issues that black people have faced in America. In some ways it's the African American experience, yet in others it's the immigrant's story. All of our ancestors were poor at one point, struggling to make a better way for subsequent generations. We're all trying to achieve the American dream, but at what cost? You'll be moving your feet and bobbing your head, yet hopefully you'll still be thinking."
— LINDSEY WILSON