While not quite as ancient as all nine muses of the arts, the conversation between the arts of poetry and film goes back some time. REELpoetry, curated by Toni Holland, is Public Poetry's first poetry film event, featuring documentaries, workshops, panels, poetry performances, and cinepoetry.
What is cinepoetry? Is it just films about poetry? Or with poems in them? Public Poetry director Fran Sanders says what differentiates cinepoetry is the fact that it takes the poet as departure. The poet is the beginning, explicitly or implicitly.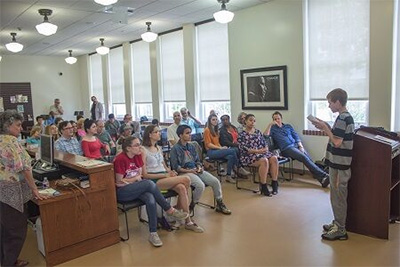 Culled from submissions from many different countries all over the world, the cinepoems that will screen include everything from silent films, narratives, the experimental, the not-so-experimental, and more. Conceptually, the cinepoem has roots all over. Connections can be drawn to many different points throughout art history: Stan Brackhage's "silent poems," Man Ray's films, Mallarmé's poetry, FLUXUS "intermedia," and much more.
Like other modern genres, its genre is generally outlined by its commitment to being genre-less. Holland says, "What sets Reel Poetry/Houston TX apart from other concurrent filmic poetics is an abounding embrace of all literary and artistic practices, rather than an impulse to respond to one literary trajectory." Holland will be teaching a Cinepoetry workshop on March 23, at 9:30 a.m. at UH-Downtown.
Saturday night features a screening of BaddDDD Sonia Sanchez, a documentary about poet, educator, dramatist, and activist Sonia Sanchez, known for being one of the leaders of the Black Arts Movement. Sanchez, who won the 2018 Wallace Stevens Award for poetry (among many other awards), describes herself as ""a woman with razor blades between my teeth." Described by Maya Angelou, she is "a lion in literature's forest."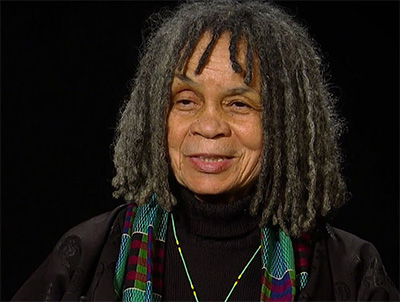 BaddDDD is a thorough portrait of Sanchez's journey as a writer, legacy within the world of poetry, and impact as an activist. Surrounding its narrative core are readings and performances by Sanchez and others. Accompanied by jazz, her spoken-word performances illuminate the vigorous, dynamic power of her poetry and ability to take poetry far beyond the page. BaddDDD screens Saturday, March 23 at 7 p.m at UH-Downtown and Sunday, March 24 at 4:25 p.m. at MATCH.
REELpoetry will feature two short Robert Frank films centered around the Beats. Pull my Daisy (1959) is a rough, rambling adaptation of an act from an unfinished Jack Kerouac play. Kerouac improvises voice-over narration while Allen Ginsberg, Peter Orlovsky, Alice Neel, and others act out a sort of spontaneous "romp." It is a celebration of the improvisational, sprawling Beat Generation ethos. Also showing is Frank's rarer This Song for Jack (1983), featuring Allen Ginsberg, William Burroughs, and John Clellon Holmes.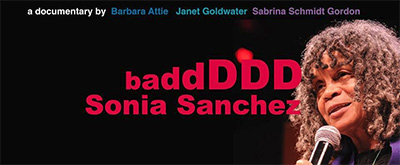 Both films will be introduced by Marian Luntz, curator of films at the MFAH, on March 24 at 1:20 p.m. at MATCH. After the films, REELpoetry will feature a Writers in the Schools (WITS) video, and a poetry performance featuring poet Stalina Villareal (HTX) and vocalist Ivette Roman (HTX). Outspoken Bean will premiere #midweekstanzas Season 3. Video screenings and performances at Brasil on Match 22 at 8:30 pm, and an after party at Rudyard's on March 23 at 9 p.m complete the festival.
In addition to REELpoetry, Public Poetry has put on regular and special programming since 2011. Their Monthly Library Reading series combines all different types and levels of poets together for readings at libraries throughout Houston, everything from kids mentored by WITS to Pulitzer Prize nominees. Audience members are invited to read one of their favorite poems (their own, or by someone else) during "half-time." The library reading series takes place at 2 p.m. the first Saturday of every month. They also  run an open mic, hosted by Outspoken Bean. Their PM Show is a collaborative effort between poets and musicians, each one featuring different performers. On April 13, they offer a "Poetry Ride," which is a trip to and back from the Round Top Poetry Festival. The festival features readings, talks, dinner, and more.
-JOSEPH WOZNY