2019 was a year of firsts for the University of St. Thomas (UST) in Houston and its Dance Program Chair Jennifer Mabus as the school's inaugural cohort of dance majors stepped into the studio for the fall semester.
The story of a brand new BFA program in dance doesn't begin there, of course. Mabus, a Dallas native and Southern Methodist University dance alum was a founding member of Battleworks Dance Company in New York before returning to her home state where she completed an MFA at Sam Houston State  University (SHSU). She's danced with Bruce Wood Dance, NobleMotion Dance  and Dark Circles Contemporary Dance, and is a founding core collaborator of Houston's Transitory Sound and Movement Collective. As adjunct faculty at several Texas institutions of higher education, Mabus has nurtured many aspiring young dancers and, as a choreographer, she has set works on dance companies throughout the Texas Triangle.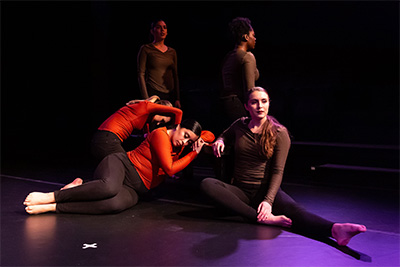 Mabus was recruited in 2017 to help design and write the curriculum proposal for a dance program at UST with the understanding that she would be the program chair and dance professor when the program was approved.
"Jennifer [Mabus] possesses an extraordinary combination of talent, energy and vision," says Chair of Fine Arts, Drama and Dance Claire MacDonald, who explains that she had hoped to develop a dance program throughout her 35 years at UST.
Dominic A. Aquila, professor of history and director of assessment and institutional effectiveness at UST, happens to have managed the Garth Fagan Dance Company in its earliest years during the 1970s in New York City. He notes the impact UST has had on the visual arts in Houston over the life of the institution. Aquila feels the university is continuing this tradition by rounding out the school's existing arts studies with dance, a request the former provost recalls has been made often over his 10 years at the university.
"There are not many Catholic institutions with this caliber of [dance] program," he adds. "I don't know if it would have happened without Jennifer."
Though market research done by the university indicated that Houston was poised to welcome and support a new college-level program in dance, both Aquila and MacDonald indicate a metaphorical aligning of stars as their "key ingredient" Mabus entered the picture ready and willing to grow the university's first degreed dance program.
"University of St. Thomas feels like a hidden jewel in the middle of Houston," exclaims Mabus, who began offering dance courses and recruiting degree-seeking students after the program was approved at the start of the 2018 calendar year.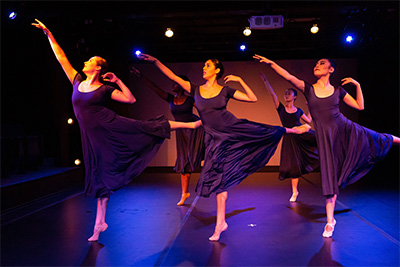 By April of 2019, there were enough non-majors enrolled in dance classes to participate in a spring concert, which featured student work as well as local companies the now closed METdance, Ad Deum Dance Company and Group Acorde, choreographer Ashley Horn, and dance artists working with Mabus.
Mabus values establishing and maintaining such professional connections as she seeks to create opportunities for her UST students across the rich spectrum of professional dance in Houston.
With a curriculum designed to offer individualized support and encouragement of dance artists who are prepared for the opportunities and demands of a dance career in the 21st Century, Mabus was prepared to hit the dance floor running with her new program even when the dance floor unexpectedly relocated.
While it was always part of the plan to host dance theory, composition and history courses on the UST campus, dance technique classes were originally intended to take place in the 11,000-square foot Midtown studios of Houston's long-standing METdance. Due to an unfortunate series of events, METdance had to close its studio doors last May just as UST prepared to kick off the dance program for its first fall semester of classes. (The studio, rebranded as Houston Met Dance, has since reopened in the Museum District.) Still, Mabus didn't miss a step, working with UST's athletic and drama programs to quickly find a new home for her studio in the Jerabeck Activity and Athletic Center on campus from which she would welcome the program's initial cohort.
Mabus has grown the program to include ten dance majors, plus several minors and elective students. The department presented its first fall concert, Reside, in October, which featured these students in work by faculty members and guest artists Courtney D. Jones and Alexis Chaves. Mabus helped bring faculty member Ben Delony on to teach ballet last fall, and SHSU MFA graduate Colette Kerwick is teaching for the spring 2020 semester.
In just the first semester, Mabus also provided master classes from choreographers Rohan Bharagava and Erica Gionfriddo and says they are working to bring in more master teachers as well as  residencies with guest artists like Jones and Chaves each year to ensure dance students receive a broad range of training and experience.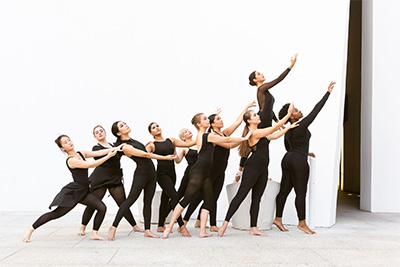 Her big goals for the small department don't stop at the edges of the dance world, however. Mabus has drawn on her enthusiasm for cross-curricular learning to engage with the math, nursing and drama departments in lessons and productions and has plans to work with the music and drama departments in the upcoming year.
"Sometimes the intense study of an artistic discipline can isolate a student," says Mabus who says the broad curriculum and the university's small size allows for this kind of cross-curricular engagement. "[UST] has been one of the few places I've worked where such activity has been actively encouraged and supported."
Mabus has already begun recruiting for 2020-21 academic year, reaching out to high schools and two-year programs as she prepares to lead open auditions for the dance program on Feb. 29 and April 18.
"[Mabus] recognizes the potential in the young dancers she auditions who may have been overlooked by other programs, and simultaneously inspires gifted student artists to choose and remain in our growing program." says MacDonald.
For Mabus, the overwhelming amount of work she's put into every one of the University of St. Thomas dance department firsts and surely the effort and energy required for what's still to come, is given for the benefit of the young people in front of her every day.
"I want them to experience the self-expression, joy, power and community that I have been blessed to live in my career," she explains. "I want them to have examples, in myself and others, of an active and creatively-engaged life at all phases of life."
If you're wondering what it takes to build a BFA program in dance from scratch, it starts with a large, supportive dance family and the encouragement by campus leaders of a creatively-engaged individual who takes great pride in all the ordinary business of a dance department like students hard at work in ballet class or joking around backstage during dress rehearsals.
Mabus sums up her impressive accomplishment with a mix of humility and pride, "These small things are proof that something exists that didn't exist until now."
—NICHELLE SUZANNE