IMAGES: Step Afrika! performing at Miller Outdoor Theatre, Sept. 19,2015.
Photos by Amitava Sarkar.
---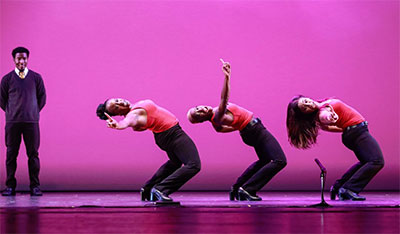 "So, this is a tap show?" asked a friend, minutes before the curtain went up for Step Afrika's Miller Outdoor Theatre performance on a balmy Saturday night.  "Ah, no," I replied, guaranteeing that by the end of the show he would know a whole lot more about the dance form known as "step."  And I was right, Step Afrika's show was not only an energetic and entertaining 90-minute extravaganza, but also did a marvelous job introducing audiences to this African American dance form and its unique lineages, which range from South African Gum Boot dances to African American Fraternities and Sororities.
The Washington, DC, based Step Afrika!, founded by Houston native C. Brian Williams, is celebrating its 25th season, and is the only professional step company in the US. It's actually rare to see step on the concert stage, so it's no wonder that a capacity crowd showed up for the troupe's second visit to the Miller stage.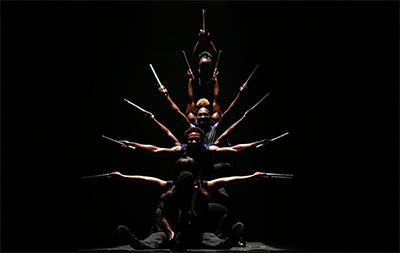 You may be familiar with step from Spike Lee's iconic 1988 film School Daze, or the more recent Hollywood films Stomp the Yard I & II, but one really needs to experience step live to fully understand its power, complexity and completely idiosyncratic use of percussive polyrhythmic form. The company's mission is entails educating the audience and pushing the form in new directions. Throughout the evening, I witnessed the shared connections to tap, hip hop, flamenco and Irish step dancing, while also experiencing the sheer originality of this dance form.
The show opened with Tribute, which showed off the company's athletic dancers, and also paid tribute to step's legacy in the African-American college Greek system, with a playful example of a step competition. From the first few minutes, it was clear that step is a self contained art form that provides its own soundtrack through stomping, body percussion and call and response. It's these vocal commands that sets step apart from other percussive dance forms and lends a jubilant, and sometimes fierce, theatricality.
Step Afrika! has learned and shared dances with people from all over the world. Ndlamu, a dance of the Zulu people, demonstrated Step Arika's remarkable versatility, while Isicathulo, a traditional South African Gum Boot dance, illuminated its similarities to stepping, and displayed the company's theatrical  skills.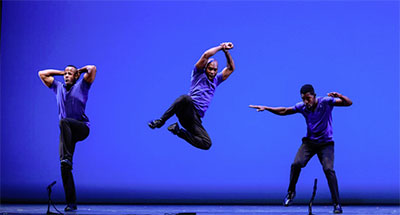 Christopher Brient's nuanced solo was especially arresting in its complexity, giving us a chance to examine the form more intimately. Kudos are due to the all the excellent performers: Brient, Mfonsio Akpan, Reginald Barrington, Dionne Eleby, Danielle Dubois Glover, Joe Murchison, Artis J. Olds, Brittny Smith, Jordan Spry and Andrew Vinson Jr.
And now, a word about the audience, who played a big part in Step Afrika's highly interactive show. The audience worked hard, be it clapping, stomping, yelling on cue, performing on stage, or just showing enthusiasm when asked. The East and Center sections consistently delivered excellent timing and precision. West section (where I was sitting), we need to try harder. Hopefully, we will get another chance if this marvelous troupe returns to Houston. Step Afrika! has come and gone, but the Step Afrika/Miller special menu at Lucille's continues through the end of the  month.
—NANCY WOZNY