James Nares, Street.
---
Houston Cinema Arts Festival 2014
"Richard Herskowitz puts together such a great mix," said DeeDee Halleck during the Artists Collaborations program. And yes, Houston Cinema Arts Festival's artistic director does in fact put together a cluster of films to appeal to a broad range of folks, knowing full well there will be more mainstream audiences, and people like me, who crave the wild, weird and downright hard to explain. You could have donned your pearls to watch a James Ivory (winner of the 2014 Levantine Cinema Arts Award) period drama or gone to Aurora Picture Show to watch mad scientist/experimental filmmaker Ken Jacobs make a film before your eyes.
Regardless of what I actually managed to see, it's great to simply appreciate the full spectrum of offerings. "It seems easier to manage this year," I told Trish Rigdon, HCAF's fearless executive director. "That's because you are getting used to how a festival works," she replied, with a sly smile. And it's true, I made a plan (with considerable help) and stuck to it.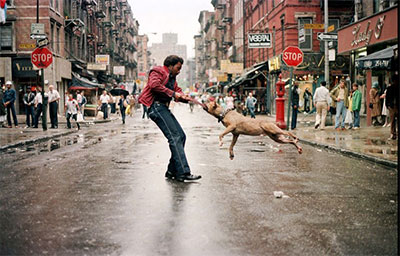 HCAF's headquarters at The Brandon Gallery, conveniently located next door to Cafe Brasil (fab coffee and food!), made for an easy and accessible place to gather, attend panel discussions and view the installations by Jacobs, James Nares and Jem Cohen.
As someone who drives a minivan in Houston, a place that is hardly known for its street life, I followed the street photography and film track, hoping to know more about what I have avoided all these decades. Cheryl Dunn's Everybody Street provided an ideal primer for the life of the street photographer. I appreciated the nuances she brought out in each photographer profiled in the film. It's way too easy to lump them all into one category.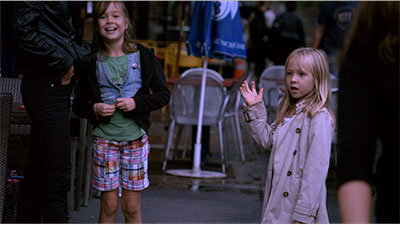 James Nares' Street worked much better as an installation piece at The Brandon than when held captive in uncomfortable chairs at The Menil. It's more enticing to walk by Street, letting its hypnotic trance disarm you mid-step. I had a chance to be alone in The Brandon and do just that, taking in the film's otherworldly presence, while the sounds of Westheimer provided a second soundtrack. For movement wonks, Street and his short film, Pendulum, flow right up a dancer's sensibility. Other highlights included the mothership of it all, In the Street, the 1948 silent film by Helen Levitt, Janice Loeb and James Agee. I appreciated this screening as a way to set a baseline. I felt sensitized to the kind of movement vocabulary that would play out in many other contexts during the course of the festival.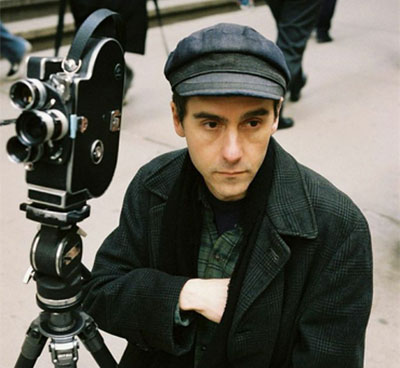 There was something so eerie about Jem Cohen's newsreels of the Occupy Wall Street movement, screened as part of the Same Streets Different Worlds program, which included 12 of his Gravity Newsreels, along with two outstanding shorts, NYC Weights and Measures (2005) and Little Flags (2000).  There's such a quiet grace to what he does, it's like being on the street with him, so much so, that when the credits roll, I felt jolted out of my street spell. He's also the director of Museum Hours, a deeply understated and powerful film, which had a successful run at MFAH earlier this year.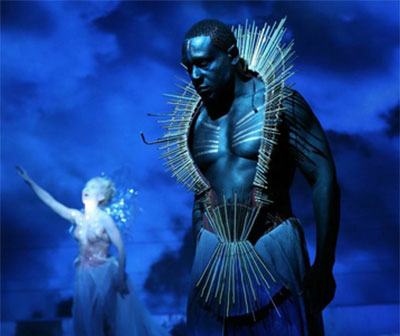 There's always a strong literary tangent at HCAF, which launched with the festival's opening night selection, A Midsummer Night's Dream, with Julie Taymor, the director of both the film and stage productions, in the MFAH house. I'm slowly getting on the "plays on film" bandwagon, and Taymor's film nudged me even further. "It's like seeing the play from many different seats in the house," mused set designer Kevin Rigdon. Indeed, the camera took us to places that we could never get to as audience members. And then there's a layering of experience, we are both voyeurs and viewers.  Also in the lit/film category, Nancy D. Kates' moving and melancholic film, Regarding Susan Sontag, offered a poignant and solemn portrait of an artist and public intellectual.
Some significant Texas art history was revealed in Halleck's presentation,  Artists Collaborations, when she told the story of Nancy Holt's film of the making of Robert Smithson's Amarillo Ramp, which was completed under Halleck's subversion before Holt's death earlier this year. The project was completed for the Dallas Museum of Art exhibit,  Robert Smithson in Texas.
You can't have a festival about the arts without dance films, and this year Herskowitz and Rigdon have outdone themselves with four films, and I would also argue that many of the street films were engaging for dance folks.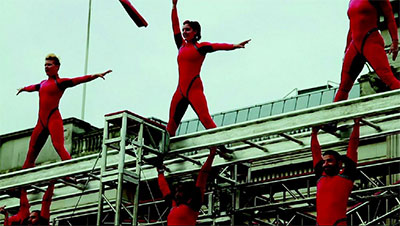 The street, at its heart, is about movement. But let's move higher up into the air space with Born To Fly, Steb vs. Gravity, Catherine Gund's thrill show portrait of the rebel pop action legend Elizabeth Streb. Gund takes us right out on that ledge with Streb and her team of super heroes; we get to experience the crash, the burn and the danger, as well as very revealing sequences about Steb's personal life and the lives of her amazing movers. Gund possesses such a kinetic connection to Steb's aesthetic that the audience gets to ride on the backs of these daring performers. But as much as she provides glorious eye candy performance shots, Gund also brings us down to earth in a dinner party scene where we meet Steb's partner, Laura Flanders, her famous friends, and get an inside glimpse of her home life and how she got started. There's no side stepping the consequences of Streb's work either, as footage of the dancers' injuries is handled with a raw honesty. The sequences filmed at the London Olympics are breathtakingly moving. Witnessing a tiny dancer on a gigantic wheel is rather awe inspiring. Danger and beauty merge into a riveting whole in Born to Fly.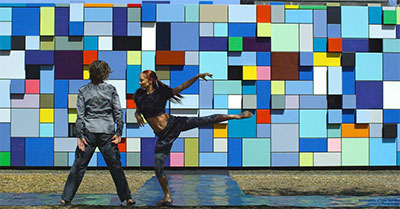 It was great to see a little hometown love in Revolve on Camera, a collection of Heather and Benjamin Epps' short films with Revolve Dance Company, who also performed live at the MFAH showing. Although I loved all the drama of the West Coast ocean locations, it was Angsters, shot on the streets of Houston, that showed off what's possible when you put two savvy dancemakers together with filmmakers who know a lot about dance. Angst may be the motivation for the original choreography, yet the film reads like a love letter to Houston, showing off the city's public art, Hermann Park, Discovery Green and other local landmarks. Welsey Cordova's solo on the Miller Outdoor Theatre stage to an empty audience added a whimsical spin. Revolve's uber technical dancers take the form of a kinetic graffiti as they jazz up these local landscapes that are so familiar to us, all of which could be seen as the dance aspect to the street film theme. Angsters has been chosen to be part of the Dance on Camera Film Festival 2015, presented by the Film Society of Lincoln Center and Dance Films Association, and will screen in New York on Sunday, Feb. 1  at Walter Reed Theater at Lincoln Center. After watching this team in action, dance fans are looking forward to the next iteration of the adventure. The Epps plan to make a documentary on Revolve.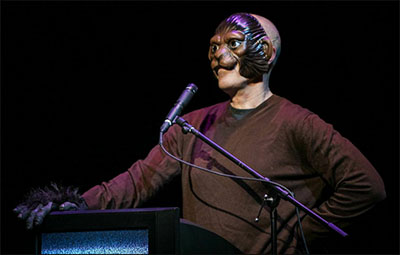 Continuing on a performance theme came Wolf, Deke Weaver's hybrid monologue, lecture, dance and film mash-up. Wolf is the third chapter of a life-long project called The Unreliable Bestiary, which will include a performance for every letter of the alphabet, represented by an endangered species. Weaver mixes myth, science, stand up (in his charming impersonation of a goofy ranger), pop culture and fantasy into an hour-long event that sneaks up on the viewer. The piece begins like an innocent lect/dem and ends somewhere in the stratosphere, encompassing an impressive theatrical arc, with an incredibly light footprint. When it was all over, I turned to my friend and asked, "How did he do that?" Footage of the live version of Wolf, which includes Jennifer Allen's sensual and witty choreography, plays with our sense of time and context, evoking the multiplicity of both the subject and the event. As a performer, Weaver is so earnest, he leads us into his subject in a gentle, DYI style. Never are you hit over the head with Wolf facts.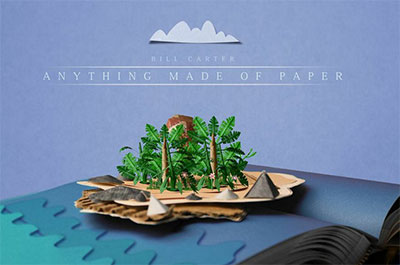 Houston Film Commission's Texas Filmmaker's Showcase is a great way to see what the state's finest artists are up to, and it did not disappoint. You don't need to be a paper freak to love Brandon Ray and Pat Kondelis' Anything Made of Paper, it's ravishing animation is full of character, texture and whimsey. On the rawer side were Annie Silverstein's stark Skunk and Kat Candler's gritty Black Metal. In the wonderfully surreal category came Todd Rohal's Rat Pack Rat. Zach Jankovic's The Astronaut's Secret paints a moving portrait of Michael 'Rich' Clifford, who flew two shuttle missions with Parkinson's disease, while Travis Johns does the same for veteran radio legend, LGBT and prison activist  Ray Hill in The Trouble with Ray.
The festival ended on a stylish note with Dior and I, Frédéric Tcheng's film chronicling Raf Simons' first haute couture collection for the House of Dior. All in all, the 6th HCAF seamlessly rolled through a five-day film feast. I know the street theme will stay with me. I am still hearing subway sounds in my dreams.
— NANCY WOZNY