Devon Nowlin
Off-guard
2018
oil on canvas
60 x 40 inches.
---
For her new solo exhibition, Familiar Strangers, Devon Nowlin returns to the vintage photographs she has been using as source material since 2008. This time, however, Nowlin's deployment of bold color, as well as her layering of figurative imagery against environmental backgrounds, is more complex, creating canvases that border on the surreal. The last painting completed for the show, which runs Sept. 6 through Oct. 6 at Artspace 111 in Fort Worth, depicts two Korean War-era soldiers horsing around in front of a clapboard building, amid budding flowers and the hands, legs and feet of other men gripping soccer balls. Among her intended effects is a reconsideration of nostalgia in a time of political upheaval, when people are longing for supposedly better times.
"My original attraction to the vintage photos were the ambiguous narratives that really made you wonder, 'What's the relationship here between the photographer and the sitter? What happened just before or just after?' " she explains in an interview at her Northside studio. "When I started looking back at what I had collected and thinking about what images I would like to seek out, I realized there was a big hole missing in the narrative I had created about that time, which included representations of soldiers that I found were pretty common once I started looking for them, and images of non-white people that are not as common but exist. I started seeking out those narratives to complement what I already had when I realized there was a lack in my own perspective."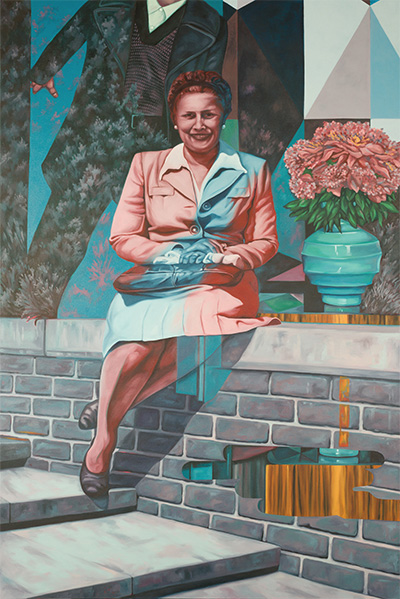 Along with the tentatively titled Painting for Men, Familiar Strangers includes four other works Nowlin has made this year and last. The most startling is Off-guard. In it, a uniformed soldier, rendered in black-and-white, is draped with the abstractly curling red stripes of an otherwise transparent American flag. Standing next to a beige post and in front of greenery, he stares at the viewer with a side glance. To his right, a maroon-painted soldier is seen from behind in the distance. The suggestion of blood is unmistakable.
Another new work, Omniscient Narrator, depicts a seated woman, her hands folded, posing on a brick walkway next to a flower vase. The layering of muted brownish-pink and aqua-blue paint gives the piece a pastel watercolor feel, even though Nowlin's medium is oil. The body of a leaning man and a geometric pattern behind the woman, and a water puddle from the vase floating in front of the brick, further abstracts the image. The other two new paintings, Randomized Memory Overlay and Recovering Overwritten Memory, also show women in surreal environments of layered color, partial figures and nature.
As in her first solo exhibit at Artspace 111, Casual Luxury Complex in 2015, Nowlin incorporates contemporary imagery from magazine advertising, but to much subtler effect. The star of the previous show, a stuffed dog named Frank, was wryly covered in black-and-white checkered fabric or more colorful patterns, like a knick-knack from an import store, sometimes depicted in scenes with hot Abercrombie & Fitch models. The artist was having fun with and commenting on consumerism, one of her, er, pet topics. "Why are we so duped?" she asks. "Because I am too." Also on view were overhead photos of people sitting and looking at magazines with Abercrombie & Fitch print ads against floors with geometric patterns. Part of their appeal is how adept Nowlin is at creating perfectly symmetrical patterns and also subverting them in ways that also highlight her technical mastery.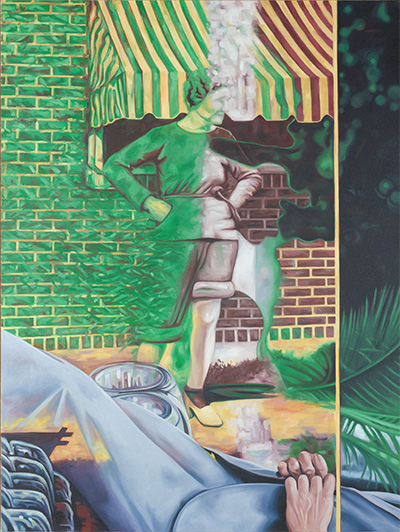 "My theme or concept that held that group together was the nature of consumerism in relation to art and art marketing, and criticism that has been ongoing about representational paintings being décor and not taken seriously as art by some conceptual artists," she says." I started taking in that criticism and thinking, 'I'm going to make some of the most decorative work that I can possibly make and put it in a consumerist context,' which led me to the Abercrombie & Fitch images of Bruce Weber and the odd nature of a corporation that constructs a narrative for its buyers. It's ever-present but there's also great design work going on. It's interesting when it's done well. Maybe I interject some irony or comedy in places to not take myself so seriously. I do like to be over-the-top."
For Familiar Strangers, Nowlin felt she had bigger fish to fry. In the description of the show on her website, she writes, "I am investigating the deepening rift between the past and the present; between an era of collective aspirations with an era of corporately manufactured desires…After the election, I felt that the path I was on was a little less meaningful than I wanted it to be,"  she says. "Focusing on vignettes of Abercrombie floral design and models seemed very trite. Visually it was an interesting design problem I was working on, but not as of import. Not that I necessarily set out to make political statements, but I wanted to put my effort toward something that had a new meaning for me. So I started looking back at this imagery of that era of American history and our nostalgia for it that is problematic and is being discussed more. I'm not looking at it in a wistfully nostalgic sense, and I hope the viewers take that away…Saying it was a better time raises the question of what type of America do you want to go back to."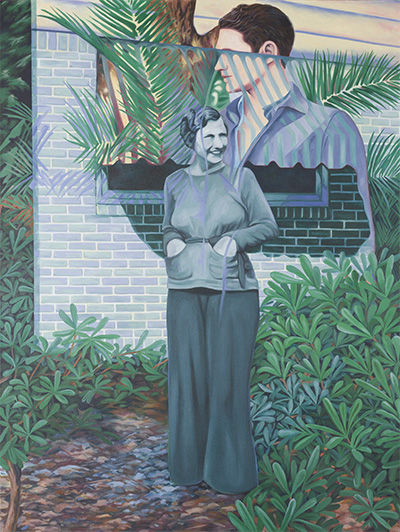 Part of the installation will include three curtains of quilt-like patterned fabric on which she will display smaller recent paintings derived from the 1950s snapshots. The exhibition also features three large-scale works from 2010, the period during which she first started using vintage photos. Nowlin doesn't necessarily like being lumped in with the photo-realists, though she acknowledges her connection to them. Born and raised in Fort Worth, where she still lives and works as assistant registrar at the Amon Carter Museum of American Art, Nowlin grew up going to Modern Art Museum and worshipping at the altar of Robert Bechtel's '63 Bel Air.
For her, a painting is about more than the images depicted or the intellectual ideas at play, but "painting as eye candy." "I just want to make a very good painting. Sometimes that's a concern that's separate from the imagery. When I see a great work of art and think about the effort and the cart that the artist put into it, it gives me hope. My efforts aspire to that, beyond the message…The best part of it is sitting down and painting and working through my day."
—MANUEL MENDOZA