Installation view, Tom Sachs: Tea Ceremony, on view March 23 through July 24, 2016 at The Noguchi Museum, Long Island City, NY.
Photo: Genevieve Hanson.
---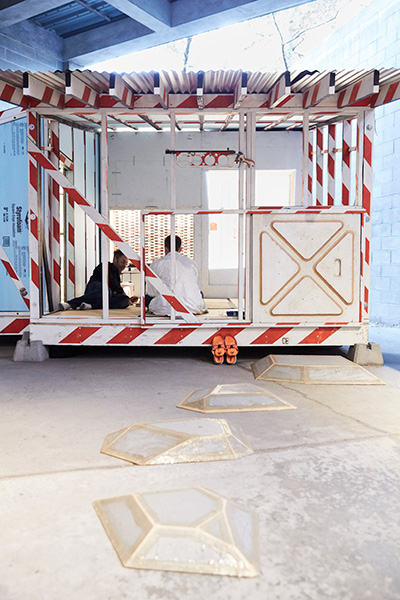 Tea Ceremony is the newest body of work by the American artist Tom Sachs, who has brought his artist's sensibility to bear on the traditional Japanese ritual, which he sees as a cultural phenomenon. In the past similar projects included meditations on McDonald's, James Brown, and the NASA space program. The artist's interventions into these subjects each gave him ample room to practice his bricolage, found object art style. At the Nasher, through Jan 7, the tea ceremony provides the subject for which Sachs fabricated a simple structure for the tea ceremony enclosure and its surroundings, from whatever materials were available in his studio, along with others he acquired sometimes by chance. Sachs sees an interactive and detailed aspect of the tea ceremony that he appropriates in order to expand the possibilities of sculpture itself, for example, his bricolage aesthetic of peculiar constructed objects relates to the formal tradition of the actual tea ritual. The exhibition provides an immersive experience with sculptures throughout the building as well as in the garden, drawn mostly from the Tea Ceremony series along with a selection of pieces from the others. Highlights include the Mizuya, or tools for making tea inside the Tea House, a selection of tea bowls called the Large Chawan Cabinet, from the NASA spaceship project, and a foamcore mop bucket, Untitled, from the McDonald's series. Each exemplify Sachs's intellectual wit and humor because the found objects used to make them would never be used in the reality they were drawn from, what they refer to has been repurposed. The exhibition also includes the world premiere screening of the film Tom Sachs: Tea Ceremony, a condensed portrayal of the ceremony.
—JOHN ZOTOS