Anyone who has ever passed through the lobby of the Moody Performance Hall in Dallas' Arts District, wheeled their luggage through Dallas Love Field's ticketing hall, or attended services at the city's Temple Emanu-El synagogue has (perhaps unknowingly) been in the presence of one of the region's most respected artists.

Octavio Medellín was a Mexican-born sculptor who fled to Texas as a child with his family during the Mexican Revolution in the early 20th century. Through the course of his seven-decade career, first in San Antonio and later in North Texas, his body of work helped sculpt the identity of contemporary art in Texas.
More than twenty years after his death, his legacy will be honored in the retrospective, Octavio Medellín: Spirit and Form, on view at the Dallas Museum of Art, Feb. 2, 2022- Jan. 15, 2023.
Many say the homage to Medellín is long overdue. "I think that over time, his national presence has shrunk a little bit and I definitely hope that the show will help to reactivate interest in him," says exhibition curator Dr. Mark A. Castro. "He is well-known among the Texas art scene, but we just didn't know the amount of work…we had no idea of the breadth of his career."

­­­
In addition to the archived material provided by Southern Methodist University's Bywaters Special Collections, much of Castro's research involved tracking down Medellín's former students and family members, which soon gave him insight into the artist's other legacy: teaching. In fact, it was a teaching post at North Texas State Teacher's College in Denton (now the University of North Texas) that brought the artist to the region in 1938. He subsequently went on to teach at SMU and spent more than 20 years as an instructor at the Dallas Museum of Fine Arts school (now Dallas Museum of Art).
A generation of artists in the Dallas area studied with him, built their own careers, then went on to become teachers to shape a younger generation. At the Creative Arts Center of Dallas (originally opened by Medellín in 1966 as the Octavio Medellin School of Sculpture), many of his formulas and approaches are still being taught. "Our communities are full of artists who are teachers, and we tend to just focus on the art and not necessarily look at the teaching," Castro says. "So, one of the challenges for me was that Medellín was a teacher throughout his life and, in many ways, people know him more as a teacher than they know his work."
Castro has taken a roughly chronological approach in the exhibition, composed of approximately 80 total items, starting with a collection in the first gallery spanning from the 1920s to the early 1950s. Included are two wooden busts from 1926 and 1927, which, though still rough in form, show Medellín's emerging understanding of how to depict the human figure. Nearby, a 7-foot sculpture carved from Honduran mahogany (with a surface Castro describes as liquid and silky smooth) depicts a woman holding a deer against her chest.
Medellín often tapped into his Mexican ancestry with his pieces; one early example is a carved mural depicting historical events in the country, including the arrival of Europeans and the Mexican Revolution. One of the most powerful and iconic items in the show,
The Hang,
portrays a person with a noose around their neck, referencing the frequent lynchings that took place during the Mexican Civil War.
Another portion of the exhibition focuses specifically on Medellín's trip to the Yucatan to study Mayan sculpture and carvings at the ruins of Chichen Itza in the late 1930s, which would prove to be a pivotal trip for him and spawned many future works. "He was really interested in Mayan art and he really looked at how they would depict narrative across these flat surfaces, how they would interlock different human figures and elements to tell a story," Castro explains. "And that kind of interlocking positional structure appears in a lot of his larger public commissions. He learned a lot about how to do public art on a grand scale from looking at ruins."
Today, the biggest concentration of Medellín's public art commissions is in the Dallas area, including a mosaic and sculpture at Temple Emanu-El. Moody Performance Hall and Dallas Love Field airport are home to stained glass windows Medellin designed for an East Dallas church in 1960, which were rescued before demolition in 2013. A sub-focus within the show is devoted to Medellin's public art commissions, including a digital interactive map of the locations.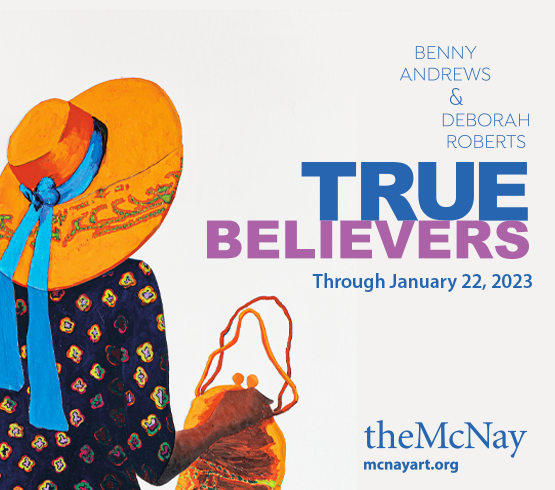 The exhibition's last gallery explores Medellín's sculptures from the 1950s until the end of his life, including his two final works created using a pneumatic drill for the first time while in his 80s. One thing visitors will quickly learn from this retrospective: Octavio Medellín never stopped working.
But beyond the power of Medellín's individual work, Castro's hope is to reinforce to the public that North Texas has a rich artistic history; its art scene continues to help shape our national cultural landscape. "I hope it will broaden their minds of what a Texas artist might look like, or what the Texas art scene was," he explains. "Because I think what we're going to see over the next few years is that there are lots of people like this who come from different backgrounds or have different perspectives. We're just beginning to tell their stories, and they're long overdue."
—AMY BISHOP