When I moved to Austin in 2010, I googled "Flamenco Austin" and one valid result came up: Flamencura Music & Dance Studio on Burnet Road near Anderson Lane. The Chacóns — husband-and-wife team Isaí (guitarist and singer) and Olivia (dancer) — had opened the studio six months prior. I'd grown up studying, teaching and performing flamenco in southern California and, after living in Spain for a year followed by a flamenco-pause for graduate school, I was eager to dance again. I've now taught at Flamencura for eight years and am a founding member of the associated professional company, A'lante Flamenco. After nearly 10 years at the original location, Flamencura more than doubled its footprint in October when it moved to a new space a mile-and-a-half north.
When A'lante Flamenco premieres its next production, Procession (Feb. 14-16 & 21-23), at the Emma S. Barrientos Mexican American Cultural Center, it will use traditional flamenco music and dance to explore what it means to build communities from shared emotional experiences. I sat down with Director Olivia Chacón to discuss Austin's burgeoning flamenco scene, the growth of the studio and the company's next theatrical production.
I think you first became involved with flamenco by learning Spanish guitar. What drew you initially to the music? And what led you to eventually pursue flamenco dance?
Actually, I didn't start out learning Spanish guitar. My mother gave my sister and me classical guitars for Christmas one year, out of the blue. I must've been 11 or 12. My sister immediately rejected hers, but I was curious and decided to give lessons a try. I don't think I had any notion of flamenco at that time, and I learned the basics of classical guitar just like any kid does. But I was impatient with it, and wanted to play rock 'n' roll! I was already into AC/DC, Black Sabbath and Guns N' Roses. After a year or two, I convinced Mom to buy me an electric guitar, and I left the classical guitar behind.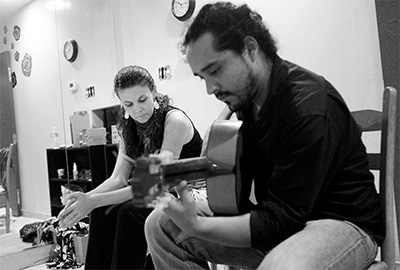 I credit my high school Spanish teacher with introducing me to flamenco. We were studying Federico García Lorca, and we watched the film version of Bodas de Sangre, directed by Carlos Saura with dancing by Antonio Gades and Cristina Hoyos. I was fascinated. I quickly watched the other Saura flamenco films: El Amor Brujo and Carmen. Thank God for Blockbuster Video, where they were all on the same shelf! What fascinated me was the strength, the power the women exhibited. I'd never been interested in ballet, because I thought the women always had to be gentle, dying swans, and that bored me. Flamenco had that powerful footwork, the rhythms and the singing, and here were people stabbing each other, fighting onstage!
I never considered dancing, since I'd never danced at that time, but I dug out my old classical guitar to see what I could do, which was not much. In college I went back to it, and focused on flamenco technique. I never thought of dancing until a friend took me to a flamenco class in a neighboring town. I couldn't continue at the time—I was broke, and the class was far away—but after college, when I spied a little studio near Tulane University in New Orleans where I was working, I quickly signed up, and I haven't stopped since then.
How did you and Isaí Chacón meet?
We met in Austin around 1999, when we were both relatively recent arrivals. I was taking flamenco at the Dougherty Arts Center, and Isaí walked into the classroom with his guitar, wanting to accompany the class. After that, I seemed to see him everywhere, and eventually we started practicing together and did a few gigs. After a couple of years of this we finally started dating, and the rest is history!
Did you have an "Aha!" moment when you realized you wanted to make a career as a flamenco dancer?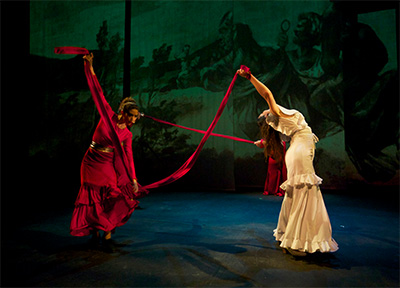 Honestly, if it hadn't been for Isaí, I doubt I would have had the courage to do it. I had finished my master's degree and had a good job in architectural history and preservation. I was teaching flamenco in the evenings, and starting to perform frequently and even produce shows. Isaí and I married in 2004, and everything seemed great, except we both wanted to return to Spain. (I'd been in Sevilla from 2001 to 2002 as part of my master's program, studying Spanish tilework.) I had more and more students, and increasing demand for performances, and I could see that if I worked hard, I might be able to make a go of it as a fulltime dancer. But no one in my family was an artist, and I was very intimidated to leave my job and do such a crazy thing! But Isaí didn't think it was crazy—he was already committed to being a fulltime musician. So we made a plan to combine our savings and spend a year in Madrid. We thought we probably wouldn't get much work, and our savings would run out quickly. In fact, once we got settled, we were both able to work, and stayed for almost four years.
From 2006 to 2009 you studied in Madrid at the world-renowned Amor de Dios flamenco academy and performed professionally with Cristobal Reyes's flamenco company before returning to Texas. When did you know it was time to return, and what was your vision for a flamenco music and dance studio in Austin?
I danced with the Cristobal Reyes Flamenco Company during all of 2007 and 2008, which was a great opportunity to see what a flamenco company was all about. I also worked in Cristobal's management and production office, so I got very involved with the business side of things.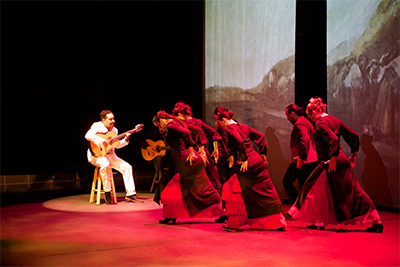 After a couple of years, I wanted to focus on working as a soloist in tablaos (small flamenco clubs). I even spent six weeks dancing in a tablao in Germany, where I progressed a lot. By that time, the economic recession had hit Spain hard, and it was harder and harder to find work in Madrid. Also, my sister was pregnant with her first child, and I felt I should go back to Texas for that. Of course we had thought about trying to get citizenship in Spain to be able to stay indefinitely, but that didn't seem possible, and I thought it would be difficult to make a career in flamenco in Spain, being an American. In Texas, we could have more control, and I thought Austin's "keep it weird" vibe would embrace a flamenco school.
Just as in Spain, I knew that dance and music classes would be our bread and butter, but I also knew I wanted to start a performance company. At the time, we had a different vision of things than we do now. We thought we would teach classes just like at Amor de Dios, where students get thrown into classes that are ongoing, and have to catch up or find their own pace. American students prefer a more guided, hands-on approach. We also thought we would be bringing lots of artists from Spain to perform with us, and now we believe strongly that we need to cultivate local talent, instead of spending money on artists that come and go without any commitment to Austin. Both our school and our company, A'lante Flamenco, continue to grow and evolve along with us.
There's a fairly large and dedicated flamenco community in San Antonio, where you are originally from. Why did you decide to open your studio in Austin?
Isaí and I did briefly consider San Antonio, but we both felt like Austinites, and we missed Barton Springs! Actually, we also wanted to start with a blank slate. Flamenco was almost unknown in Austin, so there was ignorance, but also there were fewer preconceived notions. It's true that flamenco has a longer history and larger community in San Antonio, but that also makes it somewhat more difficult to come into town with a new offering. We felt that Austin would embrace flamenco once Austinites learned what flamenco was, and we wanted to be the people to start that educational process.
May will mark 10 years since you founded Flamencura. In the last decade, what have you learned about building not just a student population to take music and dance classes, but an audience for the professional company? I imagine this was somewhat tough in a place like Austin where flamenco doesn't have the generational roots that a place like San Antonio does.
It's hard to believe that we've spent 10 years with Flamencura. Actually, we've done better than I ever thought we would, in terms of both our student base and winning an audience for A'lante. I've learned the two have a symbiotic relationship. The more we perform—whether it's in traditional tablao-type settings or our more conceptual theatrical offerings—the more we educate the public, and the more dance and music students come to Flamencura to learn. Flamenco has that ability to capture people's imaginations and fascinate them, just as it obsessed me as a teenager; just exposing them to the art form is the best marketing.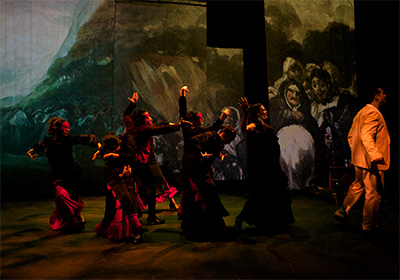 Sometimes people refer to "community" as something that exists inherently, but actually I believe the flamenco community has to be built and maintained. We feel a responsibility to keep offering activities to draw people to flamenco—whether it's classes, workshops, performances or even social media. I've been delighted to find that so many of our students meet in a dance class and end up forming long-term friendships. Those are the ties that form the basis of community, and I think Austinites are naturally open-minded, eager to explore new things and predisposed to embrace something like flamenco.
In October, Flamencura Music & Dance moved from a 1,200-square-foot single-studio space to a 3,000-square-foot space with two large dance studios and a music room. What prompted the move, and what's next for the studio?
We'd been considering a move from our original studio for several years, since the small space had really been limiting us—it was 1,200 square feet overall, but the studio itself was about 700 square feet. It was a detriment not only in terms of scheduling all the classes our students were wanting, but also because some specialized classes, like mantón (shawl) and bata de cola (dress with train), require more space. And we had the same problem with performances and events. Although it was nice to have an intimate space that worked so well for flamenco shows, the limited seating would sell out ridiculously fast. Added to that, the massive rise in rent over the past few years, which has become a problem for so many artists in Austin, and we realized it was time to pull the trigger on a new studio. We were lucky to find an affordable 3,000-square-foot space with two separate dance studios that didn't require too much renovation.
The professional company, A'lante Flamenco, was founded in 2011. How has the troupe grown, and what's next?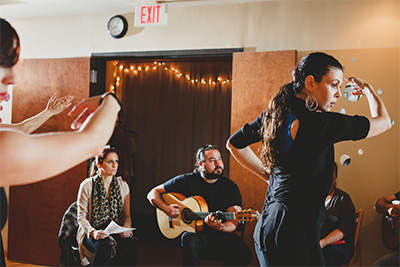 Honestly, I'm so impressed that we are still going strong in our ninth year! I know of plenty of marriages that haven't lasted that long. Something that amazes me, and which I didn't expect, is that most of our dancers—including you, Claire—have been with us almost from the beginning. That longevity enables us to work much more quickly, and we now have a shared vocabulary of movements that only happens when you spend years dancing together.
In the past few years we've been spending a lot of time perfecting each dancer's solo tablao work, which is such a different skill than dancing in an ensemble. It involves working closely with the musicians, and learning to express and think on your feet, rather than just perform a choreography. But I feel that it's the essence of flamenco, and something that is so much fun for both performers and the audience.
We have a new show debuting Feb. 14 called Procession. It's based on the concept of a parade, and how shared emotional experiences create community. It's our most interactive production yet, and in fact, the audience itself is a performer in this show. I love those moments that really touch you emotionally, mainly because you're with a big group of strangers, all experiencing the same thing. It can happen in church, or at the movie theater. The other day it happened to me at Target! A woman revealed to everyone in the checkout line that she just found out she was pregnant, and we all clapped for her. Those things are very powerful to me, and I want to share that in Procession.
With A'lante, we want to tell stories and touch people emotionally using flamenco as our medium. Our choreography in this show is very traditional—as always, you'll see lots of powerful footwork, and a musical palette ranging from the saeta (a very somber song sung during Holy Week in Spain), to the Arabic-influenced zambra. This show also has a site-specific portion. It's the first time we'll be performing at the Emma S. Barrientos Mexican American Cultural Center, which has a fantastic circular plaza at its center, giving us the possibility of a long promenade into the theater accompanied by the public, so we all get to experience that performative moment together. I have a feeling that each of the six presentations will be totally different, depending on the mood of the audience, so I'm interested to see how that plays out.
—CLAIRE CHRISTINE SPERA