Alli Villines's grandmother prophesied at her birth that she would be a singer, a divine foretelling that has proven true.

Villines grew up singing in church but she wasn't cloistered; her mother saw to her pop culture education. By the age of seven, she could hold her own with Mariah Carey's whistle tones. In line with the prophecy from years before, this is when Villines herself decided she wanted to pursue singing.
She picked up the oboe at age eleven, which later won her a scholarship to McNeese State University in her hometown of Lake Charles, Louisiana. There are no undergraduate programs in being a rock star, so Villines received a Bachelor of Music in Voice Performance with a concentration in Musical Theatre in 2006. She concentrated on musical theater because it provided a non-operatic means to an end; it was one way that she could pursue singing as a career.
After graduation, Villines accepted a job at Buckskin Joe's Frontier Town, a theme park near Fairway, Colorado. "The summer was awful, half the cast quit, the women were treated worse than the men, and the show didn't work and fell apart. But that's when I got serious about the ukulele." Villines started playing ukulele when she was nineteen, but it wasn't until Buckskin Joe's that she was able to cut her teeth singing songs for restaurant patrons, saving up all her tip money. After that summer, Villines landed an educational tour with Theatre West Virginia, where she stayed on until August 2008. This was also where she met her future husband.

Villines began to teach voice lessons to supplement income, but also because she identified as a
singer
, not a theater artist. "Theater was always just a way to sing. It was a way to perform that was outside of the church. And I am always curious about different things; I like to try to see if I can play X, sing X, make X, write X, whatever I happened to stumble upon. So theater was a nice way to mix it up."
The Villines family moved to Williamsburg, VA, where she worked at Busch Gardens as a costumed character. It didn't involve singing, but she did begin to learn the art of puppetry and was exposed to early childhood education techniques and best practices. Next was Charlottesville so Villines's husband could begin graduate school. She continued to give voice lessons, developed The Ukulalli Experience, a cabaret-style musical performance of jazz songs from the 1920s through 40s, and she did what theater work she could find.
"There wasn't much paid theater in Charlottesville, but there was excellent community theater— very well-funded and produced. I got to do roles I never would have been cast in elsewhere. I was Maggie in A Chorus Line, and though I can sing the role, I'm not a real dancer; and I was cast in Adding Machine: The Musical, which has very challenging music, and  nobody ever produces it."
The next move was a difficult choice as it involved living in separate states for a while: Her husband moved to Houston for a PhD in literature and Villines moved to Tempe, Arizona to pursue her own graduate degree at Arizona State University, a Master of Music in Voice Performance with a concentration in Musical Theatre. She also worked professionally at Phoenix Theatre.
"The stakes felt high: I had left everything behind to live in a state I'd never been to. I made a list of everything I wanted to do to make it 100% count, not just walk away with a degree, but walk away with lots of new knowledge, ideas, and networks. I took everything I possibly could, from modern dance to puppetry, jazz theory, things that weren't required for my music degree. One semester I took 21 hours and it nearly killed me; 12-14 hour days were my norm."
Villines became disillusioned with professional theater. When she finished graduate school, her focus had shifted away from Broadway and towards bringing theater to marginalized people and populations; a theater for social change. "My cohort and I joked that in ten years, so and so would be on Broadway, so and so would be doing national tours, so and so would be teaching, and Alli would be doing theater for the unhoused." Villines realized she must make her own work, rather than wait around to get cast by others. And besides, what are the odds that other people are doing the work you think you should be doing?
Villines finished graduate school in the summer of 2015 and joined her husband and family in Houston. She focused on caring for her grandmother who had Parkinson's disease, teaching voice lessons, and auditioning. But a shift was coming.
In 2017, Villines was cast in her first lead role in Houston with Church, by Young Jean Lee, produced by Horsehead Theatre. It introduced her to many friends and future collaborators. Church consists of a series of sermons the actors deliver to the audience, and it took place in an actual church. This came at a time when Villines was actively questioning the religion she grew up in, investigating and deconstructing a complex relationship with faith. Villines had lived experience as a worship leader and even traveled the world as a missionary. "And here I was," she says, "doing this show about this fanatical group, and I'm playing 'Pastor Alli.' I cried often during that rehearsal process."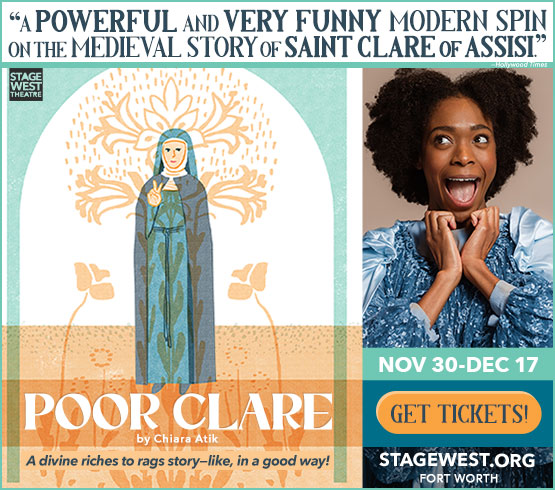 Horsehead produced Young Jean Lee's
We're Gonna Die
in 2018, which Villines describes as like a Moth hour with songs. She served as the only cast member, musical director, and wrote original arrangements.
We're Gonna Die
won Best Cabaret in the Houston Press Awards that year. Villines worked on other collaborations that helped her hone her skills as a music arranger and became a Teaching Artists for Main Street Theatre and Theatre Under The Stars (TUTS).
In the fall of 2019, Villines began work at Children's Memorial Hermann Hospital via the Arts in Medicine program run by TUTS. "When I go to the hospital, all the things that I studied, all of my innate senses, come together: voice training, early childhood education, how I play my ukulele, my sense of being helpful." Villines plays and sings to babies, or plays with them, and other "normal" activities so they have positive touch and eye contact, hopefully leaving them calmer than when she arrived. Villines admits the job can be hard, but remembering her first day at the hospital she says, "I was singing for a baby who was alone, and I came out and the nurse said 'their blood pressure numbers look much better now.' I was hooked; not in a power way, but because this feels like a tangible way I can use music and theater to be helpful." When the pandemic started, Memorial Hermann paused the program for only two months, speaking volumes to its essential nature. Villines has a forthcoming album of original lullabies she has written for this work: side A for babies, side B with lo-fi beats for adults.
In 2019, Greg Cote approached Villines about collaborating on lo-fi puppets, a DIY portable puppet experience. Now Villines writes and performs original music for lo-fi's Crankies of Curiosities, a ten-part youtube series released over the last year. In 2019 Villines began working in earnest with Jake Goldstein on the original rock opera, Call Me Ann, the Ann Richards Rock Opera. The team received a grant from Houston Arts Alliance, performed at the Houston Fringe Festival, and produced a music video and album, but when the pandemic hit, everything got put on hold and hasn't quite been picked back up yet.

The pandemic caused a major pivot. "This life could end at any moment," Villines said to herself. "What do I really want to do? The answer was music and helping people." Villines focused on her work at the hospital, writing original music for collaborative work like the Crankies of Curiosity and pieces for Frame Dance. She worked on puppetry and music for
Moonlit Princess
with Afsaneh Aayani in 2022.
Villines also produced her own work, Come to Cry, in April of last year and intends to bring it back in 2023. It is similar to We're Gonna Die but the stories, music and arrangements are Villines's own. She wants to provide a space for people to feel whatever they feel.
"The set list and the stories were born out of a need to cry," she says. "To release some of the feelings of struggle and despair from 2020 and 2021 into 2022. Just as I dream of theater paired with counseling and resources for the unhoused, and radical theater paired with counseling for those in jail, and lullaby albums for babies in hospitals, I dream of people coming to cry (or not) and me playing them softly to sleep."
—EMILY HYNDS