I visited ceramicist Angel Oloshove at her studio in the Houston Heights to talk about her process, what's on the horizon, and how she got to where she is. Half way through our interview I noticed scratching at the walls coming from outside. "Oh, I'll show you the chickens when I show you the kiln later, if you want," she remarked.
Oloshove calls Houston home now, but grew up on a small family-run farm in Temperance, Michigan. Her experience working the farm stand gave her an early entrance into small business and commercial dealings and was where she hatched many a get-rich-quick day dream scheme. She didn't end up becoming a world famous magician, but she has come a long way from selling corn on the side of the road.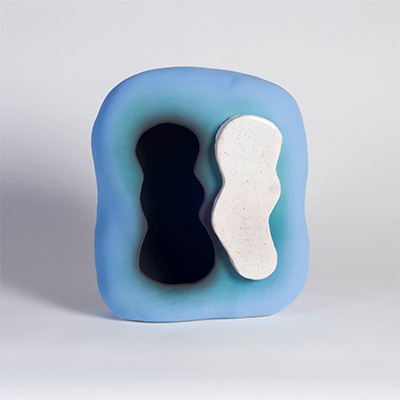 She began taking ceramics classes while in high school but didn't follow that line of study when she started at California College of the Arts (CCA).
"I studied painting and drawing because I didn't know people could be ceramic majors," she explains. "I was still locked into this mind set of craft versus fine art.  That's not a real thing anymore. Contemporary artists move across all media now without prejudice."
Oloshove stayed two years at CCA, after which she moved to Baltimore and then Japan. She began an internship at a Japanese toy company customizing toys and doing book illustrations. When the internship ended, they offered her a job on the design team and she began to study under their in house pattern maker, learning how to make doll clothes, which later influenced her sculpture.
Oloshove stayed in Japan for six years and steadily made her way up the company ranks into product development and design, and eventually spearheaded their entrance into foreign markets through exhibitions, toy conventions, and product pitches. Here Oloshove learned "the detail of install," and still uses that skill today during her shows and markets, as well as the ins and outs of the business world, which she takes very seriously.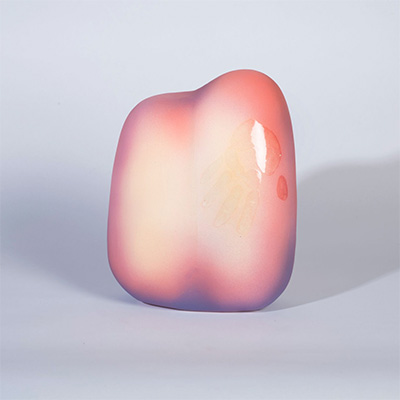 After six years in Japan, Oloshove's mother fell ill so she rushed back to the States. Her mother's final gift to her: a ceramics class for Christmas. She began to focus primarily on ceramics, and while Houston was on her short list of cities to move to, it was her visit to the MFA's Glassell School of Art  in 2011 that made the decision for her. She enrolled, became a studio tech, and received a crash master course in ceramics. Being new to the city meant she had few friends and thus devoted all her free time to working in the studio.
Oloshove was accepted into Lawndale Art Center's Big Show in 2012, a juried exhibition featuring artists working within a 100 mile radius, and won the Jurors Award. This kicked off her ceramics career that has been building ever since. Oloshove's solo show Floating Worlds at Art Palace in 2015 was reviewed by Andy Campbell of Art Forum and was her first full body of work reflecting the technique that she has come to be known for; pillow-like shapes that seem to have an inner glow.
"Some people think my pieces are lit from within like a lamp, or that they look soft and buoyant," she says. "I like that confusion and surprise because it opens the viewer up to receive the work in a different way.  When your expected perception is thrown off it's very exciting. It makes the viewer question their own perception and how they read things in the world which can help curiosity bloom inside them like magic."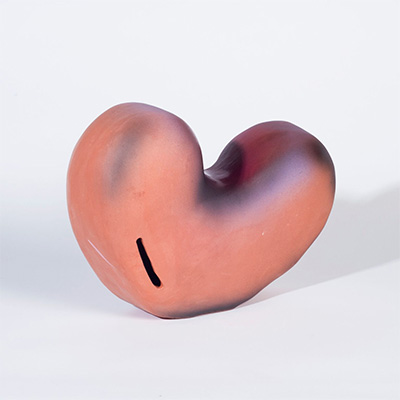 At the same time as her fine art career was taking off, the rise of craft and makers markets was picking up steam. Oloshove creates lines of pottery work for more every day use and points out the importance of both lines of work.
"Pottery keeps me active, it keeps my hands in clay," says Oloshove. "When talking to a group of hard line conceptual artists recently I realized what it means to be a 'maker.'  My creative impulse comes from the act of making, creating things with my hands. It's an important part to keep me engaged in my practice and I get a lot pleasure out of it. The act of making is part of the seed of creativity."
Through both her pottery work and ceramics she has developed a signature technique, combining many elements from her past. She learned airbrushing as a child from her mother, who worked as a cake decorator at a grocery store and snuck her into the commercial kitchen to airbrush a batch of cookies she was submitting to a 4-H competition. She later honed this skill at the Japanese toy company and uses the techniques she learned as a pattern maker to create the soft forms that mold her sculptures.
Getting the residency at Houston Center for Contemporary Craft in September of 2017 made Oloshove feel fully integrated as a person and an artist in Houston. Now she spends plenty of time at her studio, still working on both pottery and fine art.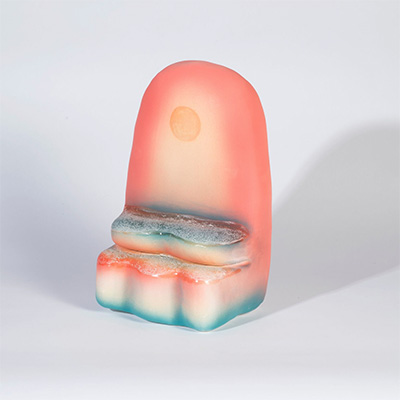 Oloshove is represented in Houston by Cindy Lisica Gallery and in New York by Uprise Art NYC. She recently published a book of monoprints titled Spontaneous Presence through New York publishers Adventures Ltd.
When I asked her how she balances studio time, what part of her brain she uses for art and what part she uses for everyday life and work, her answer revealed why her pieces are crafted with such obvious thought and precision.
"The creative process doesn't stop when I walk out of my studio," she says. "I think about it the second I wake up, while walking my dog, while making coffee.  The problem solving and decision making part of the process is always running. It's like my brain as a rock tumbler. It rolls the pebbles around over and over again until they're polished."
—EMILY HYNDS