Jimmy Castillo, We Belong Together
Mural on exterior wall of Hobby International Airport, West smoking area at Passenger Pickup
2018
Acrylic Latex on masonry cladded wall
10' x 20'
---
In his watercolor-like photographs, artist Jimmy Castillo takes on a raft of issues. He creates the ethereal works by narrowing his focus to specific faces and locations, and by wrestling with the medium itself. "I think the more that I experience the more that it refines my hyper focus," says the recent University of Houston MFA graduate. Dismantling some basic assumptions about photography, he states "It's a very 'unreal' thing for us to see…seeing a photo frozen or as a shadow." We tend to think of photography as documentary and dispassionate, not as a representation of the photographer's point of view at a single, static moment in time. Castillo's work necessarily incorporates his own perspective, but his art and his egalitarian ideas about who art is for envelop and inhabit a much broader constituency. His work begins to toy with our misunderstandings of the truth as represented by photography, and expands to stir the underlying emotions that these misunderstandings evoke-nostalgia, loss of control, and acceptance of change.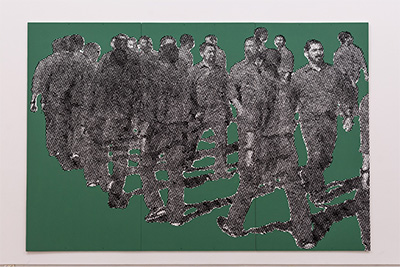 Castillo lives in the near Northside of Houston, a neighborhood that has been cordoned off from the rest of the city by the twin vehicular rivers of 59 and 45 and the natural barrier of the bayou. "I grew up here, my father grew up here, we're raising our kids here. We are very invested in one particular part of the city." Like so many neighborhoods throughout Houston, the near North, practically in the shadow of skyscrapers, and now recently linked by the city's expanding light rail system, is undergoing rapid change. "How do you deal with that when something that you thought was so permanent begins to change?" Castillo asks, in conversation and in his artwork. "Because of gentrification our own social network is dispersing."
One series of his photographs present multiple ghostly iterations of one or two figures flowing through the seemingly static landscapes of Castillo's neighborhood. The idea of routine and repetition is clear, like wear-patterns on carpet. But he also chooses to emphasize their fragility, they become visual echoes. Castillo often uses himself as a model, as well as other members of his family. He started making the self-portraits "as a practical thing, and then it's sort of evolved. I wanted to maintain control of the image," he says. "I'm thinking about community or my family." From this central focus, he's developed an idea (funded by a grant through the Houston Arts Alliance) to exhibit in the neighborhood he has called home all of his life. "The dream that I have is for doing art stuff in the neighborhood, for the neighborhood," he explains. "Like a Kunsthall, a project space for this community to use and embrace."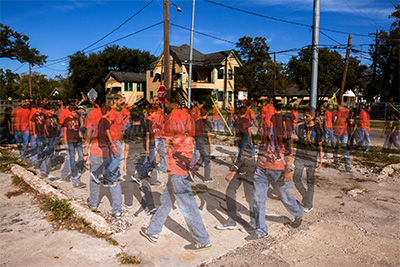 Recently, Castillo has brought families other than his own within the framework of his lens, including this writer's own. For a mural project at Hobby Airport, the photographer had to interpret these images into the less familiar medium of paint. "I'm not a painter, I had to figure it out." Here he credits his experiences working for MECA and Project Row Houses as a young student. Castillo attended the prestigious HSPVA for high school, and he's got deep connections in the Houston art world. "It's not like I've never touched a brush before," he laughs. The half-tone technique that he ultimately used for the project was a perfect marriage of photography with mural painting, and cleverly hinted at the documentary assumptions about photography that he constantly subverts. But, as he admits with laugh, "I'm not the only one doing it." The uniqueness of this mural is in its emotional clarity. It cues us to a familiar and touching sight: a poignant reunion or farewell taking place at an airport. But context provides us with a second interpretation, as airports have recently been the site of anguished families kept apart by the Muslim ban, and bonds between families are further strained by separation policies along the border.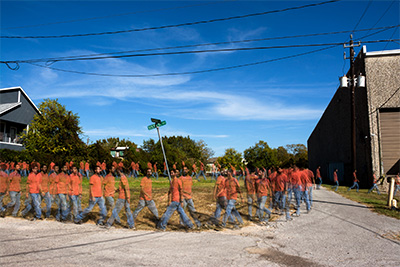 Castillo subsequently teamed up with artist Delilah Montoya, one of his UH mentors, for a more overt exploration of this issue in their collaboration for New Monuments for New Cities, a nationally traveling exhibition that had its first showing at Buffalo Bayou. In this case, their collaborative piece is superimposed with text reading 'a part,' even as the mother and child depicted hold each other close. The Monuments… project is part and parcel with Castillo's broader interest in public art. He is currently interim director of civic art and design at HAA (his grant was awarded before his hiring) and his work history as an arts' administrator is explicitly tied to his vision for his own neighborhood. "When I go to cities like New York, San Francisco, Paris… I compare them all to Northside."
We all move through this world for a finite era. Castillo's photographs, rather than proclaiming indelibility and cementing themselves into historical record, seem rather to capture the beauty and loss that is omnipresent in daily life. This particular kind of love/loss admixture can be exemplified by the simultaneous pain and joy of watching a child grow, or by witnessing the slow diffusion of a beloved community. In his photographs, Castillo embraces the imperfection. "Coming to accept that little bit of chaos has become something that I really enjoy," he says, because the real goal is to get at "what it feels like to be going through this."
—CASEY GREGORY