Joey Fauerso's studio, Kunstlerhaus Bethanien in Berlin.
---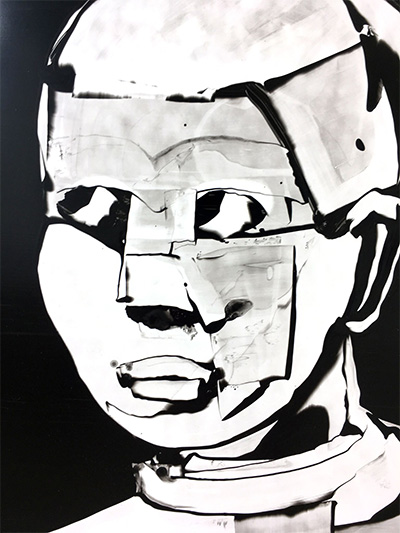 "There's a war today?" It's a question that begs an answer.  But it also suggests a casual if not ambivalent conversation.  San Antonio artist Joey Fauerso incorporates this phrase—uttered by one of her young sons during a game of "war"—and its multi-layered meanings into her artworks along with others like Talk With Your Head Army, Name It by Trying to Name It, Pretend this is a Trap. The results are at once illuminating, endearing, humorous, and chilling.
Museum curators, gallerists, and intergenerational audiences alike are drawn to her work. Fauerso's A Soft Opening, a "kinetic solo exhibition," was at Houston's David Shelton Gallery in Fall 2016, her second show with the gallery. Earlier this year she exhibited at Texas State University, and upcoming shows include a four-person exhibition curated by David Freeman at the Brownsville Museum of Art with Riley Robinson, Jesse Amado, and Chris Sauter, opening Nov. 11, and a solo endeavor at Testsite in Austin early next year.
The artworks she creates, whether two- or three-dimensional or even time-based, are often modular, resulting in a proliferation of elements that can fit together as parts of various systems. She describes this creative spirit, somewhat jokingly, as "accordion-ing." Having received  her BFA in painting from the University of Iowa-Iowa City, and her MFA from the University of Wisconsin-Madison, she says, "I think of a lot of my work as coming back to the fundamental processes of painting, with a particular interest in capitalizing on mistakes, surprises, and the introduction of new ways to make an image."
For example, during her recently completed three-month-long Blue Star Contemporary Berlin Residency at Künstlerhaus Bethanien, she worked on an ongoing project titled You Destroy Every Special Thing I Make which involves the creation and destruction of "a collection of objects-wooden blocks and canvas pieces-that are constantly being shuffled into new constructions." Together, she and her kids, who joined her in Berlin and from whom the title phrase originated, built big constructions and then demolished them, a process Fauerso documents with photography and video. She thinks of the piece as "a visceral response to living in the United States during a time of total political and moral collapse."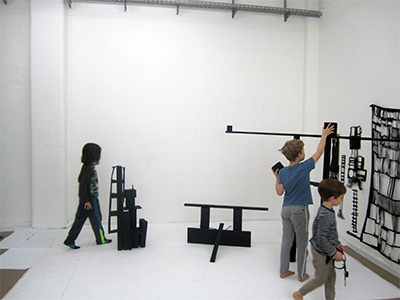 Fauerso's favored themes are humor, family, the body, and gender relationships, many of which she culls from her experiences growing up in a Transcendental Meditation community in Iowa in the 1980s. "We moved to Iowa from Southern California," she says. "The intersections of different cultures and ideologies surrounding consciousness, spirituality, what connects us, and what separates us manifesting in this straight-laced, small Midwestern town was inspiring and weird. Great, but weird."
During those days she participated in a lot of theatre work—painting sets, working with staging, and performing. Activities situated on and unfolding within the parameters of the stage continue to be reflected in her work today.
Her husband, Riley Robinson, is also an artist (and Studio Director at Artpace). For a time, they kept their studio and domestic lives separate but when she received a diagnosis of breast cancer in 2014, Fauerso no longer wanted or needed that distance. She chose to be near her kids as much as possible and turned her creative energies closer to home, and in the home, examining the larger political landscape through her family dynamics.
She explains that her focus and determination took over during that time, prompting her to decide, "This is how I'm going to solve this problem right now: to be conscious in a new way and bring the small, personal things into my work," she says. As a result, she became a bit looser in her art making, so chance and surprise moved more to the foreground.
Her children's compartmentalizing and expressions opened a floodgate of inspiration for works that embedded sophisticated metaphors in basic forms. To generate ideas, she often sits with a notebook in the room where her kids are playing, documenting their daily life. One day, the kids were engrossed in a game they called "Dog Hospital," which was clearly their way of processing their experiences as they saw Fauerso manager her cancer treatment, trips to the doctor, etc. Dog Hospital became an exhibition shown at Antenna Gallery's Reading Room in New Orleans, LA in 2016, and also exists in book form.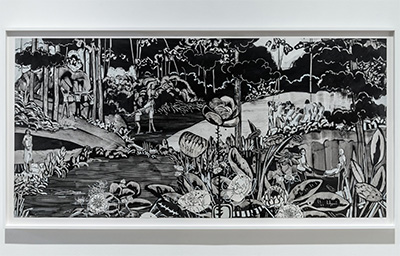 Her kids also regularly engage in "battles," or high-energy competitions, of which her video piece Drawing Battles is an example. This series of video works frames "gesture and performance as the dominant means of expression" and was shot over the two year period she participated in the Open Sessions program at the Drawing Center.
Fauerso's determination is as present today as ever before, and she is cancer-free. Her skills as an artist are front and center, and everywhere in between, as her deconstructing and reconstructing of her relationships prove meaningful for other people. War or no war.
—NANCY ZASTUDIL