Lina Dib, THRESHOLD, interactive installation. Photo courtesy of Katrina Barber.
---
Lina Dib is a collector. Objects, affects, memories, and sounds; one may be stored in a cabinet, another on a hard drive. Her living room is her studio. She says, "My studio is my dwelling; it's where I eat and sleep. There's no furniture, but there is a lot of stuff I use in my creative process." Working in her furniture-less living room, Dib surrounds herself with her collection. "I might have projectors, speakers, amps, gear, bees and bones, photos and sound boxes, sketches and drawings, oh, and a kayak."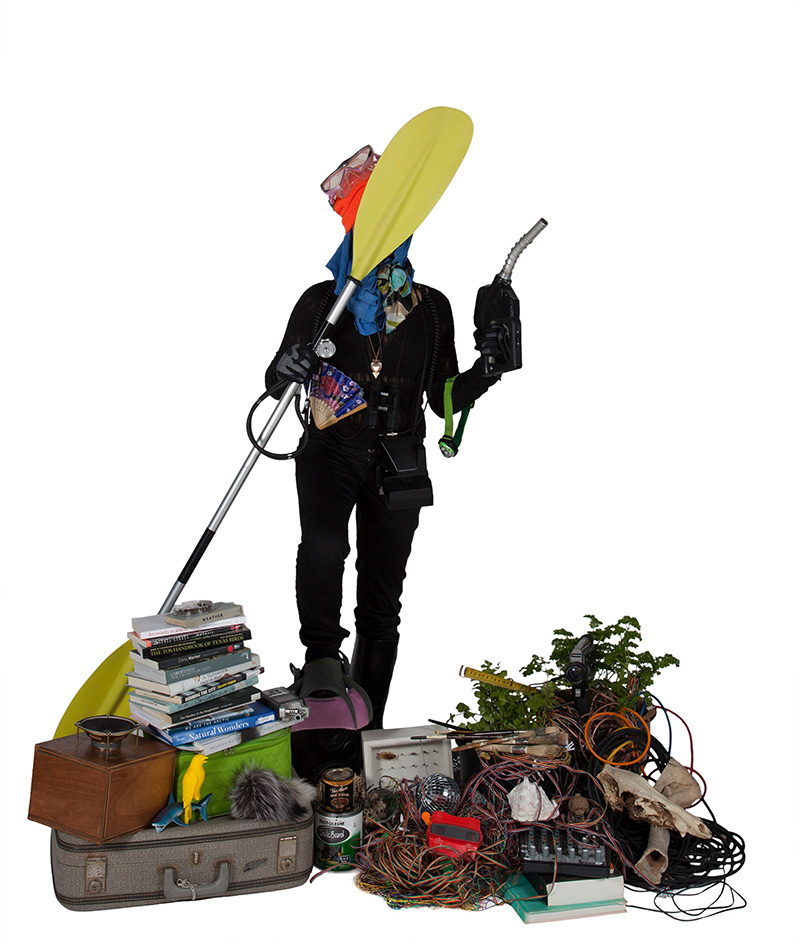 Her work takes many shapes and forms. Here and now, a recent work presented at Discovery Green in collaboration with Poloma, an installation by French collective Pitaya, is a multi-channel sound installation. The sounds of birds and humans fill the walking path; sparse, tonal notes come and go. Visitors walk down the path underneath the flock of lit up origami birds in the trees, experiencing an aural manifestation of Zugunruhe, a word for the restless compulsion of birds to migrate. Children coo and caw along with the birds.
Here and Now is part of a triptych of sound pieces, including There is No Going Back: a sound installation that grappled with survival at the Silos, and North to South and Back: a piece at Space HL that featured the sounds of species that migrate through our region each year. She collects sounds as a way of connecting to place; they're a signature that allows it to be constructed and reconstructed, not a literal reproduction, but as material.
Throughout her work, Dib has engaged the public and used ecology as a vehicle for understanding ourselves. Although science and the natural world play a present role in pieces, they're not the focus. She says, "My work is not supposed to be documentary; it's not meant to be overly didactic. It's not just about our relationship to nature, it's about ecology in the larger sense that includes our relationship to each other. I'm not trying to accurately represent something. It comes as a feeling." While not documentary, pieces do encourage civic engagement with science. Citizen science has become an essential part of environmental stewardship and study. This engagement highlights how fluidly her work moves through subject and function.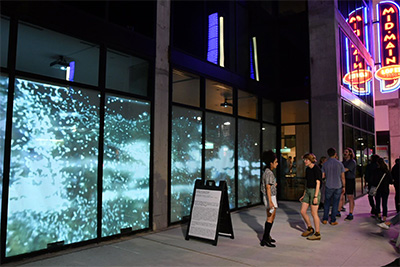 Like her relationship with ecology and science, her relationship with science and technology is careful; she is clear about the separation of ends and means, which is often confused in art involving complex technological systems. Her piece Threshold at Day for Night 2017 let viewers activate a large video projection of the Gulf by moving through space toward and away from it.
Moving closer and farther from it and waving their arms, viewers manipulated the temporal and visual aspects of the video, slowing time and sound down and liquifying the imagery. Interactivity for the sake of interactivity is a thing, but it isn't her thing; she wants to avoid novelty and gimmick. "The poetics is forefront," she says. "These tools can alter our relationships and our narratives. Technology is just part of my toolkit." Learning to build these video and audio systems is just part of her practice; she figures it out as she goes. If she doesn't know how to do it, she has to find out for herself.
As a lecturer and fellow at Rice University in the Program in Writing and Communication and the Center for Environmental Studies, she has a lot of books; reading and writing are just as much a part of her practice as anything else. Dib has a PhD in anthropology, which she says "was a way to cultivate the art of noticing. It was also a way to straddle art and science."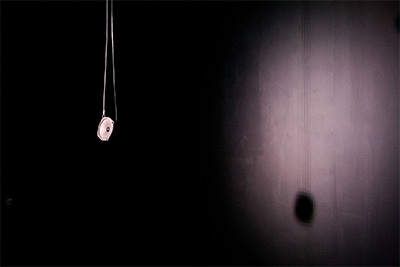 Dib is not just a public artist, but its literal visibility in public spaces highlights her continual engagement with the public. As for her interest in public art, she claims, "It's really fun. It's usually a chance to dig deeper, to turn some things that I have been working on into an entire place, an experience. I get to play with scale; it's also an opportunity to reach a different audience."
In her piece Like There is No Tomorrow, done in collaboration with Taylor Knapps, viewers interacted with projections of video from a marine sanctuary in the Gulf that was projected on the walls of buildings next to a railway platform. People walked by just looking, stopped to look closer, waved their arms, and even twirled round, dancing with the video. These public pieces also open up opportunities for other collaborations like having musicians and dancers perform in concert with them, letting those performances be their own conversations about the material.
While the public art work is the most visible, Dib creates interesting paintings, drawings, and sculptures that deal with similar issues: woodcuts of sonograms of a dog barking; gold leaf renderings of a tree on the brink of extinction; a carved wood, steel, and tin moment of hunting.
Across mediums and spaces, Lina Dib is an incredibly active artist, always looking out into the world to engage with ideas, feelings, memories, and creatures, including beings like ourselves.
-JOSEPH WOZNY