Intuition is commonly misunderstood when applied to artmaking. It sounds nebulous, as though the artist just does what they feel like doing, discipline and rationality and history be damned. But if the majority of your training has been spent honing that discipline and balancing rationality with beauty and history, then at some point what feels like body-level intuition is really a hard-won and instinctually-accessed form of knowledge. Intuition isn't accident, it's expertise. Artist Matt Clark, painter, professor, collaborator, and entrepreneur thinks art makers "sharpen that trait over time…Artists use their intuition more than other people do," he says in describing his studio practice.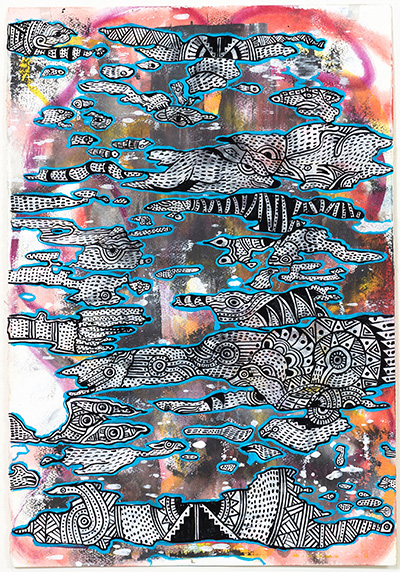 "These paintings take a thousand or so decisions," Clark says. His abstractions of color and surface borrow on the spiritual aspects of landscape Clark refers to in his website motto "beauty, tranquility, presence, place." The essence of these works is discovered in the process. Lately he's been incorporating tearing, sewing, pattern and other textile processes to add dimension to the work, a change that started with two paintings titled My Father and Our Father, which Clark describes as "the most personal pieces I've made." Constructed from shredded blue and white oxford shirts (the kind synonymous with American dad-dom) the works stem from a harrowing incident Clark experienced as a child: the nervous breakdown of his father, who had shown up days later with a "ripped shirt." The titles of these pieces walk an interesting tightrope between personal and universal narrative, part lived experience and part intercession. "I made that in memory and sorrow," he explains. "The sewn lines weren't perfect, I'd gone through a tough time and rebuilt myself."
From this intimate jumping-off point, Clark has moved past the Abstract painter's cultural imperative of vast, atrium-ready paintings. "It's a big departure from eight-to-ten-foot-long paintings; I took them off the wall and started ripping them." He works with a seamstress to piece them back together again. "I always want to have that in my work, the handmade" he explains, describing it as "happy, declarative painting."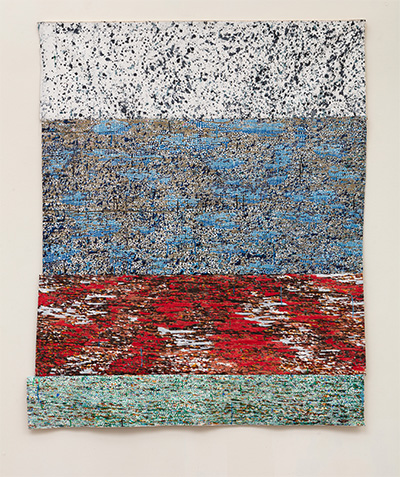 Another differentiation between Clark and the old-school Ab-Ex set is his openness to collaboration. First in his collaborative forays was a series of works created with a grad student where Clark teaches, at the University of Texas at Arlington. It "grew organically" from that point with Clark recently completing a series of works with Jacobo and Maria Angeles, two artisans from Oaxaca, Mexico. While the "handmade" is an essential element, Clark is open to including more than just his own two. "I saw this idea of collaborating as a way to differentiate myself," he says.
Naturally there were some ground rules upon which the three had to agree. "A craftsman typically does something over and over." Clark explains. His more exploratory and open-ended process contrasted greatly. "We had to seek out a "synergy and a balance," he says. But enthusiasm for the partnership was instantaneous. The goal was "equal creative freedom on both sides. Jacobo said let's get up to the studio and start painting." The resulting works on paper are combinations of fluid marks, atmospheric washes and intricate patterning, and were part of an exhibition titled Offering that took place at Conduit Gallery in Dallas in January and February.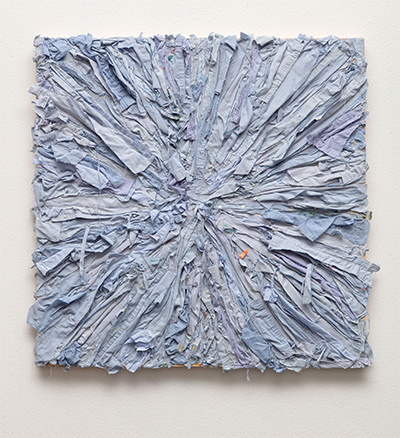 The connection with the Angeles was not simply an artistic one. "They have a studio that employs two hundred people," Clark explains. In addition to his studio work, one of Clark's most deeply held convictions is the importance of teaching the business of art to his students. In 2016 he gave a TEDx talk through the university about the subject. "They take away the crutches of a professor," he laughs, explaining the TED formula. "You're up on this little red dot, and you memorize your whole speech." The importance of entrepreneurship is self-evident to Clark, but he sees a dearth of this kind of preparation in a typical art school education. "I wish I'd had it in undergrad," he admits. "When I started seeing it taught in the music department, I wondered why we didn't teach it in art."
The more concrete practices of business, identifying revenue streams and making connections with art-world insiders, may seem to conflict with Clark's more intuitive process, but he sees them as fundamentally connected. "Abstract painters solve problems," he says. "But without the box." In the uncertain world of business, collaboration, and art, Clark is sanguine, "if you're committed to the process, the results will be fine."
—CASEY GREGORY