Houston artist Matt Messinger is a collector—of art yes, but also of ephemera, which leaks and injects itself into his work. In his paintings you might find a pair of vintage leather gloves sewn onto the canvas, old mattress ticking found at a quilt festival, plastic toy soldiers melted together with fire; or maybe the frame is an antique "tramp frame" he found in a remote corner of the Hill Country.
He says he's unable to stop working, and that was evident during my visit at his Hardy and Nance studio. It was all tidied up because of a recent open studio, but Messinger says "it usually looks like a mummy exploded near his work station, with paint and fabric pieces laying all over."  After chatting for a while, he got up to work on a frame he's repurposing, one of the several tramp frames scattered around the room. It's missing one of its highly decorative side pieces, so he plans to fabricate a new one and busied himself removing staples and gluing pieces together.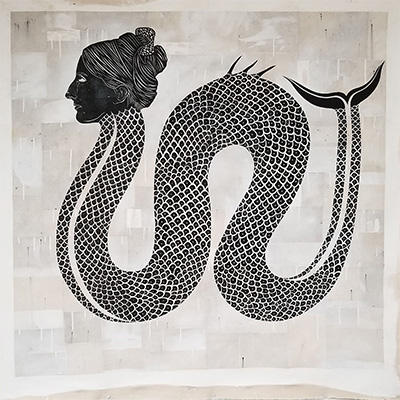 When I first met Messinger ten years ago he had just left a corporate job in graphic design "to pursue a more free practice." He was screen-printing and using solvent transfers, stencils and spray painting and producing work that left little negative space; as he says, "I was purging on canvas." He showed at any opportunity that presented itself: community group shows at bars like Catbirds and Avant Garden and at the Westheimer Street Festival.
In 2011, he was accepted to The Big Show at Lawndale Art Center, which showcases new works by artists living in a 100 mile radius of Houston. From there he began showing at Deborah Colton Gallery; he came to be represented by Devin Borden Gallery when a friend bought one of his paintings and gifted it to Borden, who contacted him about doing a show. He's been with Devin Borden now for several years, both in various group shows and solo shows.
Over the years, Messinger started singling images out and pulling focus on them, thinking more about composition and giving things room to breathe. Negative space and open areas began to be prominent in his work. Animals became featured images.
"They started out as silhouette forms of existing creatures, mostly quadrupeds like deer and horses. I slowly grew bored of painting basic animals, so I began merging elements of photography and drawings to create fantasy creatures and monsters," he says.
These creature pictograms seem mystical and unreal, but are still just familiar enough to tug on your memory, or heart strings, or both.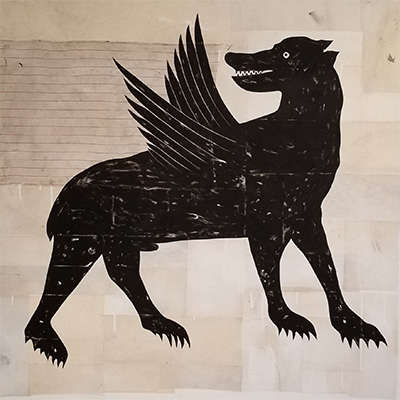 Many of Messinger's pieces incorporate ephemera that he has collected. He's always been a digger. As a kid he and his brother each had what they called a "neat collection" of natural objects they found; wasp nests, shells, fossils, pieces of dried out ant mounds. It was a sort of cabinet of curiosities kept in a drawer, and Messinger would return to it regularly to organize it and go over his items.
That instinct has never left him, and his eye is always drawn to curious objects which often spark an idea for a piece. These objects are a constant source of inspiration and enable new creative paths and ways of thinking.  On one wall of his studio are watercolors done using a vintage Galveston ISD report card as the backdrop, or old ledger pages and envelopes with the original handwritten address scrawled on the front.
"The aged look is hard to create," Messenger explains. "It already looks so good. The history is important. Knowing that an item has a story, but not necessarily knowing what that story is, means a lot to me."
Until recently, Messinger worked and created out of his own home, but joined the studios at Hardy and Nance about a year ago when he started sharing space with friend and artist Peter Healy.
"It's amazing to be part of a community of friends and artists.  For a decade I worked out of my house and interacted little with other artists. It has greatly benefitted my artwork to bounce ideas around. The warehouse has become a second home and a fun place to create."
Hardy and Nance houses more than 40 artists; it hosts open studios monthly and gallery shows almost weekly that bring in a huge crowd. During these events, Messinger says, the whole building feels like a living community. He puts out paper and materials on the table in his studio for anyone who wants to sit in and create something.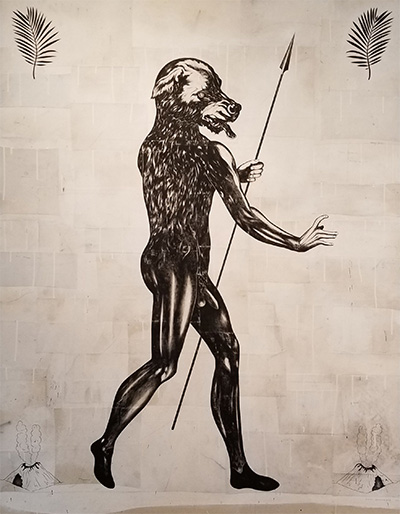 This is a vibe Messinger and Healy plan to draw on for their upcoming gallery show April 25 and 26. They want to create a surreal duplicate of their studio space in the larger gallery, flipping images and furniture on their heads, making sculptures and obscure facsimiles of objects found in the studio.
This practice of turning familiar things into thought-provoking pieces is a staple of Messinger's work. The creatures and icons he incorporates into his work, the use of familiar and recognizable items, all trigger us to relate to his art on a level beyond the visual that almost feels instinctual. The research he does when learning a technique, subject matter, style and substance, not to mention the actual time he puts in at the studio, are clearly evident.
"I'm not a perfectionist," he explains, "but I want to do things right."
—EMILY HYNDS