"My work starts with a character," says San Antonio artist Sarah Fox. Over the last 10 years, the one character she keeps coming back to is the rabbit. "I think I return to her whenever I'm frustrated by something. I'm frustrated by the laws that govern women's bodies and women's sexuality. I see the bunny as a vehicle to express my anger, and I'm using rage and humor to push back against the policing and politicization of our bodies."

While still a graduate student in the MFA program at the University of Texas San Antonio, Fox donned a giant rabbit head sprouting foliage for her performance of Genesis Rhythm (2014). Shown along with her collage and sculptural works on the same subject, the rabbit character took on the aura of a female deity, enacting rituals that conjure the mysteries of birth, death, regeneration, and the creative force.
Using a narrative format, Fox often explores a single character or story through an astounding variety of media. Whether it is drawing, painting, collage, sculpture, fiber art, puppetry, performance, or animation, each iteration is a means for the artist to get to know the character more fully. "I have done a million rabbit drawings, and I work from these to capture the spirit of the character." Fox points to the "crazy" ears on her rabbit. "They are so expressive." She can't quite explain it, but she's drawn to the inherent visual beauty of the rabbit.
Fox began experimenting with animation in 2016. It was a natural direction for her character- and narrative-driven work. She was already creating mythological and surreal worlds with her collage work, populating her dreamscapes with fantastical hybrid creatures. "Collage opened up a whole different world for me. I was exploring ideas about different kinds of beauty, the monstrous, the outsider," explains Fox. So she built a safe place for her grotesque and beautiful characters, animal-human-plant hybrids gifted with a dizzying array of horns, hooves, wings, tentacles, or scales.

­­­
Whether in collage or in animation, Fox's otherworldly worlds are imbued with rich imagery and empathetic beings. She adeptly employs metaphor and allegory to talk about things that are happening in the real world, creating a tender origin myth for her adopted son William in And Then I Met You (2018), and addressing toxic masculinity in Bruisers (2019). The companion collage pieces were done in cyanotype, and the culminating works of animation were built digitally with after effects.
Fox says that the impulse to animate her characters comes from wanting them to become more and more real. She wanted them to move in her invented world. The first work she created in the stop-motion medium was The Great Cry (2016). It's a deeply personal work dealing with the trauma of her two miscarriages. "I still look at this piece and think that it might be the best thing I ever make," Fox admits. Glitchy and raw, the animation features a disconsolate pink rabbit, misshapen and covered in blood, weeping by a baby blue cellophane pond. The acute physical and emotional pain experienced by the character, shown with explicit honesty, elicits a powerfully visceral response.
The preparatory drawings for her latest video work, Bad Bunny Gets Lucky (2021), were done with red and white wax crayon on pink paper. The rabbits are monstrously sexualized with dark nipples, hairy limbs, and elongated fingers and toes. The resulting coloring "makes your eyes vibrate a little," warns Fox. "It's tricky to look at and I like the tiny bit of discomfort this weird vibrating red gives off."
Fox had already made a marionette of Bad Bunny two years ago after attending a puppetry conference. She describes the character as rough, exhausted, and middle-aged. "She's supposed to be a very very working class character. She drinks too much. She chain smokes. She's a mess."
The video work has become the center of a recent controversy over censorship and artistic freedom. It was originally slated for the McNay Art Museum's 8 Create project in March of 2022, but was rejected in the eleventh hour for its explicit sexual content. In the story, Bad Bunny goes on a date with a shabby-looking coyote/fox type character. No spoilers here, but in true rom-com-slasher puppet show style, Fox turns the traditional narrative on its head. At one point Fox herself appears in the video as Bad Bunny, providing a snippet of live action drama.
The puppet show/video is very campy. The tongue-in-cheek style is Fox's way of dealing with the serious issues of women's bodily autonomy and sexual freedom. "I think sometimes a little humor can give the viewer an entry point into the subject matter a little bit better," she concludes.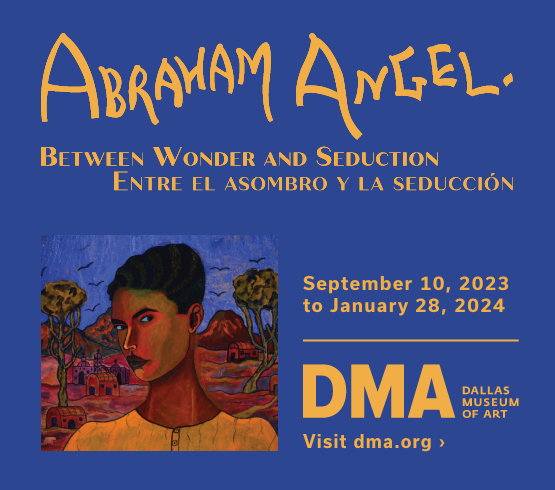 As for the public showing of Bad Bunny Gets Lucky, Blue Star Contemporary will host a group exhibition of all eight of the artists whose works were originally planned for the McNay's 8 Create project. The show will open on First Friday in April at 136C Bluestar in the Bluestar Arts Complex.
By her own admission, Fox's rabbit character has become more and more bizarre and off the wall over the years. Is it a stand in for the artist herself? "I like the idea that this character continues to survive despite herself," Fox reflects. "The idea of tying oneself to an animal or hybrid animals is a gateway to freedom, to not having to live in normal society or follow normal modes of making a life. It is me. Sometimes it's me exaggerated x 1, and other times it's me exaggerated x 20."
-SHERRY CHENG