Oren Porterfield in Jennifer Hart's Camille: A Story of Art and Love.
Photo by Nadine Latief.
---
#10: Giselle at Houston Ballet
HOUSTON—Houston Ballet reveals Stanton Welch's new re-visioning of Giselle, June 9-19, complete with exquisite new sets and costumes by Roberta Guidi di Bagno and a more complete version of Adolphe Adam's iconic score. And with a stable of standout ballerinas, including Yuriko Kajiya, who is known for her interpretation of the role, Giselle will be the don't miss close of the season.
Yuriko Kajiya as Giselle in Stanton Welch's new production of Giselle.
Photo by Christian Brown Photography.
---
#9: Thomas Demand at the Modern Museum of Art

FORT WORTH—Munich-born photographer Thomas Demand merges truthful documentation and unsettling artifice in hiseerie photographs. Through July 17 see some of Demand's recent work as part of the Modern Museum of Art Fort Worth's FOCUS series. The spaces conveyed in Demand's work are facsimiles of preexisting photographs, often circulated by the media, and the work on view in Fort Worth relates to recent political and historical narratives specific to the United States.
Thomas Demand, Backyard, 2014.
---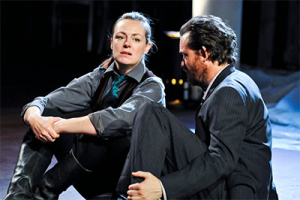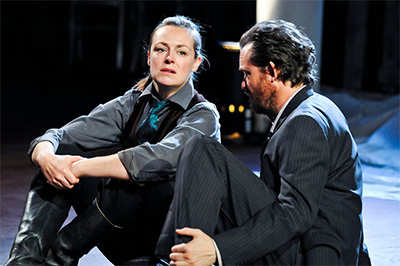 #8: Bedlam at Stark Naked Theatre

HOUSTON—Bedlam makes their Houston debut when Stark Naked Theatre bring the rising New York based theater company to Texas for the first time, for a riveting performance of George Bernard Shaw's Saint Joan, directed by Eric Tucker, June 2-18 at Studio 101 at Spring Street Studios.
Andrus Nichols and Eric Tucker of Bedlam.
Photo courtesy of the artists.
---
#7: Leigh Merrill at Liliana Bloch Gallery

DALLAS—Through June 18, the Liliana Bloch Gallery presents a body of recent work by photographer and collagist Leigh Merrill entitled This Place. The show is composed of composite images Merrill assembles from thousands of individual photos she has taken while exploring neighborhoods in the US and Europe. While the subjects are usually seemingly ubiquitous images of buildings and objects, the composition is somehow unrecognizable, just shy of reality. Through the work Merrill is attempting to explore how we construct fictions and project our desires onto our urban landscape.
Leigh Merrill, Pink Corner, 2016.  20 x 22 inches Edition 1/5
---
#6: Bruce Wood Dance Project

DALLAS— Bruce Wood Dance Project turns six and it's time to celebrate with the Dallas premiere of Bruce Wood's Anything Goes, along with world premieres by BWDP répétiteur/rehearsal director Joy Atkins Bollinger and NobleMotion co-artistic director Andy Noble, on June 17-18 at Dallas City Performance Hall.
Bruce Wood Dance Project Artistic Director Kimi Nikaidoh with BWDP member David Escoto.
Photo by Brian Guilliaux.
---
#5: Margaret Meehan at the Old Jail Art Center

ALBANY— Margaret Meehan asks for a reconsideration in her work. Most importantly a reconsideration of history and humanity and the places to which we ascribe the "other," a term, her work is quick to point out, which has changed drastically throughout history. She also, however, argues like so many other contemporary artists, for a reconsideration of the artist herself, refusing to be confined by a single medium and arguing for a reconsideration of what the artist should do with his/her work.
In Bye Bye Blue, on view at the Old Jail Art Center June 4- Aug. 27, Meehan tells "multiple versions of an erased and reinvented past," specifically that of Olive Oatman, a young girl whose family was massacred in 1851 and who was subsequently taken in by the Mojave tribe. Through sound, collage, and sculpture, Meehan encourages her viewers to think twice, before reaching the conclusion history has passed down.
Margaret Meehan, I'm for Sexual Freedom– detail, 2015 Vintage cabinet card, graphite, gouache glitter glass, wood and plexi 81/2 x 7 x 7 inches.
---
#4: Performa/Dance

AUSTIN—Jennifer Hart and Edward Carr of Performa/Dance presents 4X3  with two new works by Hart, Camille Claudel: A Story of Art and Love and Spaces,  Larry Keigwin's Glitter Garden  performed by Minnesota-based Nic Lincoln and Austin-based ARCOS Dance in Hoaxers,  June 10-11 at Ballet Austin's Austin Ventures Studio Theater.
Oren Porterfield and Edward Carr in Jennifer Hart's Camille: A Story of Art and Love.
Photo by Nadine Latief.
---
#3: Matthew Ronay at the Blaffer
HOUSTON— The Blaffer Art Museum presents New York-based artist Matthew Ronay's first museum exhibition in the US, June 3-Oct. 1.  With two room-size installations and a selection of recent sculptures and reliefs, Matthew Ronay's work ranges across botany and biology, anatomy and bodily systems, performance and sculpture, natural phenomena and psychology. Rooted in mysticism, Ronay's works take on the careful repetitions of mantra, the stillness of meditation, and the sensual physicality of bodily functions, fluids, and movements.
Matthew Ronay, Organ/Organelle, Marc Foxx, Los Angeles, September 6–October 4, 2014. Photo by: Robert Wedemeyer. Courtesy of Marc Foxx, Los Angeles.
---
#2: SoundSpace at the Blanton

AUSTIN—The Blanton Museum presents SoundSpace: In Memoriam, which will celebrate the work of musicians who have recently passed: Pierre Boulez, David Bowie, Tony Conrad, Ethan Frederick Greene, and Prince, June 19 at The Blanton.
Steve Parker performing at SoundSpace: Deep Listening, 2015.
Photo by Gabriel Cristóver Pérez.
---
#1: Matthew Zefeldt at Circuit 12 Contemporary

DALLAS—Matthew Zefeldt's Marble Head From a Herm, a solo exhibition on view at Circuit 12 Contemporary through July 14, attempts an exercise in repetition; in how many contexts can the head of a Greek sculpture be placed without losing his audience's interest? It turns out the answer is at least 200 which is how many individually hand painted representations of his subject appear throughout the paintings and floor installation which grace Circuit 12 Contemporary's gallery space. Placing his subject in a plethora of collage-like environments, surrounded by objects from throughout the history of art, Zefeldt seems to be arguing for the continued primacy of classical sculpture, or at least asking us to reconsider it in a very 21st century context. Whatever he's doing, its fun.
Matthew Zefeldt, Things on a Thing, 2015 Acrylic on Canvas over Panel, 55 x 40 inches.