Kitchen Dog Theatre in Wilde/Earnest, March 12 – April 18.
Photo by Matt Mrozek.
---
La bohème

at The Dallas Opera
Opera fans never tire of Giacomo Puccini's iconic story of Mimi and her Rodolfo. With superstar soprano Ana María Martínez as Mimi and tenor Bryan Hymel as Rodolfo, The Dallas Opera production of La bohème, March 13-29, is the must-see opera of the month. The production also marks the Dallas Opera debut of Italian Maestro Riccardo Frizza.
Ana María Martínez stars in The Dallas Opera production of  La bohème, March 13-29. Photo by Tom Specht.
Move Me  at the Museo Guadalupe
"I was a virgin; I knew nothing," Amy Mackie, Move Me's curator told A+C's Dan Goddard last month. "But that's the great thing about CAM. It brings in outside curators to take a fresh look at San Antonio." CAM is short for Contemporary Art Month, a month-long celebration of the arts in San Antonio, and each year, the organizers of the event bring in someone new to curate CAM's annual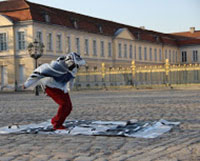 perennial exhibit. Mackie, currently co-director of PARSE in New Orleans, curated this year's iteration using "Move Me" as the curatorial direction. It's a "double-entendre," Mackie says, "I happened to pick work that communicated various approaches to physical movement, motion and being 'moved' through sounds, but I was really looking for art that moved me." The show brings together some of San Antonio's best and brightest March 13 – May 23 at the Museo Guadalupe.
Raul Gonzalez, Self Portrait 2014 (Express Yourself in Berlin) Still, 2014. Courtesy the artist.
RongRong&inri at the Modern
Chinese/Japanese artistic duo RongRong&inri have spent 15 years creating work collaboratively. The couple utilize traditional black and white photographic processes, hand-tinted by inri, to document their lives, explore man's relation to his environment, the changing notion of family and much more. Their gray-scale photographs, created using very traditional techniques that belie the dense concepts behind them, invoke the ghosts of Bernd and Hilla Becher. But RongRong&inri's work is different. Where the Becher's work is stark and complex, RongRong&inri's is straightforwardly beautiful, delicately massaging the line between complexity and simplicity. The Modern Museum of Fort Worth's Andrea Karnes fell in love with their work at a photography show in Tokyo, and through April 4 at the Modern, Texas viewers can too.
RongRong&inri, Tsumari Story No. 11-4, 2014. Gelatin silver print. Sheet: 50 x 64 15/16 in. (127 x 165 cm).
Sō Percussion at UT
We always get excited when Brooklyn-based Sō Percussion pops into Texas, and this Texas Performing Arts visit includes two distinct programs. On March 11, they perform a world premiere by Steven Mackey, co-commissioned by Texas Performing Arts, featuring Shara Worden, lead singer of My Brightest Diamond. On March 12, U.T. Percussion Ensemble joins Sō Percussion in a performance of Steve Reich's iconic work, Drumming.
Texas Performing Arts presents Sō Percussion on March 11 & 12.  Photo by Janette Beckman.
Jo Ann Fleischhauer at the Mariago Collective
Houston-based installation artist Jo Ann Fleischhauer takes over the entire two-story space of The Mariago Collective for the sky and the fracture, March 14- April 25. "The challenge was connecting the upstairs and the downstairs both visually and conceptually," says Fleischhauer. Drawing from the worlds of architecture, science and an intense interest in platonic solids, Fleischhauer intends to activate the space with 950 hanging cast-glass dodecahedrons, a floor sculpture composed of plaster molds, giclée prints, and wall text. Equal parts laboratory, kitchen, and observatory, Fleischhauer ponders big questions with her skill, wit, and scientific savvy.
Jo Fleischhauer, The sky and the fracture 2015. Cast glass, plaster, archival ink jet prints with pencil, griplock hanging system, stencils, acrylic paint. Courtesy the artist.
Mary at Undermain
Just in time for Easter, Undermain Theatre presents the regional premiere Colm Tóibín's riveting The Testament of Mary, March 18-April 11. The one-woman show depicts the flesh-and-blood iconic figure as she grapples with grief and the events surrounding her son's death.
Shannon Kearns in the Undermain Theatre production of The Testament of Mary. Photo by Katherine Owens.
Tom Sachs at the Contemporary Austin
It's probably safe to say the timing of the Contemporary Austin's presentation of Tom Sachs: Boombox Retrospective, coinciding oh so perfectly with SXSW and the hordes of people that festival behemoth brings in its wake, was no accident. Who even cares though right? Sachs' penchant for the exhibitions namesake music device, along with the requisite wealth of low-brow consumer and brand heavy media from which Sachs derives his art are just fun. His show is on view at the Contemporary until April 19.
Tom Sachs, Bodega, 2014. Mixed media. 90 x 122 x 40 inches. Installation view, The Contemporary Austin – Jones Center, Austin, 2015. Courtesy Tom Sachs Studio. Photograph by Genevieve Hanson.
A Midsummer Night's Dream at Stark Naked Theatre
Next up at Houston's Stark Naked Theatre Company is William Shakespeare's A Midsummer Night's Dream, March 5-21, co-directed by Philip Lehl and Kim Tobin-Lehl, and produced in collaboration with the University of Houston. With a cast that includes Drake Simpson, Molly Searcy, Luis Galindo and Philip Hays, Midsummer, showcases Houston's top actors.
Cast of Stark Naked Theatre Company's A Midsummer Night's Dream. Photo by Gabriella Nissen.
Logan Sebastian Beck's A Description of the Sun
Through April 5th catch Logan Sebastian Beck's riveting A Description of the Sun at Rice's Emergency Room. In the words of A+ C contributor Caitlin Greenwood, the piece, which is rather technical but at its simplest is Beck's version of a heliostat manipulated to produce quite beautiful halos of light, "elevates the relationship between art and technology…It's a piece that doesn't shy away from being thought provoking, while maintaining its overall cool factor." It's one of those pieces you have to experience to truly understand but don't worry, if you can't be in Houston this month, you can engage with the piece on Logan's website as well.
Logan Sebastian Beck, A Description of the Sun, 2015. Photo courtesy the artist.
Kitchen Dog Theatre's Wilde/Earnest  Mashup
Oscar Wilde's iconic The Importance of Being Earnest is due for a remix with Kitchen Dog Theatre's new adaptation, Wilde/Earnest, by KDT company member Lee Trull with original music by Jencey Keeton, March 12-April 18. Leave it to KDT to mix roller skating, trampolines, elaborate cocktails and nutter butters to concoct "A Trivial Comedy for Serious People."