Shayne Murphy, War Dance, 2016 Detail. Oil and graphite on panel. 72 x 48 inches
---
#10: Shayne Murphy at Anya Tish Gallery
HOUSTON— Shayne Murphy's signature is unmistakable, yet his new body of work takes off on a new tangent, going deeper into his process as his first solo effort in Houston at Anya Tish Gallery, Fluorescent Gray, draws from images of war and conflict, Oct. 14– Nov. 12.
Shayne Murphy, Angler, 2015
Charcoal and gouache on paper
44 x 44 inches.
---
#9: The Dallas Opera

DALLAS—Dallas Opera launches the season with Eugene Onegin, Tchaikovsky's tale of innocence and aristocracy in 19th century Russia, and the 2010 hit Moby-Dick, based on Melville's iconic novel, from the creative team of composer Jake Heggie and librettist Gene Scheer.
Stephen Costello as "Greenhorn" in the Dallas Opera 2010 world premiere of Moby-Dick.
Photo by Karen Almond, Dallas Opera.
---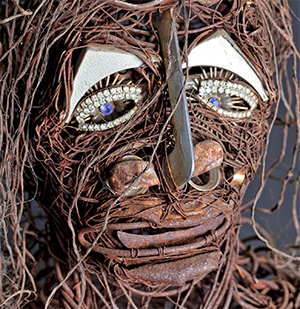 #8: Sculpture Month Houston

HOUSTON—Sculpture Month Houston, spearheaded by Volker Eisele and his team at Rudolph Blume Fine Art / ArtScan Gallery and curated in collaboration with artist and curator Tommy Gregory, spreads out all over the city, Oct. 15-Nov. 19  at The Silos at Sawyer and many area galleries and nonprofits, along with sculpture tours of Hobby and IAH airports.
Jesse Lott, Big Girl (A Tribute to Eula Love), detail, 1980
Copper, Aluminum, Steel, wire with found objects
70 x 60 x 24 inches
---
#7: Karen Stokes Dance

HOUSTON— Karen Stokes, known for her extensive research into Houston's unique history, concludes her multi-year investigative dance project, DEEP: Seaspace, which examines Houston's Ship Channel and Space Program, with performances on Oct. 20-22 at the Hobby Center's Zilkha Hall.
Bryan Peck, Yahudi Castaneda and Jessica Nieto in Karen Stokes's DEEP: Seaspace.
Photo by Lynn Lane.
---
#6: Dorothy Hood at Art Museum of South Texas

CORPUS CHRISTI—Texas native Dorothy Hood was an abstract expressionist painter who worked primarily in oil paint and ink to create an irresistible body of  work  that  is  colorful  and  precise. Through Jan.  8,  the  Art Museum  of  South  Texas  hosts  a  retrospective  exhibition  of her  work, The  Color  of  Being/El  Color  del  Ser:  Dorothy  Hood  (1918-2000), chronicling  her  career  from  studying  at  the  Rhode  Island  School  of Design in the 1930s to the time she spent in Mexico painting alongside Juan Orozco.
Dorothy Hood, Going Forth IV, 1997, Courtesy Art Museum of South Texas
---
#5:  Justin Vivian Bond

HOUSTON—Lott Entertainment Presents opens the season with the amazing trans-genre artist Mx. Justin Vivian Bond in Love is Crazy, as part of the Joe's Pub Series on Oct. 20-21 at the Neuhaus Stage at the Alley Theatre. Mx. Bond has received  an Obie (2001), a Bessie (2004), a Tony nomination (2007), the Ethyl Eichelberger Award (2007), The Peter Reed Foundation Grant, and a New York Foundation for the Arts Grant for Artists, and has had a longstanding career on and off Broadway.
Justin Vivian Bond.
Photo by David Kimelman.
---
#4: Lucie Stahl at DMA

DALLAS—The latest iteration of the Dallas Museum of Art's Concentrations Series features the work of German artist, Lucie Stahl. The artist uses a flatbed scanner to combine found objects into images that comment on consumption, commercialism and waste. The exhibition remains on display through March 12, 2017.
Lucie Stahl, Critic's Pick, 2014, Inkjet print, aluminum,epoxy resin, Overall: 47.2 x 65.7 x 9 in. (120 x 167 x 2.5cm) Courtesy the artist and Freedman Fitzpatrick, Photo by Sven Laurent.
---
#3:  WingSpan Theatre Company

DALLAS—WingSpan Theatre Company, in cooperation with The Bath House Cultural Center, presents the regional premiere of Breadcrumbs by Jennifer Haley , winner of the 2012 Susan Smith Blackburn Prize for The Nether; directed by Producing Artistic Director Susan Sargeant, Oct. 7-22.
Stephanie Dunnam and Catherine D. DuBord
Photo by Lowell Sargeant, WingSpan Theatre Company.
---
#2: KAWS: Where the End Starts

FORT WORTH – In 2012, COMPANION, an enormous grayscale statue resembling Mickey Mouse sat outside The Modern Art Museum of Fort Worth. There were black x's on the back of both of his hands, in which he was resting his face. In spite of its cartoonish quality, the impossible-to-ignore sculpture evoked sadness. This is one of the characters created by KAWS, a Brooklyn-based artist, who will be the subject of KAWS: Where the End Starts, an exhibition at The Modern running Oct. 20 – Jan. 22, 2017. The exhibition will peer into the artist's interest in the juncture between design and fine art.
KAWS, UNTITLED, 2001, Acrylic on photograph,
Framed: 16 × 12 in. (40.64 ×30.48 cm), Collection of the Artist.
---
#1: Working at Jubilee Theatre

FORT WORTH— Jubilee Theatre presents Working : A Musical, directed by Jubilee artistic director William (Bill) Earl Ray, from the book by Studs Terkel, adapted by Stephen Schwartz and Nina Faso, with songs by Craig Carnelia, Micki Grant, Mary Rodgers and Susan Birkenhead, Stephen Schwartz and James Taylor,  through Oct. 30.
Jubilee Theatre in Working:A Musical.
Photo by Cecil Fuqua.