Allison Orr, artistic director of Forklift Danceworks, applauding a performance by a Middletown Water & Sewer Employee, created with Wesleyan students from her class, The Artist in the City.Photo by Sandy Aldieri of Perceptions Photography, courtesy of Wesleyan University's Center for the Arts.
---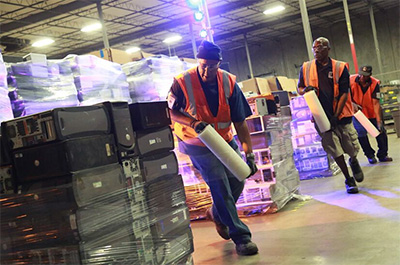 Convention is not a part of Allison Orr's vocabulary. The Forklift Danceworks artistic director has carved out a particular niche in the site-specific performance world of Texas—one that draws attention to the people and systems that keep our communities ticking, often without thanks or notice. This is Orr's specialty: bringing the invisible to the forefront.
Her unconventional projects have resulted in stimulating collaborative performances that highlight the work of city employees, including firefighters, trash collectors, power plant and sewage workers, arborists and more. But what's really interesting is that Orr's site-specific productions aren't just about these workers; they are performed by them, in their daily environment.
Recent projects such as The Trees of Govalle (2015, with the City of Austin's Urban Forestry Division), PowerUP (2013, with employees and machinery of Austin Energy) and The Trash Project (2009 and re-mounted in 2011, with the City of Austin Sanitation Department) have garnered Forklift Danceworks critical acclaim and national recognition; but beyond that, they've sparked important conversations about what it means to be part of an urban community.
Barry Chernoff, chair of the Environmental Studies Program at Connecticut's Wesleyan University, was one of those who took notice. He invited Orr to Wesleyan for a 10-month fellowship for the 2015-2016 academic year to serve as a guest scholar as part of the University's Think Tank program.
The topic?
"Engagement in the urban environment," said Orr, who met weekly with faculty of the College of the Environment on this subject and taught an eight-student undergraduate course titled The Artist in the City during her residency.
While Orr had taught dance classes before at Austin Community College, this marked her first time teaching an academic course. "I had never taught a group of students to follow my process before. It gave me confidence that there is a way to teach this process. It was super fun, very eye opening," she said.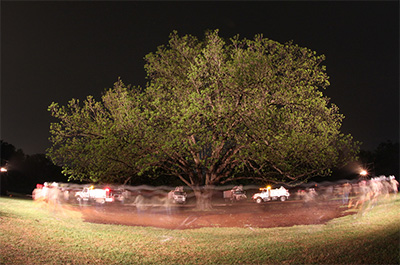 Orr worked with the mayor of Middletown, Connecticut to set up a framework for the students to create collaborative performance pieces with employees of the city's Water and Sewer Department in the spring semester. A third of class time was dedicated to studying artists who have worked extensively in the realm of community projects, with the goal of identifying the common tenets of the process. Next, the students began shadowing the water and sewer employees. By the end of the course, each of the eight students had developed a performance-based project three to eight minutes in length, which was presented at the end of the semester at Middletown's annual riverfront festival, Feet to the Fire.
"The hardest part was, I never make a project in 13 weeks," explained Orr, in reference to the semester's crunched timeline. "I normally spend about two years per project. It was balls to the wall."
When some of the students experienced creative blocks, Orr encouraged them to think less about the final product of the performance and to experience more of the daily routines, rituals and thoughts of the workers. "The combination of the two minds coming together is the sweet spot," she advised them, drawing on her own experience.
Orr's academic year at Wesleyan was full of firsts, not the least of which was being embedded in the East Coast performing arts scene.
"Texas-based artists are kind of left out of what's happening in the rest of the country. There's still that New England-New York thing at the center of the dance world. So when I was at Wesleyan, I actually embraced my Texas heritage. It introduced me to people I wouldn't have otherwise crossed paths with. And I opened up people's eyes to Texas, too. We're doing things here that the New England community isn't even aware of."
Another first for Orr during her year at Wesleyan was beginning work on a book about her inspirations for project ideas and how she tackles the process once she begins the work. She'll also look back on past projects via photos and interviews with those involved, giving voice to the workers and community leaders she's shadowed and developed performance projects with—everyone from firefighters to arborists to neighborhood and city leaders.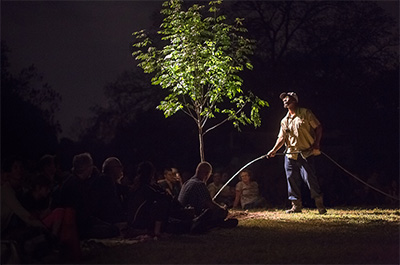 Meanwhile, back in Texas Forklift Danceworks' associate choreographer and director of education, Krissie Marty, was hard at work on the first major project she's directed for Forklift. RE Source premiered in February 2016 at Goodwill Central Texas' 125,000-square-foot recycling and distribution center, involving 85 Goodwill employees.
A project centered on a warehouse that processes 1,200 tons of material per day is not for the fainthearted; but fans of Forklift's past productions, who happened to be Goodwill workers, got in touch with Orr and Marty, asking them to take the Goodwill on.
"They kept persisting," said Marty. "The folks who work [at the Goodwill] are a real mix of people—people entering the workforce, those that have been in prison or are homeless. And just people who need jobs. It was cool that they could see the artistic potential in their jobs."
At the performance, the audience rotated to different stations configured within the warehouse. Each station highlighted a different role within the recycling center. At one, the audience sorted items themselves ("Oh my God, they didn't want to leave!" exclaimed Marty); at another, they wandered through a maze created out of bales. The 30 back doors of the warehouse were open to reveal a ballet of sorts performed by several 18-wheelers. "It was like working with a group of dancers, in really, really large vehicles," added Marty.
As the old adage says, good work begets more work. At a celebration luncheon after The Trees of Govalle premiered, the head of the Parks and Recreation Department turned to Orr and Marty and asked, "Will you do pools next?"
She explained the city's need to figure out how to gather the resources to fix Austin's community pools, knowing full well the focus Forklift can help bring to community issues. Since that day, Forklift has received a $100,000 grant from the National Endowment for the Arts Our Town grant program to tackle the project.
My Park/My City (working title) officially kicks off in October. Orr estimates it will run three-five years and include public performances (the first of which will likely be in summer 2017); community story collection and presentations around the history of the city's pools; and the development of Austin's first-ever aquatics master plan.
"Our focus will be certain East Austin neighborhood pools. Together, we'll create works that will help give voice to groups that aren't normally heard," said Orr. "Whenever we do a show, people are really excited to think about what they want for their community going forward. The show should be the middle marker. It should be the thing that encourages citizens to ask for change and figure out what they want for their communities."
The next few years will also see Orr and Marty working outside of Texas. The New England Foundation for the Arts has awarded Forklift a National Dance Project Touring Grant to bring its projects to new places. Orr's touring model will involve creating dances for the campus employees of colleges and universities across the U.S.
"We're going to use our process to hone in on campus communities. Dishwashers, cooks, janitors, maintenance staff—we'll collaborate to create something that's specific to their environment. Campus employees are the long-standing communities of these colleges, after all. Students come and go, but the workers are there for a long time."
And that's what Forklift is so good at: Paying respect to long-standing community roles that most of us take for granted.
—CLAIRE CHRISTINE SPERA