Raychael Stine, Picaflor Picaflor,  2015. Oil on canvas, 13" x 34".
---
Raychael Stine at Art Palace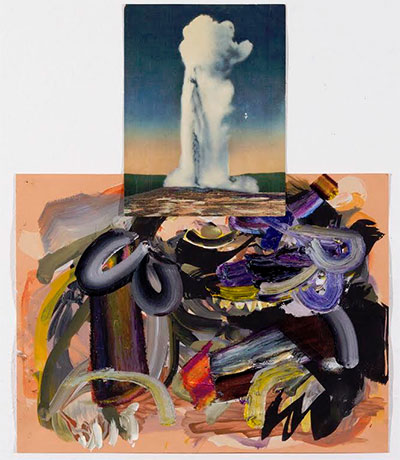 It might sound strange, but I have always viewed hummingbirds as mystical, almost fantastical creatures that straddle the real and the imaginary.  For me, their movement through space pulls them outside of an otherwise normalized environment; they stand out, I stop and stare, watching them until they leave and, even then, continue to watch as if I can see some imaginary trail they've left in their wake. Raychael Stine's chuparrosa (the Spanish word for hummingbird), on view at Art Palace until March 27th, forces this same course of action; looking out and deeper, following lines, searching through space.
Described as articulating "the transitive relationship between form and material with an aim to create more space," this new body of work gave me the sensation of being consumed by the openness created by Stine's use of color to reframe the boundaries of her subjects, of her materials, of the objects in the works themselves. The work is expansive, deep, layered. I was particularly impressed with Stine's treatment of materials as varied as prints, postcards, and oil and acrylic paints. Especially with the use of oil and acrylic, the artist balances representational renderings with heavy impasto, large rhythmic brushstrokes, and radiating color.
Take Tile Jammer (2015), for example, a vivid abstraction encircled by a black and white tile border. While the oozing, textured abstraction created with acrylic paint jumps out with smears of reds, blues, and white swirls, a delicately balanced bouquet of red glazed yellow and rouge flowers sit, receding, atop it as if on a pedestal. Stine's thoughtful mélange of oil and acrylic paints, where oil paint has the tendency to push objects back into space, and the vivid colors of acrylic pushes them out, creates a perspective that is almost surrealist in nature. The viewer has the sensation of looking through a window, and the forms inside aren't on a flat surface but tangible, touchable.
In Black Flower Yows (2014)—a diptych of dog portraits painted on black backgrounds, painted in a fluid, swirling fashion, with a small flower postcard on top— Stine's treatment of texture, complementary colors, and the stoicism of the background make each brushstroke illuminating, otherworldly.
Otherworldly also perfectly describes her transformation of the hummingbird itself in Hummingbird Vision 1 (2014) and Hummingbird Vision 3 (2015).  Through Stine's rendering, the birds become thick strokes of color that jolt out from flattened background. In Vision 3, they collide with one another on a dark background, encapsulated by two radiating halos which may remind the viewer of religious iconography.
Ultimately, Stine's new body of work inspires the viewer to peer deeper into the work, to take time and slip into the space the artist has created in each piece.