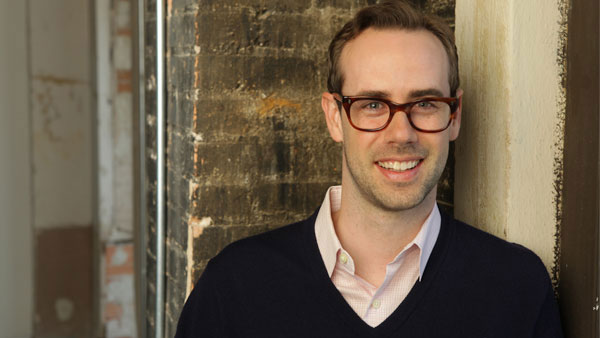 Lee Trull
Photo courtesy of the artist.
---
Lee Trull has certainly paid his dues. For years, he hustled for acting jobs in the Dallas area, scurrying between auditions and odd jobs to pay his way. All the while, he kept his sight on the role he was destined to play: a pacesetter in the local theater scene. His big break came along unexpectedly in 2009, when he was asked to join the Brierley Resident Acting Company that was just being formed at Dallas Theater Center to develop and nurture professional actors within the community.
Since then, the spotlight has never stopped shining on the 35-year-old actor from Arlington, who has taken the stage in some of DTC's biggest hits (Arsenic and Old Lace, A Christmas Carol, Cabaret) and also been an active player in other companies, most notably, the edgy Kitchen Dog Theater (The Pillowman, Sick, Debbie Does Dallas the Musical) where he's been a company member since 2006. He has also ventured from the applause to try his hand at directing and has written several plays, too.
Last year, he was appointed Director of New Play Development at DTC, a new position that has him conducting readings, workshops and productions of new plays and musicals. Deferred Action, a new play about young, undocumented Latino immigrants, written by Trull and David Lozano, will premiere at DTC in Spring 2016.
But his latest work comes to life at Kitchen Dog Theater, March 13-April 18, when Trull directs from his own script WILDE/EARNEST, a sexy and effervescent remix of Oscar Wilde's most famous and successful play, The Importance of Being Earnest, which incidentally, Trull lists as one of his favorite plays.
This new show explores today's hipster culture by follows four would-be lovers as they bounce between locations, shifting identities, and actual trampolines. Complete with roller skating, elaborate cocktails, Nutter Butters, perfect playlists, and a range of other mercurial obsessions, WILDE/EARNEST is, to borrow Oscar Wilde's own subtitle, "A Trivial Comedy for Serious People."
A + C Dallas theater writer Scot C Hart caught up with Trull during final rehearsals to preview the new show and also survey his busy life in the Dallas theater scene.
Roller skating, trampolines, hipsters…this sounds like one helluva play. Tell us how you conceived the idea, and a bit about the process of developing the script.
As a company member at KDT, we are encouraged to submit shows for the following season that reflect the company's mission and make good use of our stable of actors and designers. I was trying to think of a classic play to direct that fit the company's mission statement but would feel surprising. I thought of The Importance of Being Earnest and immediately decided that was a bad idea. KDT's actors are known for doing dark and intense work. Who would want to see them sitting on sofas and nibbling on cucumber sandwiches? But that made me wonder if a play like Earnest could hold up to the kind of deconstruction and exploration that we often see with the great comedies of Shakespeare and Moliere. I pitched it to Tina Parker and Chris Carlos [Co-Artistic Directors.] They were intrigued, but suspected (rightly) that the idea was half-baked. So we spent a year developing the script with a couple readings and a lot of re-writes.
Your play is based on a classic play, The Importance of Being Earnest. Are you a fan of Oscar Wilde's work?
Yes, I love Oscar Wilde's work. I have always been in love with the work of Irish dramatists. When I was in high school I was constantly reading plays by Seamus Heaney, Sean O'Casey, Brian Friel, Oliver Goldsmith, Richard Sheridan, George Bernard Shaw and, of course, Oscar Wilde. That love affair continues today with the work of Conor McPherson, Enda Walsh and Martin McDonough. I love their use of language. I love their lonely perspective on the world and the outsider mentality. Wilde stands out to me because how quickly his words stick to your brain. He writes very clear, very memorable, dialogue. And he's funny! He rivals Mark Twain and Shakespeare for his ability to improve a t-shirt or a coffee mug.
Is it safe to say you think that classics can be reworked to fit a modern audience?
Maybe it's dangerous to say that. People seem to get pissed when you mess with a classic. I think a great piece of art can hold up to a lot of interpretation. People that only want to see classic plays done in some way that "honors" the work and preserves some kind of "tradition" should be doomed to spend the after life watching Tamburlaine as it was original performed with three other snobs slowly applauding. For eternity.
As playwright and director, is this really your vision fully realized for this play or do you expect to do even more with it in the future?
It is close. But there's always more I can do with three more weeks…
Once you finish writing a play—and you've had several of your works produced—is there ever a temptation to go back to them and edit or change them? Are your works always evolving, or do you finish and just move on to another idea?
It depends. Sometimes, I can't keep working on a play because I get so depressed. I just know that I failed in some way or that I don't really love the characters. I'm not a real playwright. I don't carve out enough of my day and I don't have the long-term focus of a playwright. I adore playwrights and I know how hard their job can be, so I would rather spend my career helping their work be better than pretending I'm one of them. But that doesn't mean I won't writer a play every once in a while…
You have build-up quite an impressive resume in the local theater community—actor, playwright, director. What lessons have you learned in each of your roles? And do you see yourself leaning towards one role more prominently in the future?
Lately, directing seems to be what I love most. I think I'm a pretty good actor/writer and I'm getting better at producing. With directing, I feel like I can see more of myself on stage—my own thoughts and perspective on life. When I'm acting or writing, I feel just a little closed off from that part of myself. I've seen genius actors like Cate Blanchett and brilliant writers like Lynn Nottage, and it feels like they put it all on stage—their whole being. I can't do that as an actor or writer but I feel freer when I'm directing. But I'm not sure why.
You are very involved in helping new works get developed as the new Director of New Play Development at Dallas Theater Center. Why is this an important role for DTC?
The large regional theaters in this country should be on the front lines of new play development. For theater as an art form to stay a living, breathing entity it needs new work. For new work to happen, writers need support. When I was a young writer, I would have thought that playwrights like Rajiv Joseph and Amy Herzog were just sitting on piles of cash and dreaming up their next big hit. It's not true. They are piecing together a living and trying hard to find the time to develop their work and looking for the right partners to help them in that development.
Has this passion for theater always been with you, even as a youngster?
It has. I was a terrible student and I had a tough time finding something that could hold my attention. When I was in junior high I discovered theater and speech class, and found that I had some aptitude. I knew at that point I had found a career path, maybe the only possible one for me. It was fun then and it is still fun. Although I wish I made more money!
Where do you see your career going, say in 5 or 10 years?
Hopefully, I can stay as busy as I am now. It could be interesting to be the leader of a theater somewhere but, if I can, I'd rather stay in Dallas. It is my home, and it is where I want to make theater.
—SCOT C HART