Still from Needle,  2013.
---
Filmmaker Anahita Ghazvinizadeh Completes Her Trilogy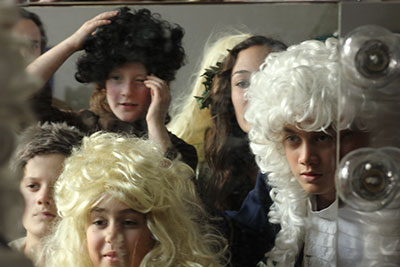 Anahita Ghazvinizadeh's latest film opens in a theater, with a play in mid-action. Stage right, there's an aristocratic family seated at a dinner table, the parents and children dressed in 18th century finery.  Center stage, and set up slightly above the actors, an umbrage of trees. But this isn't an elaborate production; the stage is spare, and the theater intimate. It's likely a school theater, as children play all the roles.
Working with child actors is not new territory for Ghazvinizadeh.  Prior to her fellowship at the Glassell School of Art's Core Residency Program, Ghazvinizadeh was coming off of a successful run of her short film Needle. This film follows a young girl on the day she gets her ears pierced, while also navigating her divorced parents' strained relationship and her own exploration of gender identity. The film has shown in the Chicago International Film Festival, Houston's Iranian Film Festival and at Cannes Cinefondation, where it won first prize.
Needle cast new attention on Ghazvinizadeh's first film, When the Kid was a Kid, about a group of children pretending to be their parents, and focusing on one boy in particular who dons his mother's clothes for the game. Ghazvinizadeh is currently finishing up her last year at the Glassell, and the first cut of the latest short film, the third in this trilogy about childhood, will premiere in the Core Program's upcoming show, March 13- April 24.
Ghazvinizadeh did not initially set out to make a trilogy, but that is what she developed by producing three pieces that so vividly captured the lived experience of children. It's dubious how much any of us can tap into how we experienced the world as children, but Ghazvinizadeh's films sagely recognize how rich the inner lives of children are, that familiar mix in young people of innocence, bafflement and total indifference.
In Iran, where Ghazvinizadeh was born and lived until pursuing graduate studies, activist filmmakers worked with children immediately after the 1979 Revolution. Ghazvinizadah studied with Abbas Kiarostami, one of the pioneers of this movement. In early 1980s Iran, obtaining money for film projects was difficult, and many filmmakers received grant money from Kanoon, a well-funded cultural institution within the country for the intellectual development of children. "I used to watch all the Kanoon movies," notes Ghazvinizadeh, "and a lot of them are dark movies with so much social criticism.  They are not made for children, but a lot of kids watched them." While these artists may not have been interested explicitly in themes surrounding early childhood development, through Kanoon funding they were able to make films that explored political themes because they featured children.  "The child characters are like miniature adults," says Ghazvinizadeh, the actors masking the pointed commentary being leveled at social and political realities.
By writing scripts that nurture the multifaceted ways in which young people express their sexuality and present their gender, Ghazvinizadeh takes the history of Kanoon filmmaking into the 21st century. Her films have a light touch, but the implications of her challenge to the widespread suppression of non-conforming expressions of sex and gender couldn't be more important.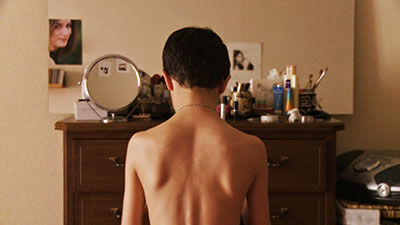 In making that first film, Ghazvinizadeh admits that while "ambiguity and fluidity in gender was in my head, I didn't make a direct decision that this was a film about gender-queer kids in Iran." Ghazvinizadeh only began to pursue these theoretical underpinnings after the completion of When the Kid Was a Kid, though she does acknowledge that her mother's staunch defiance of female stereotypes and her father's farcical dismissal of patriarchs may have a lingering influence on her work.
This is not to say that Ghazvinizadeh's work is autobiographical, but rather that she is such an astute and curious observer of life that a single instance seems to easily snowball into a project of substance. The concept for Needle came to life when Ghazvinizadeh first saw piercing guns held to a child's ears, the sight collapsing childhood milestones, burgeoning sexuality and pure violence into an unshakeable image. For the latest film, the image of a young nobleman escaping societal dictates to live in the trees captivated Ghazvinizadeh. "I would walk by the Menil campus, and there were these beautiful trees with branches that go down to the ground. The image of a Baron was in my head and I would see the kids climbing the trees and watching people pass by." The image inspired her to make the film, and to make it in Houston.
Indeed, it is this very scene that begins her film, the young baron so stifled by excessive ceremony that he leaves his squabbling family behind for the purer pleasures of the forest. The opening sequence underscores what follows, as the camera follows the characters into their offstage lives. Like the Baron, they too have a desire for independence and to delineate their own identities.
—KELLY MONTANA