---
IMAGE ABOVE: William Fedkenheuer, John Largess, Joshua Gindele, Daniel Ching. Photo by Michael Carter.
---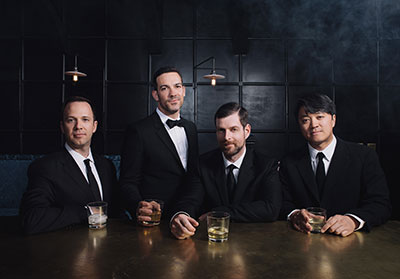 Opening the Chamber Music Houston Season for the second year in a row, The Miró Quartet brings the world premiere season of Gunther Schuller's Quartet No. 5, on Sept. 16 at the Stude Concert Hall, Shepherd School of Music at Rice University.
The Miró Quartet began in 1996 in Austin, Texas, and is currently in residence at Butler School of Music at University of Texas at Austin. The group consists of violinist Daniel Ching, cellist Joshua Gindele, violinist John Largess, and violinist William Fedkenheuer.
Cellist and one of Miró Quartet's founding members, Gindele reflects on the impact of opening the season for Chamber Music Houston, and envisions hope of a legacy. "We are stewards of this great art and follow many of our mentors to the stage of Chamber Music Houston," says Gindele. "It's humbling to think that such people as Isaac Stern, Menahem Pressler, and the Cleveland, Juilliard, Emerson and Tokyo Quartets have taken that very stage before us. I hope some years from now, our pupils will say the same when they take the Stude stage at Rice University for the first time."
The group brings a  premiere to open Chamber Music Houston this year. Schuller's Quartet No. 5 was commissioned and first performed at the Tucson Winter Chamber Music Festival in March 2014. Schuller, a long time friend of Miró, has created a work with hidden thematic elements, striking jazz flavors and the familiar classical form. Gindele gives us a taste of the piece by suggesting what a wine pairing might be: "I would have to say an American-grown sparkling wine made by one of the great French champagne houses. It is uniquely American, but with the depth and history that comes with things rooted in great tradition."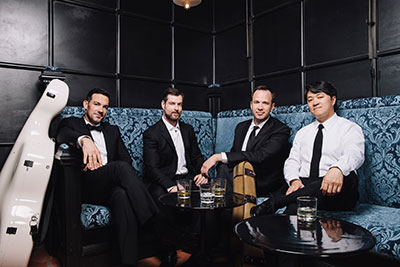 Like the style of the piece, the relationship of the composer to the group is rooted and established. Schuller has been a part of the group's life since 1998, and Miró has premiered three of his works. "He knows how to write for each of us. He also knows that I love jazz and have played a little bass, so he writes some great 'walking' lines for me," says Gindele. "At the same time, I have a tendency to fall in love with my own sound, so he also has us playing some truly beautiful and soaring tunes."
Miró's distinct sound is twenty years in the making "We all came into the group as very different musicians and personalities, but the tension that causes friction—musically, not personally—is an incredibly powerful tool," Gindele explains, "You can hear the individuals and their ideas but only through the cohesion that comes with a non-hierarchical, respectful, and an all-for-one attitude. Finding the common ground among the personalities and allowing a certain amount of malleability to accommodate for everybody's personality was paramount from the beginnings of the group."
Miró is renowned for their synchronization and feel; this season's program shows their signature style with the Schubert Quartet in D Minor, D. 810, also featured on their most recent recorded album, Schubert Interrupted. Haydn's passionate String Quartet in D Minor, Op. 76, No. 2 "Fifths" rounds out the CMH program.
The Miró Quartet ends their tour with performances of two complete Beethoven String Quartet cycles and travel spanning from Buffalo, New York for the Slee Series, to Suntory Hall in Tokyo, Japan.
Their 18 years of performing intriguing programing and recording albums of quartet literature with a signature flavor have made an impact. "We always try to do what is right for the music and what we, as a group, believe in and feel passionate about," says Gindele.  "The by-product has been a robust and interesting career that we take pride in. Our goal was never to achieve a certain level of fame or notoriety but rather, to make a life performing the works of Haydn, Mozart, Beethoven, Schubert and the composers who followed those great masters."
—SHANNON LANGMAN