George Quartz
Photo by Karlo X. Ramos.
---
Dallas Musicians Blurring the Line Between Art & Performance
Within the arts and music community of Dallas, there is a small pocket of underground DIY events, art shows and performances. Fueled by a handful of cultural entrepreneurs, the scene is ever expanding and pushing the limits of Dallas audiences. A vital part of this current energy is the exciting music being produced in this city. Among a multitude of very talented acts, a few reside within a category all off their own. These musicians are actively involved in the local art scene, while also providing the soundtrack to endless nights after the booze at the gallery openings is long gone. This music melds broad genres, and rests between the exploration of experimental noise and outright artistic performance.  These performers provide an event closer to the idea of "happenings" and within the context of Dallas there is nothing else like these musical projects.
VULGAR FASHION
Vulgar Fashion – Krystal Tearz from Future Sweden on Vimeo.
The duo Julie McKendrick and Andrew Michael form Vulgar Fashion, one of the premiere Dark Wave bands currently in Dallas. Discussing the formation of Vulgar Fashion, McKendrick says she and Michael "Were influenced by the noise and dance music from our childhoods. Vulgar Fashion was an attempt to combine the sounds found in the backdrop of a fantastical life portrayed in 80's television and media." Michael adds, "We wanted to create a horror video dream world." Their musical synergy earned them a spot opening for hip-hop genre bending artist Leif as part of a Red Bull Sound Select show held at Double Wide and booked by Dallas' Parade of Flesh in March. This year also saw Vulgar Fashion head out on an east coast tour hitting Providence, RI, NYC and Philly along the way.
In April, McKendrick, who is currently pursuing an MFA in New Media Art at UNT, teamed up with fellow new media artist Morehshin Allahyari to co-curate a George W. Bush knock-off portraits show at UTD residency Central Trak.  The show's opening coincided with the premiere of Bush's own paintings at SMU.  Andrew Michael is no stranger to the Dallas art scene, either creating DIY sound sculptures in various outdoor spaces as well as video performances for multiple noise shows.
---
WIILLIAM SARRADET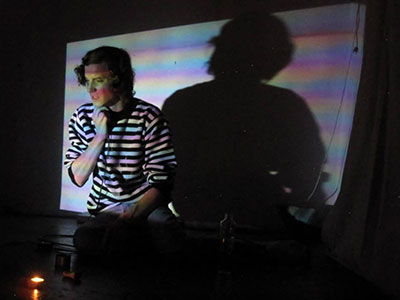 Under the name Half Asexual, Sarradet creates video and sound pieces that pull from such interests as advertising to K-Pop. As his other persona, Count Backwards, Sarradet creates  music videos that read as layers of youth culture melted into a psychedelic amorphous blob with a soundtrack provided by tweaking teeny boppers. His popular residency Viral Fantasy recently wrapped up at underground art space Two Bronze Doors, where it was a key component to TBD's programming. His new venture, Viral Request Live, will be premiering in Dallas this year. Sarradet explains the difference between Viral Fantasy and Viral Request. "Viral Fantasy's aim was to present content in an art space that could be viewed and analyzed, often employing guest curators or tackling specific formats within media that was hosted or submitted online. Viral Request Live is a democratically curated social event held around East Dallas as an excuse for music videos to be seen and appreciated in an informal setting, specifically old, independent, alternative and internet-only music videos. Viral Fantasy featured live performances as headliners; Viral Request Live is purely a video event that the attendees can contribute to."
---
PIERRE KRAUSE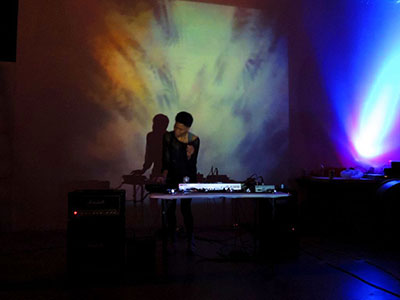 With a penchant for cerebral installations and videos, tense performances and haunting dance beats, Krause is the most unpredictable performance artist in Dallas. In 2013, not only did Krause graduate from the University of Texas at Dallas with a B.A. in Art and Performance, she also released her first solo EP PHANTOM PONYTAIL.  Her dreamy EP (SUR)REALEST B*ITCH followed in 2014 and presented us with an album cum low-fi-electronic-drone-poem. To witness a show by Krause, one must never assume what is about to happen. She may perform her music accompanied by ferocious screams, present a character study while holding a plant accompanied by a Metallica soundtrack, or she may simply divulge her secrets to a small crowd.
As a visual artist, Krause has shown in numerous group shows throughout Dallas, including her 2013 solo show 0 LIKES at Beefhaus, an art space operated by Dallas collective Artbeef. Earlier this year, Dallas based artist and curator Michael Mazurek selected her work for group shows in Denmark and Sweden, while Apophenia Underground curated Krause into Negative Capability at Red Arrow Contemporary, where her bizarre piece THINGS LIKE THIS HAPPEN AND MAKE YOU START DREAMING showcased a sponge and rubber kitchen glove on top of a pedestal.
---
LILY TAYLOR + SEAN MILLER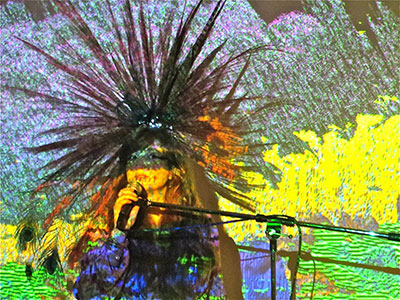 Relativity new to Dallas, Lily Taylor and husband Sean Miller are already a veteran team in the music community. Miller creates and manually manipulates video that is projected over Taylor during performances, which are often full of visual noise and serene movements. Together they have performed throughout the city, including Central Trak and numerous shows booked by local culture magazine, THRWD. Taylor recently released her nine song debut album The Ride through local label Pour le Corps. The couple's role within the community has broadened since transforming their loft into an art space called Midway Gallery. Located directly across Fair Park, Taylor and Miller have utilized their window shades as projection screens and display video art as well as photography. Their first show featured photos of fair goers and animations by legendary Dallas artist Thor Johnson. Midway Gallery serves the Fair-going masses and anyone driving down Parry Avenue, technically making it Dallas' only late night gallery.

---
GEORGE QUARTZ
George Quartz, Behind the Screen from Mark Aaron Sharon on Vimeo.
The reigning godfather of the Dallas art & music hybrid scene and definitive example of music performances bordering on art happenings is the always sexy, enigmatic and mythical George Quartz.
Backed by an enormously talented group of musicians made up of musician/artist M, painter Brian Ryden on keyboard, Jake Schrock on keyboard, bassist and keyboard wizard Jermy Johnson and occasionally accompanied by drummer Daniel Bornhorst, George Quartz as a band delivers a wall of ever-changing seductive electronic grooves. Every performance is improvised and musically GQ walks the line of jazzy, down tempo lounge music with an ominous energy that hints at a dark orgy of velvet tones.
Aside from the sounds that accompany each performance, there is the ever changing persona of George Quartz, who as a character has been presented in a multitude of costumes, wigs, body paint and makeup. As part of his Band-in-Residence stint at my own roving venue Vice Palace, Quartz presented The Last Resort, a series of performances where GQ was revealed to be a god-like cult leader with each performance further building on Quartz' concepts and narrative.  For these performances and others, GQ has collaborated with multiple artists and musicians, including Danielle Georgiou and her dance group. Long live George Quartz.
–ARTHUR PEÑA