André Kertész (1894–1985)
August 13, 1979, 1979
Polaroid SX-70
© The Estate of André Kertész, courtesy Stephen Bulger Gallery.
---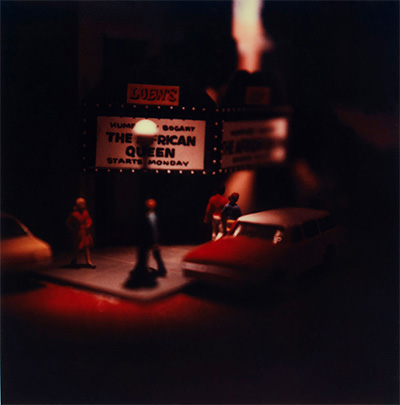 An exhibition surrounding Polaroid photography has landed at the Amon Carter Museum in Fort Worth, and for many of us the subject is something from the not-so-distant past that comes with a heady dose of nostalgia. Clearly designated as a project that seeks to explore the revolutionary impact of Polaroid photography since its invention in the mid-20th century, The Polaroid Project:  At the Intersection of Art and Technology, on view through Sept. 3, is only the beginning of a new chapter of research on the subject.
Instantaneously capturing an image that is immediately ready for consumer consumption and dissemination is decidedly de rigueur now, but in 1947 when Edwin Land, the head of Polaroid, unveiled the instant camera model for the first time it was a landslide in reproductive technology and visual communication welcomed by artists, professionals, and amateurs alike. A follow-up breakthrough was the introduction of instant color photography in 1972 with the Polaroid SX-70, a favorite of figures such as Ansel Adams, Helmut Newton, and Andy Warhol, which was produced in various versions until 1981.
This travelling exhibition explores how these groups, primarily artists, interfaced with the Polaroid system, and why they were liberated by this medium and encouraged to experiment with new ways of picturing representation. Organized by the multinational Foundation for the Exhibition of Photography, Minneapolis/New York/Paris/Lausanne, in collaboration with the MIT Museum, Cambridge, Mass., and the WestLicht Museum for Photography, Vienna, this thorough and extensively researched exhibition is of interest to both the general public and specialists in art and photography.
A veritable who's who of post-war artists from the art history pantheon pepper the walls of the exhibition, intermingled with lesser-known figures. Many participated in the Artist Support Program that Polaroid started in the mid-60s, which supplied artists with free equipment, including the large 20×24 inch Polaroid camera and all the film they needed. In exchange, the artists offered useful technical advice considered valuable by Polaroid engineers, and even works of art, many included here.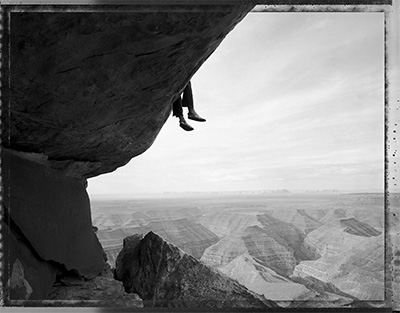 For the sake of organizational structure, the exhibition is thematically curated in sections titled Theaters, Interrogations, Impressions, Arrangements, and Expressions, explicating the interests and methods of the artists. For example, in Theaters an amazing triptych by Philippe Halsman of images obtained on a Polaroid PolaPan 4×5 captures figures drawn from the cinema— Tippi Hedren and Alfred Hitchcock each flanked by birds from the infamous film. These photos look like art-driven publicity shots in black and white. They bookend a trio of figures, including the French filmmaker Jean Cocteau, whose famous films predate The Birds and embody a theatricality to rival Hitchcock's psychodramas. For Halsman, it was celebrity status that could imbue such small and quickly obtained images with power.
By contrast, David Levinthal captures an atmospheric film noir quality in Untitled from the Modern Romance series, and Andre Kertesz channels the surreal in August 19, 1979. These two works, obtained by both artists with a Polaroid SX-70, attest to the artistic potential and simplicity of point and shoot.
In the Expressions section a large horizontal collage of photographs taken on a Polaroid Polacolor II by the Greek artist Lucas Samaras, Serpent Green Reclining Nude, depicts his supine body in one of his fabricated and personal environments. The picture fragments undulate and come together to form a faceted image full of color and energy. Samaras often worked with photography and used himself as a subject in examples such as this one, a body of work that he referred to as Photo-Transformations. Also included is the famous 20×24 inch head-shot of Hillary Rodham Clinton by Chuck Close, in which he presents a woman of resolute poise in the face of her husband's scandal. A killer trio of undated photographs in Type 660 series film by Philip-Lorca diCorcia are hypnotic gems.
This exhibition includes displays of the Polaroid process with examples of vintage cameras and also several interesting prototypes from the company's last days. Taking into consideration the depth, texture, and strong color saturation of the Polaroid process as presented here, it makes the images on our phones and tablets begin to pale in comparison, their ubiquity a symbol of our loss.
—JOHN ZOTOS