M
ark Bradford enrolled in California Institute of the Arts in 1991 as an adult student. He was a decade older than his classmates and was raised at a different time for art. He was an amateur student of Abstract Expressionism, but at the progressive institution, the curriculum emphasized critiquing the field, blending identity and politics and experimenting with other forms of media, such as video, performance and installation art.

But Bradford, who was a hairdresser in his mother's Los Angeles salon before enrolling at CalArts, was influenced by the work of artists like Piet Mondrian and Agnes Martin, who he learned about during trips to Europe. In school, he merged his informal education with theory and conceptual heavy curriculum emphasizing experimentation. For his large canvases, he used end papers, the light, translucent paper used to curl hair and prevent damage from a curler's heat and serve as the namesake of the exhibition Mark Bradford: End Papers, which runs through Aug. 9 at The Modern Art Museum of Fort Worth.
Bradford said recently, "I learned my own way of constructing paintings through the End Papers—how to create space, how to use color, and how to provide a new kind of content. They were the beginning for me."
The exhibit begins with Enter and Exit the Negro (2000), a work that launched him to fame after appearing in Harlem's Studio Museum exhibition Freestyle, which featured works by new Black artists. The uneven grid of silver, grey and white on this large canvas's color and texture were created by burning the edges of the paper with a blowtorch and, to add a thickness more common in acrylic paintings, pasting on photos of the work in progress. The title references Alain Locke's essay "Enter the New Negro" from the 1925 anthology The New Negro. Locke's essay declared the advent of a new Black culture; Bradford's work was a visual manifesto for a new type of Black painter.

"I had this desire to try to connect where I was from with where I was going, but I didn't want to be explicit because I wasn't sure how much of my life I really wanted to reveal," Bradford said.
"I wanted to have the material speak for me, but then I also thought I could really start talking about abstract art at the same time. I was fascinated by the history of abstract art because it was really quite male dominated, white male cowboy, macho and heterosexual. And so that was really just to be beginning a journey," Bradford continued. "That's why I was relying on the material I was kind of hiding behind. I was also demanding that the material start to have a conversation with art history."
Michael Auping, previously the museum's chief curator, was attracted to Agnes Martin through Bradford's breadth of understanding of art history."I've been in New York [studios] for over 40 years. I have never once in my entire career had a male artist tell me they were influenced by Agnes Martin, and here Mark will say, 'Oh no, Agnes Martin. She is the one,'" Auping noted.
Bradford's interest in Martin, whose pencil and gesso grids broke ground in the art world, emanates throughout his work, both in form (grid lines) as well as in the dialogue of art history (women artists, like Black artists, were not supposed to be abstract painters).

The set of early works quickly transform into multi layered, colorful explorations of his community and native Los Angeles. Some look like maps, and others like landscapes, and his identity as an artist becomes more sophisticated. He draws from Google Maps, as he did in
20 minutes from any bus stop
(2002). The collage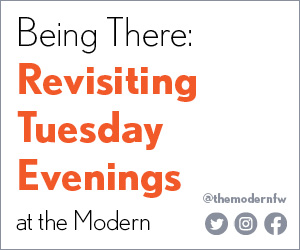 resembles a neighborhood's demographic breakdown from a bird's eye view, with light green sweeping the canvas's top and a worn-looking off-white dominating the eastern half and a portion of the west, with black and orange scattered throughout.
Los Moscos
(2004), is similarly themed. The largest work in the show is made from strips of paper and other found items near his studio in Los Angeles.
These works reflect his shifting interests. "I really started becoming interested in the demographics of the city," Bradford said. "Especially the invisible economies and invisible stories and public land being used in a very different way. I wanted to show this explosion and intensity and make it dark. It's similar to my work as a painter. There's this idea of a modernist painter being a pure thing. People say I do mixed media, but no—I'm a painter. I just like the idea of my work being stained, less pure, and more mixed up. I don't have to use paint."
—JAMES RUSSELL