Unfortunately for Texans, It's in Virginia
---
IMAGE: From left: Miriam Schapiro's Another Red Room (1967), Gene Davis's Shabazz (1965), and Georgia O'Keeffe's Black Door with Red (1954). Photo by Ed Pollard, Chrysler Museum of Art, Norfolk, Va.
---
NORFOLK, Va.—One of my favorite Georgia O'Keeffe paintings, Black Door with Red (1954), is one of her most stripped-down works—a radically distilled depiction of her Abiquiu, N.M. home. It consists of a black rectangle (the door) against an orangey red field (the wall) with little pink rectangles for stepping stones and yellow bands at the top and bottom of the picture to denote the sky and ground. At the newly renovated Chrysler Museum of Art, it hangs adjacent not to a Marsden Hartley painting, nor one by Arthur Dove, but one by a man more than 30 years her junior: Shabazz (1965), a rhythmic, eye-popping vertical stripe painting by Gene Davis, an exemplar of the Washington Color School. To the Davis picture's left hangs Miriam Schapiro's Another Red Room (1967), a hard-edge work considered noteworthy partly for her pioneering use of computer modeling to experiment with 3-D perspective, in contrast to the resolute flatness of the Davis and O'Keeffe paintings.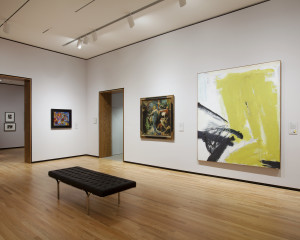 It's a counterintuitive grouping that makes perfect sense and looks terrific, and I said as much to a nearby guard. To my surprise, she thanked me for the compliment and promised to relay it to the appropriate curator. Moments later, she stood with me before Hot Jazz, an energetic picture of a torch singer and her band that Franz Kline painted in 1940 before he abandoned figuration, and used her tablet computer to play a clip from a Benny Goodman song of the same year at just the right volume. That Kline is now seared in my brain, and not just because of its striking similarities to his much later, thoroughly AbEx Zinc Yellow (1959), which hangs to its right. It was the intersecting dialogues—between the early Kline and the late one, between Kline and Goodman, and between me and the guard—that made my encounter with Hot Jazz one I may never forget.
Contrast that kind of guest-guard interaction to the ones at just about every other museum you've ever visited, where individual guards may be friendly, even chatty, but the overall tone is closer to that set by most Transportation Security Administration agents—boredom laced with a not-so-healthy dose of suspicion. During a recent visit to a Texas museum, I overheard a couple of guards whispering disapprovingly about a colleague who was going rogue by sharing information he'd gotten from a docent about one of the paintings with curious visitors. He was supposed to be policing the guests, not talking about art with them. "I'm going to have to get onto him about that again," said a guard, apparently a supervisor, who had cautioned the attendant about excessive friendliness before. At the Chrysler, the supervisor's attitude, not the friendly guard's, would have been out of line.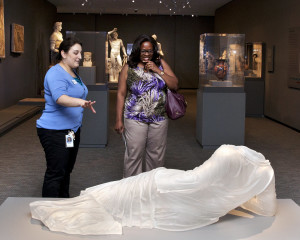 That's because at the Chrysler, he wouldn't be considered a guard at all. Nor was the woman who serenaded me with a Benny Goodman track, nor another whom I overheard recapping for a little boy and his father the story of an ancient Trojan prince's abduction, the aftermath of which is depicted in Bertel Thorvaldsen's marble sculpture Ganymede and the Eagle (ca. 1815-17). Nor were the countless "guards" I observed having similar interactions with visitors. "Are you enjoying your visit?" was their ongoing refrain, and they all seemed willing to do whatever they could to make sure the answer was yes.
The Chrysler replaced the guards—or "security officers," as it calls them—in its public spaces years ago with what the museum calls "gallery hosts." (Traditional security officers still work in the central control room and behind the scenes.) Since gallery hosts and security officers are paid in the same range—about $10 an hour—one can legitimately wonder if the change in title isn't merely cosmetic, like Walmart cynically calling its food stamp-dependent employees "associates." Still, from a visitor's standpoint, the differences are palpable, even seductive. Again, when's the last time a security officer offered to play you a Mozart clip?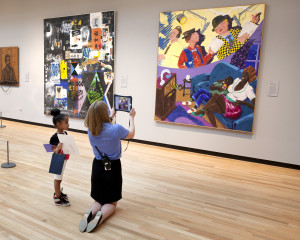 As director Bill Hennessey told Anne Bergeron and Beth Tuttle, the authors of Magnetic: The Art and Science of Engagement (2013), gallery hosts are "specially recruited and trained guest service representatives whose purpose is to make people feel welcomed, relaxed, and comfortable in the presence of art." They're trained to read visitors' body language, comfort level and interests—I never had a chance to get lost, but nor did I ever feel like I was being encroached upon—and empowered to do whatever it takes to meet their needs short of injuring people or artworks. Examples cited in Magnetic range from tracking down a painting sought by an out-of-town guest and taking the visitor to the administrative offices, where it happened to be hanging in the director's office, to calling curators to the galleries to answer visitors' questions.
The latter example, acting on the idea that curators should interact with the people they're doing all this for (the visitors) as well as the people with whom visitors interact the most (the gallery hosts), strikes me simple yet profound. I got a taste of this egalitarian flavor as I exited the museum minutes before closing time on Mother's Day, which fell on the Chrysler's reopening weekend. Crawford Alexander Mann III, the Chrysler's dapper American art curator, stood at the doors and joined a gallery host in flinging them open for me as if I were the late Walter P. Chrysler Jr. himself—reincarnated as a middle-aged, downwardly mobile art critic. They proceeded to ask about my visit and listen as I digested the highlights.
Sure, this was a special occasion, and I wouldn't expect to find Mann on front-door duty every day. But the gesture squared with the Chrysler's strikingly democratic ambience. Eavesdropping earlier on Mann as he gave a few friends a reopening weekend highlight tour, it seemed evident he works in a museum where the culture is laser-focused on how visitors experience art. Not to mention a place where connoisseurship and a sense of humor are allowed to coexist. To convince an acquisitions committee to buy Thomas Moran's Venice (1898)—a watery, sun-kissed pastiche of various views of the island city, as seen by a master of melodramatic Rocky Mountain vistas—Mann inserted a slide of himself wearing a gondolier costume into his presentation.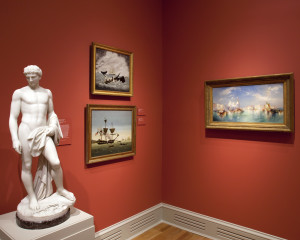 He's hung the Moran adjacent to two anonymous, "naïve" mid-19th-century depictions of whaling ships by a presumably self-taught artist. In contrast to Moran's dreamscape, they show the ships' crews getting on with their bloody business. (All those whale-oil lamps in American homes didn't light themselves.) They, in turn, hang next to the Rome-based American sculptor William Henry Rinehart's marble Leander, a rare American Neoclassical nude depicting the mythological figure just after he's disrobed to swim the Hellespont to meet his lover—a swim that will cost him his life. Another counterintuitive grouping, this one makes for a heady, internationalist yet democratic—that word again—conversation between 19th-century American marine-themed works of wildly differing styles and subject matter.
Other installations seem designed to tease out connections between artworks and the context in which they emerged. Take, for example, the way the ginormous 1870 Albert Bierstadt landscape The Emerald Pool is "unveiled," as if at one of his theatrical public unveilings, by a parted grand red curtain. (Icing on the cake: peering through a nearby stereoviewer at Albumen prints Bierstadt's brother, Charles, made of Horseshoe Falls as seen from the Canadian side.) Or the way Pop paintings by Roy Lichtenstein, Andy Warhol and Robert Indiana share wall space in the greatly expanded contemporary galleries with a print of an Al Capp cartoon and a sign in the shape of an oversized Pepsi-Cola cap. Art, meet life.
Also striking is how the didactics achieve a pitch-perfect balance between meatiness and sensitivity to viewers' attention spans, not to mention a sense of urgency about the artistic and social stakes at play in any given work. "The world is the devil's workshop and only faith can help you resist it," thunders a wall text for a pair of paintings by Hieronymous Bosch's studio and a follower, respectively, depicting the temptation of St. Anthony. "Notice the printed patterns on the servants' clothing," says the label for Wife and Children of Major Marsh and Servants, a late 18th-century painting by an unknown American artist depicting three enslaved women in the shadows behind the white family they serve. "Do such details show the artists' respect for these skilled caregivers, or are they just further signs of the plantation owners' wealth?" Good question—exactly the kind of question a museum should raise. Nor do labels for works by contemporary artists from Betye Saar to Martin Wong tip-toe around the race, class and power dynamics in the room.
Oh, and the $24 million renovations? They're great. Contemporary art, in particular, has lots more room to breathe, but so do the Chrysler's terrific Baroque and Impressionist works. Because my only previous visit to the Chrysler was brief, I'm a little fuzzier on how the reimagined first-floor galleries for Egyptian, Greco-Roman, Meso-American, African, and Asian art have changed, but they're handsomely installed.
But the reason I want Texas museum directors and their engagement personnel to make a field trip to the Chrysler—incognito, not as visiting art-world dignitaries—has nothing to do with renovations and everything to do with how the place feels, from the moment you enter and find there's no admission fee to the moment you leave. (Admittedly, architecture plays a role—just not the one I have in mind.) I've never visited such a fine museum that felt so democratic, and the Chrysler's gallery hosts, along with the other manifestations of the audience-engagement philosophy they represent, are why that is.
I want that for our museums. I want it for all our encyclopedic museums, which, although large, are still small enough to model a gallery host program after the Chrysler's, with adjustments where needed. I want it for the Menil Collection and the Modern Art Museum of Fort Worth, which could keep their non-didactic approaches while deploying the people who walk the gallery floors as resources who can help visitors see art in new ways and relay the kinds of feedback museums hire market-research firms to gather. I want it for focused museums from the Amon Carter Museum of American Art to the Meadows Museum, and I want it for contemporary kunsthalles large and small, where gallery hosts would probably never run out of opportunities to turn "I don't get it" into a conversation starter, not a stopper.
Most of all, I want it for Texas museum visitors. Once you visit a place like the Chrysler, it genuinely seems strange that all art museums don't feel the same way.
Strange, but eminently fixable.
—DEVON BRITT-DARBY