Five years after the death of its namesake choreographer, Bruce Wood Dance is in a good place. Artistic director Joy Bollinger has found her own voice, creating two well-received pieces that are now part of the company's repertoire. She's planning a new one for the fall that already sounds promising.
The company is still rolling out Wood's substantial body of work. Much of it was made for his previous Fort Worth-based group and has never been seen in Dallas. Bollinger also continues to commission pieces from other choreographers in keeping with Wood's philosophy that new work was essential to staying on top of where dance was heading. A new wrinkle is to bring in dances by Wood's influences, starting in 2020 with choreographer Lar Lubovitch. "His ultimate mission was to present high-caliber work that was deeply emotional," Bollinger says in an interview at the Bruce Wood Dance studio in the Dallas Design District. "He was interested in pushing things. How was dance evolving? We keep his words and thoughts at the forefront of our decisions."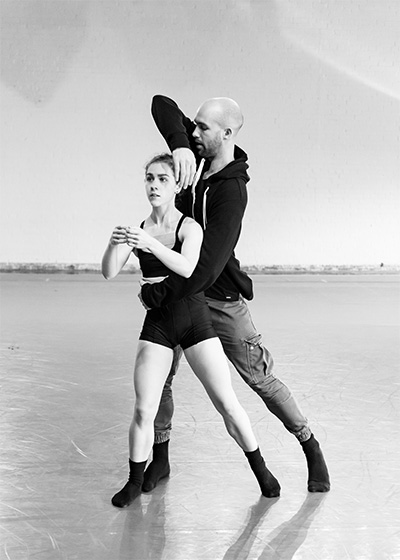 Bruce Wood Dance's season-opening June shows strike that balance between new and old, outside and in-house. The program includes the Dallas premiere of Wood's mysterious Dark Matter from 2004; a re-staging of Bollinger's lyrical choreographic debut Carved in Stone,  possibly the best Dallas-made dance work of 2016; and the premiere of a commissioned work from Garrett Smith, a former Norwegian National Ballet dancer who has created pieces for Houston Ballet, Texas Ballet Theater, Ballet West, Milwaukee Ballet and Cincinnati Ballet. Smith's piece is a reaction to the restrictions placed on women in Iran and is set to Persian music.
The inclusion of Dark Matter, set to Prokofiev's dynamic Violin Concerto No. 2, was the idea of former artistic director and current artistic advisor Kimi Nikaidoh, who will create a new work for the company in 2020. Bollinger, who danced in both of Wood's troupes, took over last year when Nikaidoh joined her husband in Los Angeles. Dark Matter introduced Wood's use of "skimming," Bollinger says, one dancer dragging another along the ground as if drawing with their body. "It makes the lift almost otherworldly…It's one of his deeper, darker, more introspective pieces."
It's reminiscent of Wood's recently re-staged Echoes of Enchantment from 2009. Inspired by the paintings of surrealist René Magritte, Echoes features a pair of slow-moving characters wearing masks and carrying umbrellas who spend the length of the dance finding each other. "You have this odd group of figures and vintage suitcases that refer to a journey," Bollinger says of Dark Matter. She and Nikaidoh, who both danced in it in Fort Worth, are teaching it to company members who never knew Wood. "This one character who starts the piece doesn't seem to have a home, like he's longing to belong or be part of something. There are few moments where there's a little bit of a story: people getting tickets as if they're going on a train, women in these vintage dresses, this old look and these moments of, 'Am I going to get picked or not?' It's how he felt sometimes socially…Other parts are beautiful and sweeping. Right when people think, 'I know what Bruce did—shape, shape, shape'—then you dig up something else."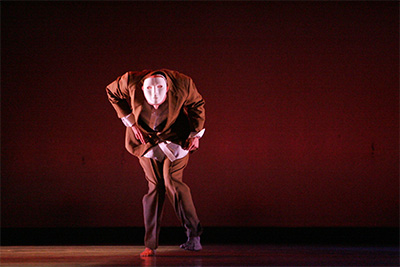 Bollinger is shy about discussing why the audience and critics responded so strongly to Carved in Stone. It alternates between quiet moments that challenge the dancers' concentration and rhapsodic movement that sweeps across the stage. "I did at the time what felt true to me. I could picture so much in my head. It was a really sweet time since I had been so close with those dancers. They knew it was my first opportunity to choreograph and how precious and special it was to me. It started to mean a lot to them and ended up meaning something to the audience because they cared and carried that sensitivity with them…From the beginning, they have to be breathing together."
She's going in a different direction with her new work, In My Your Head, which will be set to a suite of songs by the experimental British pop band Radiohead. "Their music is incredibly powerful to me," she says. "It has range. It has softness and sincerity and complete rawness. It plays with timing and structure. It gives you ideas for choreography that break away from basic movement patterns. Some of their sounds are so big and layered, it is exciting to think what you could do with a group of bodies to that sound."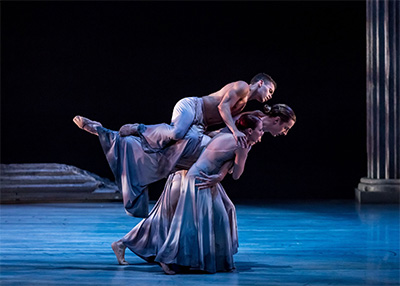 In My Your Head is rooted in Bollinger's concerns about the political climate and the idea that it's hard to know what to believe and how to separate propaganda from the truth. "Now that I am the age that I am and I have small children, I watch the news with my husband every night and I'm anxious," she explains. "I think about how fragile things seem, and here I brought little bodies into this world. The more information I get and the more I see and read, the more I feel like we're being toyed with. I feel a deeply rooted concern about the future. But is it just in my head. What's been fed to me? Am I an experiment?"
The November concerts also include Wood's 2004 Follow Me, his tribute to infantry soldiers, and a new work from fast-rising Bryan Arias, whose My Heart Remembers from 2015 was the first piece commissioned by Bruce Wood Dance from an outside choreographer. Next year, Nikaidoh will create a new work, and the company will select and perform a piece by Lar Lubovitch, one of Wood's most important mentors. Tour dates are still being pursued, the company having hired Austin-based booking agent KMP Artists in 2017. The process has been slow as they balance opportunity with cost. Bollinger says the focus is on making a big impact in Dallas and maintaining the standards that Wood established.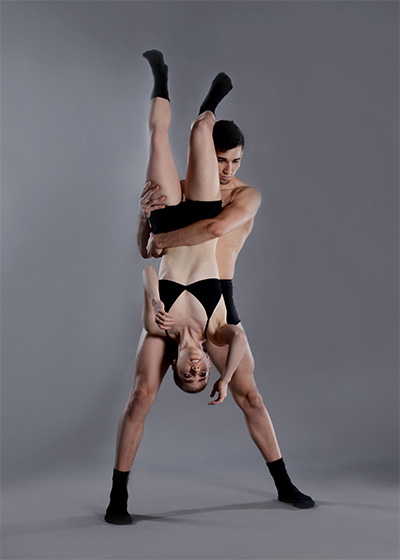 One of the challenges is that none of the 10 current dancers ever met Bruce Wood. Six are in their first season. But Bollinger and Nikaidoh knew Wood as intimately as the quiet Fort Worth native allowed. So far, they've managed to teach all of his work that the company performs themselves or with help from former dancers who were in the pieces, relying on video and memory. Sometimes they have to adjust for the dancers' heights and shapes but without making wholesale changes. "We remember that Bruce changed stuff all the time right in front of our faces," Bollinger says. "We don't do that, of course. But if there's an obvious improvement we can make that still holds to his vision and aesthetic, we're going to do that."
The dancers help, too. "They have been giving and generous with their talent and their time. That could've been tough and scary," she says. "Sometimes I hear them talk about how through the choreography and the stories about him they feel like they know him. If you knew Bruce, you could be in the room with him for a week and never share a conversation. You could feel his presence but he might not speak to you the entire time. His choreography was the insight to who he was."
—MANUEL MENDOZA