---
IMAGE ABOVE:   MOMIX performs Alchemia on Sept.12 in Dallas through TITAS and on Oct. 10 through Society for the Performing Arts in Houston. Photo by Max Pucciariello.
---
Imagine a road trip across the great Lone Star State just to see dance. Are you with me on this? Good, because I have planned a perfect itinerary. Oh, there are a few times when you will need to be two places at once. Welcome to my world. Get on the dance bus and strap yourself in, because there's a lot to see, feel and enjoy.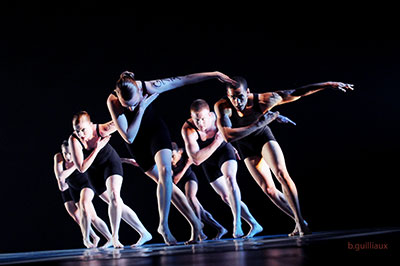 A Dance Feast at the Dallas DanceFest
We start at the Dallas DanceFest, Aug. 29 – 31, because we all know that Fall season starts on Labor Day weekend. "It's the best dance festival ever!" claims arts patron and Dallas DanceFest producer Gayle Halperin. Get the lay of the Dallas dancescape with performances by Texas Ballet Theatre and Dallas Black Dance Theatre, see some upstarts like Dark Circles Contemporary Dance, along with out of towners, Houston's MET Dance and New York's BodyArt.
---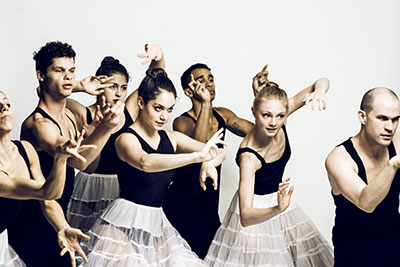 Grooving to Hall and Oates at Dark Circles Contemporary Dance
Hang around in Dallas for Dark Circles Contemporary Dance Fall series,  Sept. 4-6, at Hardy & Betty Sanders Theatre in Fort Worth. Dark Circles premieres artistic director Joshua L. Peugh's Beautiful Knuckleheads, set to the music of 1980's pop duo Daryl Hall & John Oates. After hearing Hall and Oats at his favorite coffee shop, Peugh was hooked.  "It's music that gives me pleasure," says Peugh. "I get a strong sense of nostalgia, and it makes me want to move. It's playful and lends itself well to fantasy." Guest choreographer Mike Esperanza, of New York City-based BARE Dance, will create a new work, along with a company premiere of  Words in Motion by emerging choreographer Chadi El-Khoury, set to an original score composed by Hunter Long.
---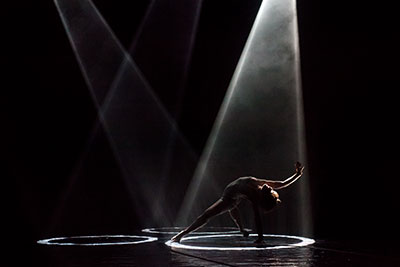 The Matter of Noblemotion's Dark Matter
Next, head down south for the second weekend of NobleMotion's Dark Matter: Evidence of Things Unseen at the Barn, Aug. 29 – Sept. 6, where they promise ample technical wizardry, something they are rather good at pulling off, along with some excellent dancing. "Since we love working with light installations and technology, the concept of Dark Matter generated a lot of intrigue," says Noble. "Dark Matter is a type of matter that neither emits nor absorbs light. Its existence is hypothesized to account for mass where mass cannot be seen. The challenge becomes, how do you show something that you cannot see inside of a live performance."
---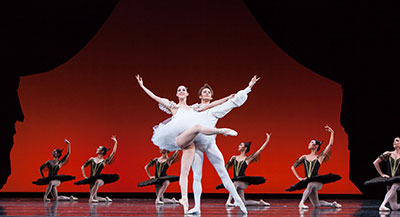 Birds, the Bard and an Elo at Houston Ballet's Fall Season
The season starts off in a Bard birthday bash mode with John Neumeier'sA Mid Summer Night's Dream at Houston Ballet, Sept. 4-14. The Shakespeare-themed season also offers Welch's new Romeo and Juliet and John Cranko's Taming of the Shrew later in the season. "We have wanted a Neumeier ballet in the repertoire for a long time, and the timing finally worked out," Welch told me in a recent Playbill Story. Neumeier finds Shakespeare's whimsical tale translates to dance quite effortlessly. "The characters exist without the language, which makes it possible to do ballets about them," says Neumeier. Up next is a juicy mixed rep, From Houston to the World, Sept. 18-28. Don't let that title throw you, it's about ballets created in Houston, and features my new favorite ballet, Murmuration, Edvaard Liang's luscious take on bird formations. It's breathtaking, and comes with feathers, lots of them. The program also features Jorma Elo's enchanting and rather whimsical ONE/end/ONE, and Stanton Welch's newish take on Paquita for the classicists among us. This will also be a great time to check out the company's newest first soloists, Jared Matthews and Yuriko Kajiya, formerly of ABT.
---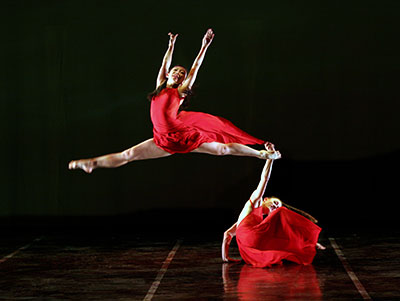 Expect a Spectacle with MOMIX at TITAS and SPA
You are not going to want to miss illusion wonks MOMIX in Alchemia through TITAS on Sept. 12-13, but if you do, MOMIX will be in Houston through SPA on Oct. 10. Moses Pendleton's latest piece has been described as "enchanting, phantasmagorical multimedia spectacle full of invention, beauty, sensuality and humor." MOMIX is a great entry to dance for newbies, it's also family friendly eye candy. "What I love about MOMIX is that they reinvent themselves with each of these big projects, says Charles Santos, TITAS' executive director.
---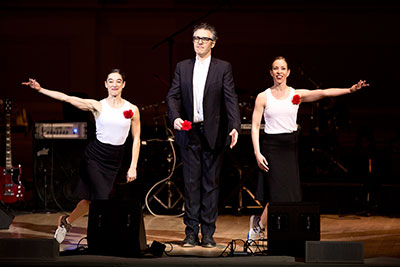 Monica Bill Barnes + Ira Glass at SPA
Remain seated for Society for the Performing Arts presentation of Three Acts, Two Dancers and One Radio Host, as Monica Bill Barnes, Anna Bass and Ira Glass do their oddball thing on Sept. 20 at Wortham Center. As both a huge This American Life  and Monica Bill Barnes and Company fan, I can't wait to see what this looks and sounds like. Lou Fancher in Berkeleyside writes, "Both genres get a leg-up: elevating the no-talk, all-talk mediums to something one might find in a dream. A sort of surreal landscape where anecdotes are inscribed with arabesques and the moral of each story is mired in marvelous muscularity. Imagine a dichotomous duet as sweet as the chocolate-peanut butter pairing of a Reese's, but better for your health."
---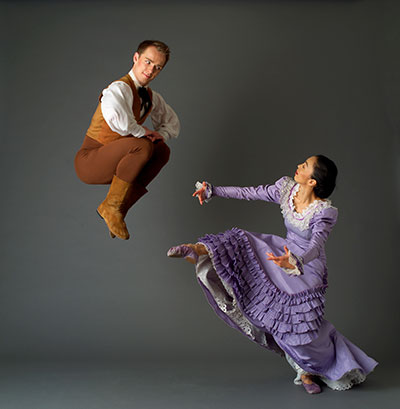 American Legends: Martha Graham Dance Company at Texas Performing Arts
It's time to head west for Texas Performing Arts presentation of the Martha Graham Dance Company on Sept. 25 at Bass Concert Hall. It's a marvelous chance to revel in dance history as they will be performing Appalachian Spring, which premiered in 1944 with Graham in the lead opposite Merce Cunningham. Aaron Copland's lush Pulitzer prize-winning score is yet another reason to go. And, this is also a chance to see how the company is evolving. The program also includes Echo, a new work by Andonis Foniadakis, created as part of the company's Myth and Transformation project.
---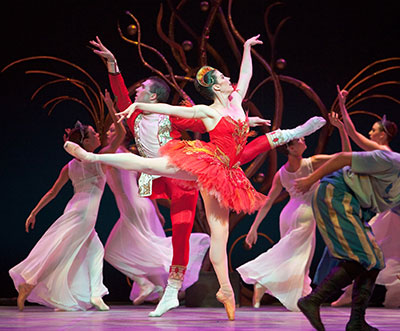 A Russian Fairytale and a Balanchine classic at Ballet Austin
Nicely timed by the fine folks at Ballet Austin is their season opening, The Firebird, Sept. 26-28, choreographed by Stephen Mills. Judging from Mills' Rite of Spring, he knows his way around a Stravinsky score. "As a music student I studied the structure and form of the score. So, as a choreographer, my entry point to the ballet is through that context," says Mills. "The ballet provided me an opportunity to illustrate some of the dynamic and rhythmic structures I've always loved." The Firebird is paired with Balanchine's masterwork Agon, created on Arthur Mitchell and Diana Adams in 1957. Stark and sensuous, Agon reveals Balanchine in pitch perfect classic plotless ballet mode.
---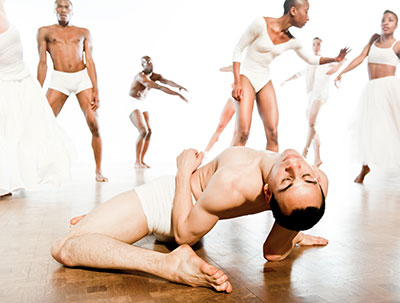 Spectrum Dance Theater at TITAS
There's not much time to hang around in Austin because you are due back in Dallas right where you started to see the TITAS presentation of Spectrum Dance Theater on Sept. 27 at Winspear Opera House. After seeing Donald Byrd's Contested Space on Dance Theatre of Harlem, I am super excited to catch up with what he's been up to for his own company. "Spectrum Dance is bringing a piece called Love," says Charles Santos, TITAS' artistic director. "It's sexy and beautiful, with deeply trained dancers."
---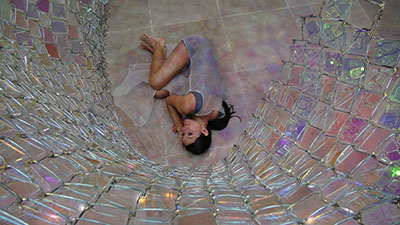 Karen Stokes Dance goes Deep at The Barn
Finally, the September dance blitz ends in Houston with Karen Stokes Dance as her company rises after a year of deep thinking and planning for Dance, Film and Conversation at The Barn, Sept. 30 – Oct. 2. This is the beginning of her next big project, Deep: Seaspace, where she looks "down, then up." In September, she gets to the "sea" part of Seaspace, and will be screening her  dance for camera project at the Santa Anna Capture Site at the Ship Channel. "The challenge for me is to balance my excitement for the history of this site and my interest in being more abstract," says Stokes. "I want to convey elements of storytelling without telling this story." Stokes will also show another dance film, Gallery 5, along with a new work, Dualities, with music by Tiziana Decarolis and a rep piece, Red Hourglass.
---
Three Acts, Two Dancers, One Radio Host – Trailer from Monica Bill Barnes & Company on Vimeo.
—NANCY WOZNY