Sidi Larbi Cherkaoui's Genesis performed by Eastman, Antwerp, Belgium and Yabin Studio, Beijing, China. Photo by Koen Broos.
---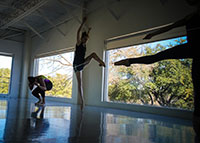 Women's Choreography Project at Avant Chamber Ballet
DALLAS—Avant Chamber Ballet presents the Women's Choreography Project, March 7-8 at the Eisemann Center in Richardson, which features new and recent work by Avant's artistic director Katie Puder, Elizabeth Gillaspy, Emily Hunter and Austin-based Amy Morrow.  Also stay tuned for Avant Chamber Ballet's show as part of The Dallas Symphony's SOLUNA Festival on May 5.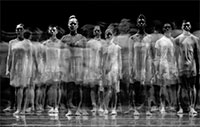 UT Dance Goes Downtown with MOVE!
AUSTIN—A bit of New York lands in Texas this month when Dance Repertory Theatre presents MOVE! with works inspired by New York's downtown scene, March 6-14 at the B. Iden Payne Theatre. Presented by the UT Department of Theatre & Dance, MOVE! showcases works by Kate Watson-Wallace, New York choreographer Sidra Bell and Yacov Sharir.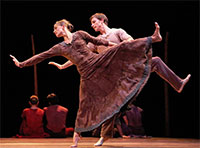 Modern Masters at Houston Ballet
HOUSTON—Houston Ballet's mixed reps are a terrific chance to see the full range of these terrific dancers and Stanton Welch has put together a rich program that gives the company an opportunity to flaunt both their contemporary and their classical chops. From March 12-22, Houston Ballet offers Modern Masters, including George Balanchine's Ballo Della Regina, Nacho Duato's poignant Jardi Tancat and an examination of ballet itself in Harald Lander's technically demanding Etudes.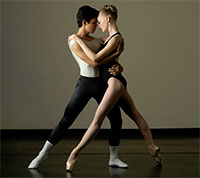 Ballet San Antonio in Balanchine & More
SAN ANTONIO—There's more "Mr. B" at Ballet San Antonio's Balanchine on March 27-29 at the Tobin Center for the Performing Arts when the company performs the great choreographer's Donizetti Variations, last performed by the New York City ballet in 2011, and a first for this young company. The evening will also include new work by Ballet SA's Artistic Director Gabriel Zertuche. And don't miss Ballet in the Park on March 14 at Travis Park in downtown San Antonio.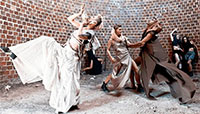 FrenetiCore Dance Premieres Dancing with the Machine
HOUSTON—FrenetiCore Dance goes steampunk for Dancing with the Machine, an original dance narrative with a story by Adam Castaneda and choreography by Rebecca French, on March 27-April 4 at Frenetic Theater. Set to the music of Graham Reynolds' A Difference Engine, with a set by Dave Brown and costumes by Ashley Horn, Dancing with the Machine promises to be "a story of hope, perseverance, and the courage to fight evil in the face of adversity."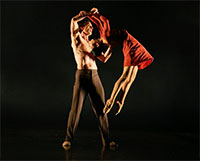 Dance Salad Festival
HOUSTON—Dance fans from all over gather at Houston's most beloved international dance festival, Dance Salad, on April 2-4 at Wortham Center. Highlights of the 20th season include a world premiere from Annabelle Lopez Ochoa danced by Houston Ballet Principal dancers Connor Walsh and Melody Mennite, Queensland Ballet and Artistic Director, Li Cunxin, former Houston Ballet principal and author of Mao's Last Dancer, Norwegian National Ballet dancing Cina Espejord's Ibsen's Ghosts, and the return ofEASTMAN in Sidi Larbi Cherkaoui's Genesis.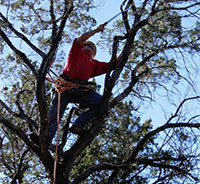 Allison Orr at FUSEBOX's thinkEAST
AUSTIN—Allison Orr's The Trees of Govalle, a dance for the trees and the employees of Austin's Urban Forestry Division, is part of FUSEBOX's initiative thinkEAST, April 11 & 12 at 8PM at Govalle Park in East Austin.  Inspired by the daily movements of those who care for the trees, The Trees of Govalle will take place around a noble pecan tree in Austin's Govalle Park. Orr also incorporates stories from the Govalle-Johnston Terrace Neighborhood. The Trees of Govalle also features original music composed and performed by Orr's frequent collaborator, Graham Reynolds.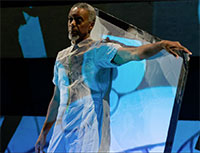 Dean Moss at DiverseWorks and CounterCurrent
HOUSTON—CounterCurrent + DiverseWorks present Dean Moss in johnbrown  on April 17 & 18 at DiverseWorks. johnbrown, the result of three years of research, offers a dark, wry meditation on the legacy of the white 19th-century abolitionist. In addition to Moss, the work features live performances by Kacie Chang, Julia Cumming, Cassie Mey, Sari Nordman, Asher Woodworth, and Moss, with video performances from Thomas Bradshaw by Tymberly Canale, Aaron Hodges, Okwui Okpokwasili, and Pete Simpson, sound and music by Stephen Vitiello, an original song by Julia Cumming, and lighting design by Vincent Vigilante.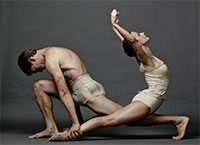 Texas Ballet Theater in Masterworks
DALLAS—Texas Ballet Theater presents the "Rubies" section of Balanchine's Jewels on April 17-19 at Dallas City Performance Hall as part of Masterworks. Also on the program is Jiří Kylián's surreal masterwork, Petite Mort, and Ben Stevenson's Five Poems set to Richard Wagner's Wesendonck Songs. Largely considered one of Stevenson's most moving ballets, Five Poems also features sets and costumes designed by Jane Seymour, that's right, the British actress.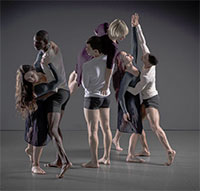 METdance with Apollo Chamber Players
HOUSTON—METdance joins forces with Apollo Chamber Players on April 10 at Wortham Center for something entirely different for this sassy troupe, a diverse program of dance and live music played by the standout musicians of Apollo Chamber Players. The program includes a world premiere by New York based choreographer Jessica Hendricks and Kiki Lucas's re-staging of The Vessel, set to music by Ben Doyle.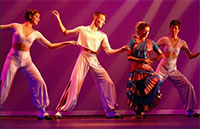 Tapestry and more in ESPRIT!
AUSTIN—Rhythm is a global thing, according to Acia Gray of Tapestry Dance Company. Tapestry joins forces with Anu Naimpally, Zein Al-Jundi, The Irish Dance Company, Love of China, The Lannaya African Drum & Dance Ensemble and more for Espirit, a celebration of world peace and the rhythm of life, April 16-26 at The Long Center.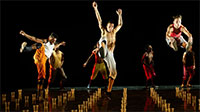 Compagnie Käfig at SPA
HOUSTON—Centre Chorégraphique National de Créteil et du Val-de-Marne/Compagnie Käfig makes its Houston debut on April 17 at Wortham Center, with Artistic Director Mourad Merzouki's work Correria Agwa, a tour de force with an all-male Brazilian cast who fuse hip-hop, bossa nova and capoeira with a wildly inventive use of  plastic cups.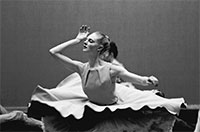 A Dance Blast at the Austin Dance Festival
AUSTIN—Kathy Dunn Hamrick knows how to put on a festival. Organized by the folks at KDH Dance, the Austin Dance Festival showcases the work of 24 dance companies and independent choreographers on April 18  at AustinVentures Studio Theater in Austin, Texas. This is a one-day blast of dance, with over a 100 dancers participating, many from outside of Austin, too, and simply a great way to catch up with contemporary dance in Texas.
Companies outside of Austin include Dark Circles Contemporary Dance Company (Dallas), Contemporary Dance/Ft. Worth (Ft. Worth), Houston MET Dance (Houston), Out on a Limb Dance Company (Waco), SpareWorks Dance (San Antonio), Diane Cahill Bedford (College Station) and others.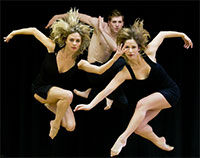 Parsons Company at TITAS
DALLAS—If you are not entirely sure what contemporary dance is all about, you will have a much better idea after attending Parsons Dance on April 25, presented by TITAS. The company may bear its founder's name, but expect a diverse program with works by Trey McIntyre, Robert Battle, Natalie Lomonte, and of course, David Parsons. And yes, they will be performing his signature stunner, Caught, where a solo dancer appears to be "caught" in mid-air during most of the dance with the help of a strobe light.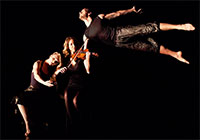 Musiqa's Tonal Impact with NobleMotion Dance
HOUSTON—Musiqa and NobleMotion Dance join forces once again in Tonal Impact, an evening of music and dance at The Hobby Center's Zilkha Hall, on April 24-25, with original compositions by Pierre Jalbert and Marcus Maroney, along with a light and technology installation from Jonathan Kinsey and David J Deveau.
—NANCY WOZNY