The phrase "art studio tour" doesn't typically bring to mind mass crowds of visitors, city-wide organizational partnerships, or heated discussions about escalating real estate prices. But then again (you knew it was coming), everything is bigger in Texas. So how does Austin, a city with a population of more than 900,000 people and growing, use a studio tour to focus on and celebrate its creative communities while also facing the aforementioned challenges of growth?
Enter EAST, Big Medium's East Austin Studio Tour. EAST and its sister event WEST, the West Austin Studio Tour, are annual, self-guided art events that "provide opportunities for the public to meet the artists of Austin in their creative spaces," free of charge.
Tour co-founder artist Shea Little explains that EAST, now in its 18th year, continues to cast a wide net for the purpose of inclusivity regarding what art means, what it is, and what it can be.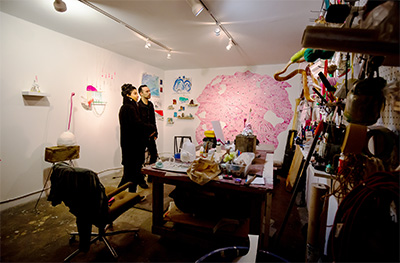 The tour was founded in 2003 by Little, Jana Swec, and Joseph Phillips, three artists who share a passion for increasing visibility for the visual arts and artists in East Austin. Together, they worked to open 28 artists' studio doors to the public. Today, the mission of EAST (and WEST) is to "provide an inclusive and accessible platform for a diverse group of artists to create, exhibit, and discuss their work, to increase the audience that experiences the artists work, and for that experience to create conversation and build relationships around art and the creative practice."
This year, the tour takes place Nov. 16-17 and 23-24 and boasts a roster of just over 800 artists, up last year from almost 600, and more than five dozen organizational partners. Tour attendees can expect to visit traditional and non-traditional studio spaces such as performances sited in houses, restaurants, coffee houses, and other nontraditional venues.
The boundaries of the tour are East of I-35, West of HWY 183, South of HWY 183, and North of Riverside Drive which covers a significant swatch of the city, so tour-goers will want to utilize the interactive map. And with an anticipated 50,000-plus attendees this year, make sure to get your hands on a printed event guide, available online at all Austin Public Libraries.
Little is also Executive Director of Big Medium, a non-profit organization founded in 2007 that serves as a platform for artists in myriad ways, such as providing studio spaces for artists and producing city and state-wide programming of which the EAST tour is one example.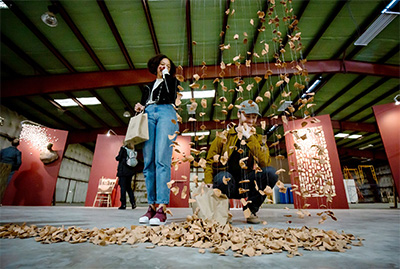 Amid Austin's population growth and gentrification, some residents may want to argue for less of everything, or in this case for a smaller footprint or a more narrowly-focused selection of participating artists. Recognizing this, and the fact that soaring real estate prices make affordable studio space less realistic for many artists, EAST includes alternative art spaces on the tour while keeping studios at the core. "Art can and does happen anywhere,' says Little. "With space at such a premium in Austin, we believe that if it works for the artist, it can work for the audience."
He goes on to explain, "When it comes to organizing the overall EAST event, Big Medium wants to have as many artists and arts organizations involved in the tour as possible, whatever that means for everyone involved in the planning and coordination. EAST continues to cast a wide net to be as inclusive as possible so we all can explore what art is and what art can be."
In an effort to expand that net, this year's tour has four new categories: Artists, Events, Community Partners, and Business Partners. EAST again partners with Sightlines, bringing Preservation Austin and Oakwood Cemetery Chapel into the fold, to present a panel discussion on Nov. 21 about "space and place and time, and the role the arts play in making space and oftentimes preserving a place," explains Jordan Gentry, Director of Programming at Big Medium.
"The arts play an important role in preserving the history of place and identifying what is happening in a place or will happen; art can help create a sense of continuity for a city and celebrate how we got where we are," says Gentry. "We are coming to the table with great organizations to explore these ideas, and we're partnering with Preservation Austin, Oakwood Cemetery Chapel, and Sightlines during EAST to open a conversation to address the role the arts play in rapidly changing city."
—NANCY ZASTUDIL