Trash Dance Still – Night Performance.
Courtesy of Andrew Garrison.
---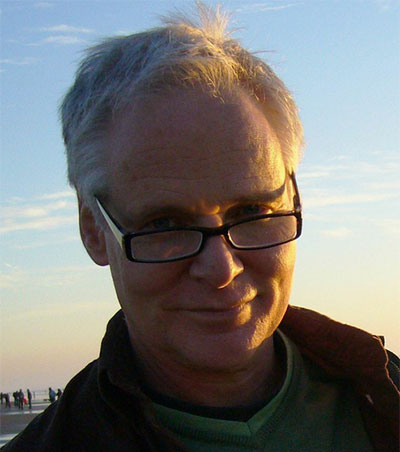 Anyone who has seen Andrew Garrison's Trash Dance might find it hard to look at a sanitation worker without considering the grace and dignity of physical work. Garrison's award-winning documentary, chronicling Allison Orr's Trash Project from conception to performance, airs on Jan. 13 (check your local listings) on PBS's America ReFramed.
Garrison followed Orr while she traveled the daily routes of Austin's sanitation workers, and then convinced them to take part in a final performance, where workers and their trucks put on a magical spectacle for thousands on an abandoned airport runway. The film garnered numerous awards, including Special Jury Recognition at SXSW Film Festival and Best Feature at Silverdocs Film Festival. It was also a favorite when it screen at Houston Cinema Arts Festival in 2012.
Garrison, an independent filmmaker based in Austin, Texas, is an associate professor of Film and Digital Media Production at The University of Texas at Austin. Garrison visited with A + C editor Nancy Wozny on the film and this milestone.
How did Trash Dance makes its way to PBS, and what does this mean in terms of having a larger audience for the film?
I submitted the film to America ReFramed. They have an online process. I'm happy about America ReFramed broadcasting Trash Dance. It not only expands the potential audience, it is also a kind of curation that is more public than a film festival. That becomes an entrée for some–an organization with a standard of quality has said, "You should see this film." Curation is a significant need for independent films trying to be visible in the abundance of media and venues. And as a PBS broadcast, teachers are permitted to record the film and use it for a year after broadcast.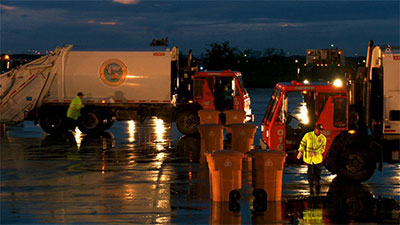 Dance is a fragile art. Choreographers work very hard for a one or two night stand, as Orr often does in her large scale works. The beauty of your film is how it extends and amplifies the project.  You take us into the process of how Orr actually makes something rather impossible happen. How did you think about balancing the actual performance with the process?
My biggest concern in planning and editing was trying to create an effective translation of the dance performance. Live performance has so many other things going on in addition to the choreography. There is sound, smell, the excitement of being in the crowd and the shared experience. At the performance there were musicians performing and interacting with the audience and the dancers, and there was weather. My film audience could not have the same experience, but I wanted them to have, at least, a similar similar sense of the excitement, anticipation, delight, surprise, and even moments of sadness, that the performance audience had.
Trash Dance

put Orr on the national dance map. What did it do for you?
The film incorporates a lot of ideas that I have been working with for decades. It is a film close to me, my heart…and head.
I've moderated my share of post-show Q & As, and usually we have this fear of looking out at a sea of no hands raised. When the film screened at Houston Cinema Arts Festival, I was amazed by the number of raised hands and the sheer diversity of questions at the post-show Q & A. I remember people followed us out of theater. Has that been the norm in the reaction to the film?
It gets pretty enthusiastic responses. I love when audiences applaud in the middle of the film for something someone says or does. Usually, there is a Q & A when I am attending a public screening–so that is a different experience than going to a movie and it just ends. And yes, there is usually no shortage of questions.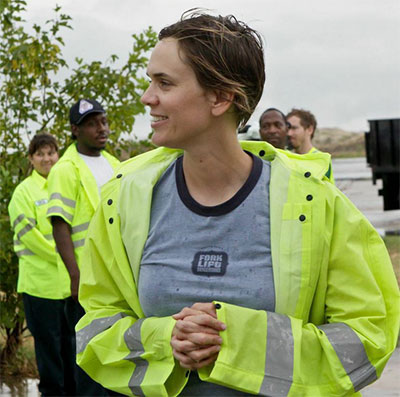 I have many favorite moments in your film, but there is one that I have used to often to explain contemporary dance, a constant conundrum in the dance field. Orr explains it as something we do in bare feet and then you cut to a studio shot, and boom, contemporary dance explained. Not only is it witty, but it also shows how well tight editing can work to make a point. Do you have a favorite sequence in the film?
I have several favorite movements, too. One is Lee Houston talking about being a single father. I say something to him about how taking care of his daughter and doing his job must be difficult. He says, " Oh, yeah it's hard," and then pauses a moment and continues, "but it's fair." I love that.
The crane ballet is a breathtaking sequence in the film that has infused my thinking. Houston (and Austin) are crane cities now with buildings going up all around us. Sometimes, I will look at one in action and think, oh, that would be nice with a little Chopin. Does that ever happen to you?
That's great. No, that does not happen to me with cranes, but I do think about that every time I see sanitation workers on the street, wherever I am. And I often stop and talk to them.
Have you been tempted to work in the dance field again?
Yes, with the right project. I actually would have loved to film the little project Allison choreographed after the Trash Project. It was an incredible performance by a woman traffic cop in Austin, Sgt. Melissa McGrath. But I would also like to do something that really uses the medium as a collaborative element, too.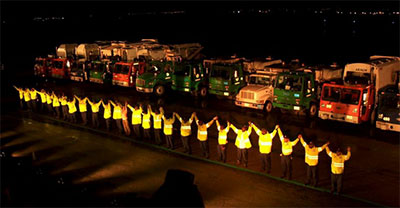 What are you working on now?
A fiction feature film! I move between fiction and documentary. The film is titled The Lucky One/La Afortunada, and will be shot in Texas and Mexico. The story is about two Mexican sisters who are orphaned at the birth of the youngest sister. Both go to an orphanage, but the baby is soon adopted by a Texas couple, and the older sister ages out and settles into work at a factory near the border.  The Texas sister, as a married adult, wants to have a baby, but discovers she is infertile. The drama unfolds when she drives to Acuña and asks her sister to be her surrogate. We are in development right now, hoping to shoot in early 2016.