Michelle Aravena performing in the Theatre Under the Stars Spotlight for Guys & Dolls. Guys & Dolls runs June 12-24 at the Hobby Center for the Performing Arts in Houston.
Photo by Melissa Taylor.
---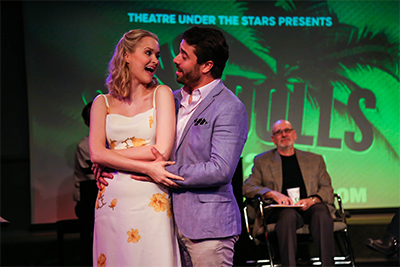 When you think of Guys & Dolls, does the United States' rising Latina/o population come to mind? Do you think of Sky Masterson effortlessly code-switching between English and Spanish while he gambles with Nathan Detroit? Do you imagine Miss Adelaide and the Hot Box Girls dancing salsa during their nightclub act? If not, why not?
Despite Guys & Dolls being written with no racial or ethnic identity markers, the 1950 musical by Frank Loesser, Jo Swerling, and Abe Burrows is continually revived in the same way as the original production—with Anglo actors. Even the much-lauded 1992 revival with Nathan Lane, Peter Gallagher, and Faith Prince still stuck to the same racial script even as it pushed the musical in new directions.
Enter Theatre Under the Stars (TUTS). Years ago, the company made a conscious effort to produce theater that was in conversation with Houston's rich diversity. The problem? There aren't many large-scale Broadway musicals that focus on Latina/o identities. TUTS' thrilling 2016 production of In the Heights by Lin-Manuel Miranda and Quiara Alegría Hudes brought Latina/os to the mainstage. There have been other recent offerings such as Dreamgirls and Memphis. But what does a company do when they want to produce Latina/o work, but there are so few musicals in the canon that even remotely speak to the lived realities of Latina/os in the United States? Reinvent the classics!
TUTS' Latina/o-inspired production of Guys & Dolls closes the 2017-2018 season June 12-24 and launches the organization into its 50th anniversary season complete with a line-up of self-produced, home-grown productions (including many reinventions of classic musicals). Helmed by director Nick DeGruccio, Guys & Dolls situates the musical comedy classic within a historically accurate era of Latina/o gangsters and gamblers in the underworld of Nueva Yol, or New York. Throughout the 40s and 50s, there was a significant wave of migration from the Caribbean to New York. As air travel became popular, Puerto Ricans migrated in massive numbers to New York City. They settled in their new home, Spanish Harlem, and the term Nuyorican was born. Dominicans fleeing the Trujillo Dictatorship fled, claiming Washington Heights as their new home. And, by the end of the 50s, there were already around 125,000 Cubans living in the United States, a number that skyrocketed once the Cuban Revolution began in 1959.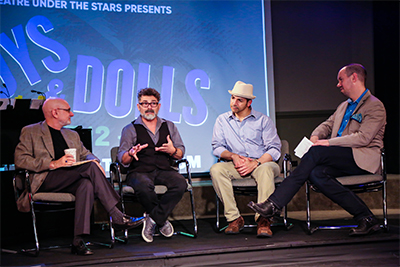 As with any migration, people from the Caribbean brought their culture and community with them, which launched a proliferation of Latin nightclubs and a new obsession with Latin entertainment into mainstream American society. In no time, the conga line was as American as apple pie and Ricky Ricardo became a household name. This rich but often overlooked history is precisely where DeGruccio will take an inclusive spin on the classic golden age musical.
After DeGruccio's successful mounting of In the Heights, TUTS Artistic Advisor at the time, Sheldon Epps and DeGruccio began brainstorming possible projects, ultimately landing on Guys & Dolls. As was well noted, Epps wanted to reach out to the local community more and specifically recognize Houston's booming LatinX community while also bringing more diversity onstage to the TUTS season. After Epps departed, Artistic Director Dan Knechtges has been working with DeGruccio to make this production a reality. "I've always loved the show, but I love the idea of doing something absolutely different with it while still being true to the show," says DeGruccio, adding that the influx of Caribbean people to New York City in the 40s lined up very well with the plot of Guys & Dolls.
While the cast is predominately Latina/o, including leading players Sky Masterson, Nathan Detroit, and Miss Adelaide, the role of Sarah Brown will be played by an Anglo actor. In the story, Sarah Brown and her grandfather Arvid are actually placed in this community at the Save-a-Soul Mission. They are already outsiders within this community. "I thought it would be cool to add more racial tension to the Sky and Sarah love story," admits DeGruccio, adding, "It might add a little layering to this relationship." Brown's idea is that the man of her dreams will not be a gambler, much less a Latino gambler. DeGruccio intends to add tension to a relationship we have known for nearly 70 years.
The production team aims to celebrate the Latina/o community of  the time. But at the end of the day, it's still Guys & Dolls. The text of the show will not change, but will be sprinkled with Latinidad, or Latin-ness—actors, design, dialects, and some ad-libs.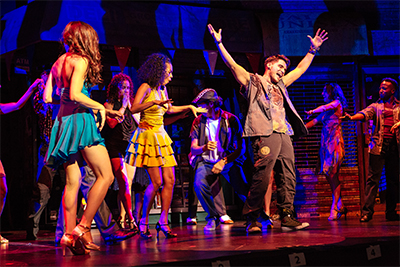 Ultimately, the production will feel familiar to those who know the musical by heart and will be a fresh take to those who didn't think they could see it done in a different way. For theater advocate and founder of Project Am I Right? Lauren Villegas, "Bringing relevant, meaningful new perspectives driven with purposeful vision is the best hope that the classic canon of American musical theater has to find contemporary relevance and survival." As Houston continues to grow and solidify itself as the country's most racially diverse city, theater companies such as TUTS must continue to produce inclusive theater that values Space City's rich diversity. Latina/o Guys & Dolls is a step in the right direction.
—TREVOR BOFFONE